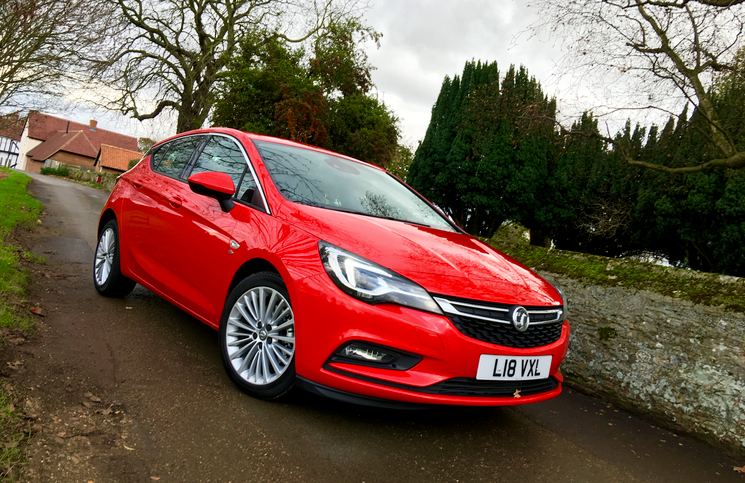 The C-segment hatchback in the UK, and indeed within Europe, is a popular formula. With a lot of potential business it is no surprise that for decades manufacturers have been doing battle for that coveted space on your driveway. Much like a wartime arms race, advances in design and technology equal an advantage over competitors. Ford's Focus has had its own way for quite a while within this market space, however, the 2015 Vauxhall Astra promises much. The question is… Can it deliver?
It is a case of new but familiar aesthetically as the relatable silhouette now features mature and rather premium looking details. From its wide grill to the LED signature lights, this hatchback
promotes a sophisticated character. Subtle body creases and the multi-spoked alloy wheels of our top specification test car complimented each other. A black c-pillar creates a floating roof effect which separates the Astra from its competitors. Whilst looks are subjective and some will see the design language as being a bit safe, this 2015 Vauxhall Astra doesn't look out of place out on the road.
It is the interior where real progress has been made. Gone are the hard scratchy plastics and dials that could have come from a washing machine, and in their place you will find high quality materials forming some pleasing design. A glossy finish to the dashboard along with chromed details push the cabin upmarket. Taking the spotlight is a new large touchscreen infotainment display with DAB radio, BlueTooth, satellite navigation and Apple's CarPlay.
Logically placed instrumentation is easy to read, especially with the little laser pointers denoting exactly where the needle is aiming. Something called OnStar deserves a special mention as I think it is rather brilliant. Push the button and you are connected to a centre where someone can find a route to where you needs to go and upload the directions to the car, give information, assess diagnostics, and contact the driver if the airbags are deployed. This feature also enables in-car Wi-Fi which is sure to keep the kids quiet in the back. Furthering that cause is two rear USB sockets for charging endless electrical devises. Speaking of the rear seats… Both head and leg room is good for rear occupants and large windows mean that it isn't dark in the back. In Elite trim our test car even had leather heated rear seats. Boot space is a highly usable 370 litres.
This 2015 Vauxhall Astra is the 1.6 litre CDTI "Whisper" engine. A bold move to name your power unit with an adjective, but I have to say that it lives up to the name. Whilst a little bit grumbly under load, once in motion engine noise dissipates making for a very quiet diesel indeed. With 134BHP and 320Nm of torque at your disposal, overtaking performance is strong. Let's start on the motorway as that is where this model is likely to spend most of its life. This car makes for a comfortable cruiser with good levels of refinement that even promotes a bit of relaxation. Road and wind noise are kept at bay whilst positive shifts from the 6 speed manual transmission aids in surging you onwards.
Heading into Vauxhall's busy home of Luton highlights the great visibility that this Astra has all-around. Good sized door mirrors and a large rear window makes navigating the hubbub much easier. the cars ride strikes a good compromise between being compliant and not too soft. What about on a twisting B-road? Can the griffin's latest really beat the Focus at its own game? Things are markedly improved over the previous model with good control weighting and loads of grip to exploit. Lateral body movement is also kept under control when driving exuberantly. Whilst it doesn't outright take the handling crown from Ford, primarily due to having less driver feedback, the gap has closed a great deal. 72.4MPG combined is claimed.
Our fully loaded 2015 Vauxhall Astra 1.6 CDTI Elite came to £23,560 with just about every toy you can shake a stick at. Heated steering wheel, dual zone climate control, premium audio, and the list goes on. For what you get that represents great value. You can have an entry level Astra for £15,295 with a 1.4 litre petrol engine, although we think this diesel deserves to be considered. A great chassis, quality design, and vast improvements in every area means that the new Astra competes for the C-segment throne.