When it first hit UK roads the Citroen Cactus was a real oddball. With those UFO inspired looks it was unmistakable for anything else. However, its quirkiness and will to be different has paid off as Citroen actually had to increase production to meet demand.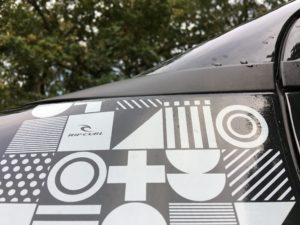 Today there are quite a few about and to capitalise on the younger generation that are adopting this air bump wearing machine, they have partnered with Rip Curl. Trendy surfing brand + this intreating machine = the new Citroen Cactus Rip Curl special edition.
Our test car was finished in black of which is one of the more sober choices in the range, but also gives the car a slightly less cartoon character tone. The Airbumps, something of a signature on any Cactus, are still prominent but contrast much less. Based upon the top specification Flair model you get a set of smart 17 inch diamond cut alloy wheels. The front wings are now garnished with a funky pattern and the C-pillar now proudly reads Rip Curl. White door mirrors and roof rails make themselves at home on this pebble-like silhouette.
The interior of the Cactus is as interesting as the exterior. A luggage inspired design features add detail to a predominately minimalist dashboard. A floating touchscreen display has absorbed many of the buttons leaving a clean look. Said
touchscreen takes care of your infotainment needs, but is starting to feel a bit dated in comparison the latest PSA units. Leather seats cosset you and, whilst not the most bolstered, proved to be comfortable. Rip Curl floor mats, orange seatbelt and trim differentiate this Cactus from any lesser model. A panoramic roof lets in natural light to boost what is actually a rather spacious cabin. Rear passengers are well accommodated for and behind them is a 358 litre boot. My only real gripe are the "pop-out" rear windows.
The 2016 Citroen Cactus Rip Curl comes with two engine choices, a BlueHDi diesel or a slightly more powerful 110 HP 1.2 litre petrol engine. It is mated to a five speed manual transmission and it is this pairing that makes it ideal for around town. Light control weights and good visibility add to the urban mix. At low speeds engine noise is notably quiet. Its ability to deal with rutted surfaces is also admirable, especially considering the 17 inch alloy wheels. A rear reversing camera and the sensible proportions of the Cactus means that parking is no trouble at all. On faster roads the little petrol engine does need to be worked hard to make strong progress, however, keep the turbo happy and its enthusiastic thrum narrates a good driving experience. Whilst there is some body roll, there is also good grip levels. Your
average owner won't likely end up throwing the car around, but if they did they would find the car surprisingly enjoyable. A lack of weight means that it has a good change of direction. On the motorway there is some wind and road noise that penetrates the cabin and the engine note does become more pronounced without a 6th gear. This particular unit can handle M27 rush, but if such a journey was  a regular occurrence I would steer you towards the very pleasing diesel offering.
One other thing that the Citroen Cactus Rip Curl has over siblings is Grip Control. A rounded dial can select various traction modes for the front wheels. Whilst it doesn't boast that it can go on mountainous expeditions, this system should help when the the weather turns particularly nasty. It is that same electronic wizardry that can be found in Peugeot's SUV range. In addition to Grip Control the car receives more capable tyres.
The 2016 Citroen Cactus Rip Curl aims to add an extra dose of "cool" to the car in the same way Peugeot partnered with Quicksilver a decade ago. Will this brand association directly sell more cars, maybe not, but it might be enough to get more people looking in the direction of a Cactus because their surf brand is tattooed to the bodywork. The main reason to consider the Rip Curl is for Grip Control of which may prove useful as the winter weather arrives in the UK. This new model costs from £18,840 of which is not a  small sum for this car. Although, Citroen claims 65 MPG combined and so running costs should be low.