I am by no means fashion conscious… I own a pair of orange shoes, I drive a car with a Martini stripe on it, and generally speaking don't take much notice of what other people are sporting. That said, I can totally see what DS are going for. The newly formed stand-alone brand want to be the French equivalent of the German premium brands, but much more unique. The DS 3 has always done well with its Mini rivalling looks and individual identity. We first tested the new 2016 DS3 in London at its launch, but now it was time to drop the top on this more powerful petrol model on the south coast.
In this metallic purple with its large alloy wheels filling the arches,
the DS 3 positively shines. The new DS chrome wings that surrounds its grill and then extend into the intricate headlights promotes a sense of class. It's neat proportions haven't changed, but then this cars visuals were never "broken" in the first place an thus didn't require fixing. The recognisable "shark fin" returns as does the roof that appears to magically float above the bodywork. As mentioned the DS brand is all about being individual, their tag-line "the spirit of avant grade" supplements this car well. Whilst small premium cars are nothing new, the new DS 3 goes all Frank Sinatra.
The interior has also been revised with a new dashboard facia and 7 inch touchscreen infotainment system. Said screen gives you access to everything including navigation and DAB radio. Plug-in an iPhone and Apple CarPlay is available, likewise for MirrorLink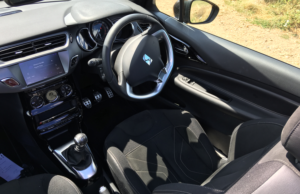 and Android. Architectural graphics can be found within the cabin adding some French sophistication. Our test car possessed a pair of part alcantara seats which not only looked good with their neat stitched patterns, but also provided good support and comfort. Rear occupants will find good head and leg room, however the centre passenger is restricted when it comes to leg room. That said, I managed to squeeze 4 adults and a baby seat into the car for a short journey. Boot space on any soft top car is always at a premium, but the 2016 DS 3 still offers a respectable 245 litres. The issue is more to do with the narrow pillbox opening. The mechanism is elegant with a panel that opens out and upwards, but in terms of practicality it doesn't overcome the usual convertible shortcomings.
For now this 1.6 litre 165hp engine is the most potent in the
lineup. There is a hot hatchback variant on the way, of which we are itching to test, but until it hits UK roads we have this. It is certainly punchy enough once that turbo spools up and a 0-62mph time of 7.6 seconds isn't bad either. It isn't the sportiest drive, but well weighted steering and plenty of grip does mean that you feel confident when you do decide to up the pace. This car is more about lifestyle than life in the fast lane. Retract that fabric top and let that blue sky know you are there. The transformation can be completed in 18 seconds at speeds of up to 70mph. There are several benefits to this being a cabrio over a fully exposed convertible. Firstly, structural rigidity is better maintained and so the car feels solid through cambered corners. Secondly, it affords more protection from gusty winds allowing you to let the sunshine in on slightly windier days. This roof retracts in three stages with it beginning by just exposing the front passengers, then moving to the full length of the car, before finally collapsing the rear window. Having such flexibility will be appealing to those who want to take advantage of the roof whenever possible. Whilst cruising the engine itself is quiet and refinement is generally good with only a bit of wind noise making itself known at motorway speeds. The DS 3 strikes a good compromise between handling and comfort, however, these large 17 inch alloy wheels do thump into potholes and so I'd recommend the smaller 16 inch where possible. Around town the standard fit parking sensors makes manoeuvring into compact spaces much less hassle.
This 2016 DS 3 Cabrio 165 THP builds upon this already successful model but adds a classy veneer and some extra polish. The little DS 3 is desirable like an iPhone or a Michael Kors watch and I have no doubt that its new found home within DS will prosper the model as well as the brand. A 165 in prestige trim costs from £22,390.