The big three German brands have been at each others throats since the dawn of time. "Anything you can do I can do better" they all chant to each other. Each manufacturer offers a performance badge for top flight cars; M, RS, and AMG. However, I have always thought that AMGs possess a really unique character of which the others don't. There is clearly a focus on theatre and not just lap times. The old C63 AMG was a real smile generator, but with the incorporation of turbocharging has this 2016 Mercedes-AMG C63 S Coupe lost its magic?
It certainly hasn't lost a step in terms of aesthetics! What a
potent blend of muscular architecture and elegant curves. Whilst showing a little more sophistication in design than its predecessor, this C63 is certainly an intoxicating mix of beauty and beast. Swollen wheel arches combine with neat creases, a sloping roofline sits atop broad shoulders. The whole car is an oxymoron, a self perpetuating collision of opposites that results in a car that turns heads.
The interior retains the C-Class' cascading dashboard and premium brushed aluminium detailing. This grown-up and well designed interior is a nice place to be for lengthy periods as this AMG doesn't forget that it has a three-pointed-star on the bonnet. The centre console gently slopes down towards a touchpad and scroll wheel of which controls the above infotainment display. A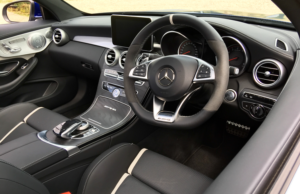 pair of body hugging seats grip you firmly, but also offer that all important comfort for everyday use. An alcantara trimmed steering wheel is yet another hint that this is no ordinary C-Class Coupe. The rear seats are fine for children, but adults will find it a bit of a squeeze primarily due to the sloping roofline. Boot space is actually rather good for this caliber of car.
Under the long bonnet of this 2016 Mercedes-AMG C63 S Coupe is a 4.0 litre twin-turbocharged V8 engine of which you will also find in the flagship AMG GT. In standard guise the new C63 produces a hefty 469 BHP, but this is the S model and that means it is endowed with a brutish 510 BHP. That potential is then
channeled through a 7 speed automatic gearbox and onwards to those wide rear wheels. You might think that this level of muscle would be a bit intimidating to use day to day, but you would be wrong. At low speeds the Mercedes-AMG C63 S Coupe purrs along in a rather effortless manor. Yes, the suspension is firm, but lets not forget that this is a top flight performance car. Whilst people take pictures of the exterior, you are relatively relaxed and might even forget that this car has an AMG badge. That is until you tickle the noisy pedal because upon doing so the dragon awakes. Moving up though the driver settings the electronic nannies are sent on their way and more precision is added to the controls via more weighting. The throttle is sharper, the exhaust valves open, and the car is primed to deliver. Pull both steering mounted paddles and launch control is engaged. Throttle to the floor, sidestep the brake, and you take off like a scolded cat. Long before you can absorb the glorious gauze of V8 noise you are travelling at quite a rate with 0-62 MPH being completed in 3.9 seconds. It isn't so much the power that singes the synapses, but more the immense amount of torque. 700Nm pins your internal organs to the seat as the horizon becomes considerably closer. It isn't just impressive in a straight line, oh no! Its wide track provides plenty of grip and the accurate steering means there is nowhere an apex can hide. The car feels more dynamic than its predecessor of which was a bit "all or nothing". It turns in keenly and applies its power to the ground much more effectively. Dynamic engine mounts are another sign of the slightly more scientific method AMG used to build this car. That said, it is more than willing to turn its rear tyres into smoke when the time is right. Huge 390mm disc brakes sit up front and the stopping power provided is almost as impressive as the car leaping into motion.
The nice thing about this 2016 Mercedes-AMG C63 S Coupe is that it is no longer Dr Jekyll or Mr Hyde, instead the two characters blend to create an invigorating performance car that also rekindles that lovable rogue demeanour of the pervious C63. A BMW M4 will likely set a faster lap time, but you will find yourself laughing out loud every time you fire up the AMG. Any fears of this engine not living up to this models reputation quickly melted away as it is responsive and sounds biblical. A 2016 Mercedes-AMG C63 S Coupe costs from £68,710 and do you know what? I think it is worth every penny.
By Tyler Heatley