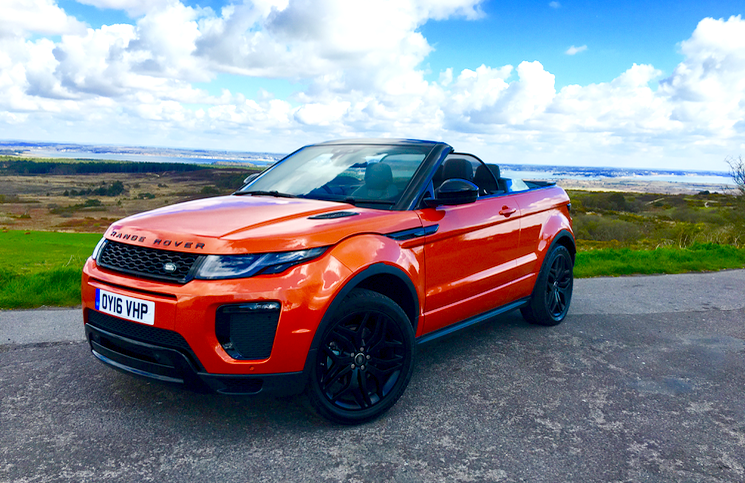 Fashion always has and always will divide opinion. Everything from seemingly obscure colours to unusual materials, they often glide down the catwalk and start many conversations. One such conversation that went on at Land Rover was how to further boost the 500,000 strong sales success that is the Range Rover Evoque. The Evoque has become the fastest selling product in the company's history and something of a fashion icon. When a convertible concept variant was unveiled a few years ago the reaction was astonishing, however, was it actually possible to chop the top from the little Range Rover? We grabbed the keys to the 2016 Range Rover Evoque Convertible to find out if the operation was a success.
Burning bright in Phenix Orange, our test car cut a distinctive silhouette into its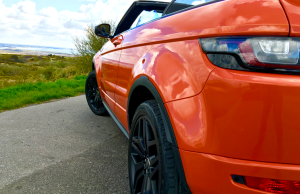 surroundings. The Evoque has always been a car that makes a statement, but this convertible model is very much "this seasons" flavour. Onlookers of the affluent south coast of England admired its bold stance and rising belt line. Retaining almost every element of the concept car, it creates an all-new luxury convertible SUV segment. Roof up or down the Range Rover looks purposeful but also very sophisticated. Other features such as the distinctive J-blade headlight design from the Evoque's recent facelift can also be found. Contrasting black alloy wheels and badging proved to be the perfect accessories for this car.
The interior is much the same as you will find on its fixed roof sibling, which is no bad thing. Range Rover's usual standards have been applied creating an interior that is of high quality. Beautiful leathers line the cabin with neat stitching on show. Aluminium details and cascading surfaces makes this space feel expensive. Comfortable heated leather seats cosset you whilst you evaluate your elevated driving position. JLR's new InControl Touch Pro is a 10.2 inch screen featuring image rich menus and a visually attractive navigation system. Seating in the rear is enough for two adults on short journeys, but ultimately it offers similar space to the three door Evoque. The large electric fabric roof can be stowed in just 18 seconds and at up to speeds of 30 MPH. To make room for said roof boot space has been impacted. 251 litres is enough for a few bags or a small shopping trip.
On the road the 2016 Range Rover Evoque Convertible does have a real sense of occasion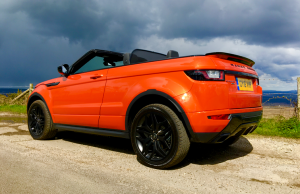 to it. This car is the first of its breed and just like the standard Evoque on which it is based, could prove to be a real trendsetter. Heads turn as you cruise through town soaking up the sunshine and questions asked when you park. Whilst in motion one of the most notable traits of this SUV is just how quiet it is with the roof either up or down. 5 layers of fabric keep you warm and dry whilst in the open a wind deflector prevents a hurricane forming. This specific Convertible was powered by the new 2.0 litre Ingenium diesel engine. Power is quoted as being 178 BHP whilst a handy 430Nm of torque is also produced. This engine is hushed on the move and only makes itself known under heavy acceleration. It is mated to a 9 speed automatic transmission that is silky smooth in the way it juggles cogs. One particular downside of taking the roof off of any car is that it will require extra strengthening underneath. As Land Rover wanted to preserve the off roading capabilities of the Evoque, this needed to be done extensively. It has added over 270KG to its overall weight meaning it isn't quite as sharp to drive as the hardtop. There is more body roll and the surge of acceleration doesn't feel as immediate as an equivalently specified fixed roof
model. Grip is still offered in abundance providing reassurance, but it isn't as dynamic on twisty tarmac as the standard car. Steering is pleasingly precise and although the ride is firm, it is not enough to warrant major fault. Wafting along the coastline this 2016 Range Rover Evoque Convertible provides the perfect ambience. 49.6 MPG combine dis claimed.
However, every Range Rover also wears a Land Rover badge meaning it has to be able to tackle the worst Mother Nature can throw at it. With advanced terrain response, a stiff chassis, hill descent control, and all wheel drive, it is safe to say that this variant is as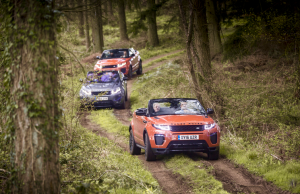 capable off road as the already impressive base Evoque. Experiencing all terrain driving with the roof down is another unique ability of this car.
At £47,500 there is no denying that this 2016 Range Rover Evoque Convertible is costly, but think about it this way… People who spend similar money on an Audi A5 or Mercedes-Benz E-Class Cabriolet with rear wheel or front wheel drive have to tuck their car away when the weather turns nasty. The Evoque Convertible is sold as a drop-top for all seasons and all environments. Can you really put a price on THE NEXT BIG THING? There is also good levels of standard kit including; touchscreen infotainment display, heated leather seats, and a Meridian sound system. Be it in on the Streets of London or coast of France, this Range Rover has style.