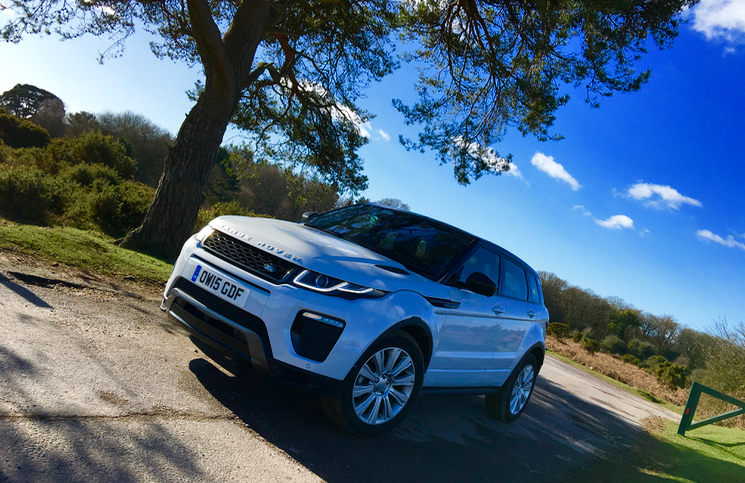 Fashion can be a difficult thing to predict as trends change like the weather. What's hot and what is not? Will green be the new black? Walking the runway at the greatest fashion shows can be like walking a minefield, but one car that has proven to have its finger on the pulse is the Range Rover Evoque. It can be credited with lighting the fuse to the current premium compact SUV explosion we are witnessing. This baby Range Rover is highly desirable and everyone who is anyone seems to want one. I'll be the first to admit that I'm not fashion conscious, more fashion vegetated state, but even I can see this cars draw. The 2016 Range Rover Evoque builds upon a model that has become a runaway success.
Clearly the way the Evoque looks plays a big part in why people are climbing over each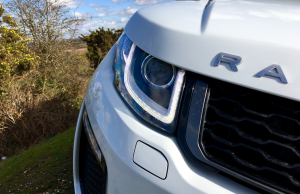 other to buy one. Its stout proportions are draped in some brilliant design that hasn't aged one bit. From the raked roofline to the bonnet grills engraved with the name "Range Rover" it looks premium. New headlights, grills, and facelift bumpers offer a slight refresh to the Evoque. Our test car with two-tone paintwork and the "black pack" looked purposeful with the neighbours often twitching their curtains to get a glimpse.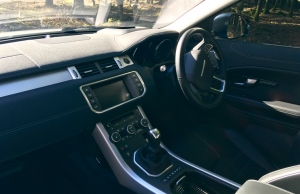 Just because this is the entry level Range Rover, don't go thinking there is anything second rate about the interior vs its bigger brothers. In our HSE Dynamic test car, leather and other high quality soft touch materials line everything that falls to hand. Intricate stitching weaves a tapestry of opulent design and plentiful comfort. JLR's new 8 inch touchscreen infotainment display offers all of the in car tech you could possibly want and a clean interface to use it. Dual zone climate control as well as heated leather seats keeps occupants comfortable. Speaking of seats, these supportive leather ones are new for this year and proved relaxing on long journeys. Also new is a digital instrument cluster which is great for displaying car data relevant to you. The rear bench offers seating for three with good leg and head room, despite that sloping roofline. The middle seat is compromised slightly by the transmission tunnel, but it is otherwise suitable for children. Rear visibility could be better, however, this 2016 Evoque came with more cameras than you can shake a stick which helped greatly. A full length panoramic glass roof makes the interior feel much brighter. The boot is of a good size at 575 litres of space. Fold the rear seats flat and you will have 1,445 litres. Overall the cabin is what you would expect of a Range Rover. Comfortable, classy, and conscious of expectations.
Under the bonnet of our 2016 Range Rover Evoque TD4 is the brand new ingenium diesel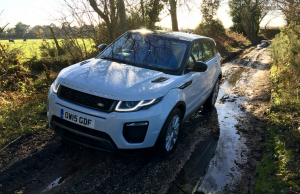 engine which is an improvement upon the original selection. Producing 178 BHP and healthy 317 lb ft of torque, this unit also brings greater efficiency to the table. With all wheel drive this car claims 58.0 MPG combined and emissions of 125g/km CO2. But better than that is the added refinement it has over its predecessor. On the move it is quiet and vibration free proving to be a much better match for the character of this Evoque. A six speed manual transmission has a short throw, broad set of ratios, and a positive motion. A 9 speed automatic gearbox is also available and if JLR's other cars with the same box are anything to go by, that will be a fine choice too. The low down torque surges the SUV onwards whilst the broader power band makes for a more flexible drive. Around town it is a peaceful means to get around with light steering and a distilled comfort. There is an undeniably confidence to the way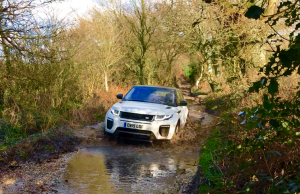 the 2016 Range Rover Evoque goes about its business. The ride can be a bit firm at times, but the trade is that body roll is suppressed through faster corners. Loads of grip and that all wheel drive system enables a secure connection between tyre and tarmac. Steering is precise, but like most modern cars, lacks some feedback. Select dynamic mode which firms up the suspension, increased throttle responsiveness, and increases the weight to the steering. Dynamically the Evoque acquits itself well.
However, this car can't justify its Range Rover badge until it has proven itself off road. Luckily, Posh Spice doesn't mind getting dirty. With terrain response the 2016 Range Rover Evoque is equipped for a wide range of environments, from snow to muddy bogs. It is an accomplished climber, masterfully wades through rivers, and can tackle some seriously challenging surfaces. No other 4×4 in its class can touch it for its sheer ability on the rough stuff. Whilst few will see the muddy side of life, its capabilities are nothing short of impressive.
The 2016 Range Rover Evoque TD4 is still as desirable as when it was first introduced. Be it strutting the streets of Milan or less glamorous swamps, changes made to this car have improved upon the recipe. You can make your neighbour jealous from £30,600 for a front wheel drive model (perfect if you are spending most of your time around town) or £33,200 for AWD.