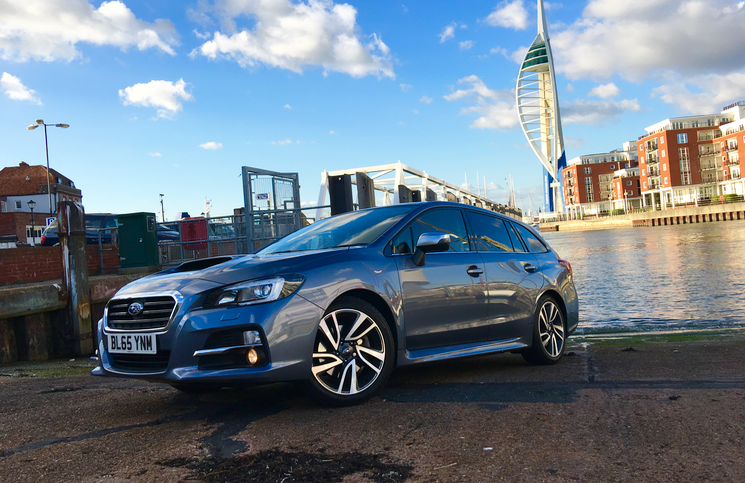 In days gone by, long before the boom of SUVs, if you wanted something practical you bought an estate car. And if you wanted something with a bit of shove with space for the dog, you bought a Subaru Impreza Wagon. The idea of having a capable all wheel drive car with strong rally links was mighty appealing, but sadly those days seem to have passed. However, there is still a small batch of people who lust for such a car. The 2016 Subaru Levorg is a clear sign that the Japanese manufacturer has heard their call.
Visually the design of this Levorg is rather refined in comparison
to previous Subaru estate cars. That is until you get to the front… A huge bonnet scoop large enough to ingest small dogs takes centre stage whilst chunky headlight clusters add a further dose of masculinity. Defined shoulder lines gives the car a purposeful silhouette. Only available in GT specification in the UK, these polished alloy wheels fill the arches nicely. Its a purposeful looking car that will no doubt please enthusiast of the brand. I'd certainly say that the Subaru Levorg plays the part.
The interior is narrated by contrasting blue stitching and serves to increase the perceived cabin quality. Its thick rimmed flat bottom
steering wheel has something of the WRX STI about it, as does the digital turbo gauge that sits on top of the dashboard. GT cars come with dual zone climate control and sporty heated seats. A 7 inch touchscreen infotainment system is housed in the centre console providing DAB radio, navigation, and phone connectivity. The cabin of this 2016 Subaru Levorg feels durable and well built, ideal for dealing with the riggers of family life. Rear passengers are treated to plentiful levels of head and leg room, but a protruding transmission tunnel does limit the middle occupants leg room. Boot space with the rear seat folded down is a pleasing 1,446 litres, or with them in place, 522 litres. The opening itself is large enough to swallow bulky items and should facilitate those wanting to explore the great outdoors well.
Peer through that bonnet scoop and you will find a turbocharged 1.6 litre engine producing 167 BHP and 250 Nm of torque. That is then paired to a CVT of which sends power to all four wheels. Sadly here in the UK this is the only drivetrain option and that is a shame because the chassis of the 2016 Subaru Levorg is actually
rather good. Sure, the ride is a bit firm but responsive steering and a lack of body roll through the corners makes for a reassuring machine to drive quickly. Factor in Subaru's legendary all wheel drive and there is a plentiful supply of grip. However, there is noticeable turbo lag from the engine and when you accelerate, let's say enthusiastically, the CVT causes the car to make quite an unsavoury noise. I wish you could option a manual as I think it would not only make the car more involving, but also give the driver more control over exactly how the engine delivers its performance. SI mode does sharpen responsiveness and it is certainly an enjoyable experience to drive this car at a pace. In more everyday situations the Levorg's engine is rather quiet and its turbo provided torque is certainly useful. Visibility is good all around and is further boosted by a reversing camera. It is a relatively easy car to live with everyday, and certainly one that is unusual enough to provoke people to ask questions in the car park.
The 2016 Subaru Levorg has a lot of potential, however, its limited choice of options in the UK make it a rather niche product. There will be people out there who will swear by its all wheel drive dependability in all weathers and those are exactly the sort who will buy it. That is its primary unique selling point over its rivals. That said, at £27,495 and lacking a diesel offering it has a tough job of persuading the masses out of more premium vehicles.