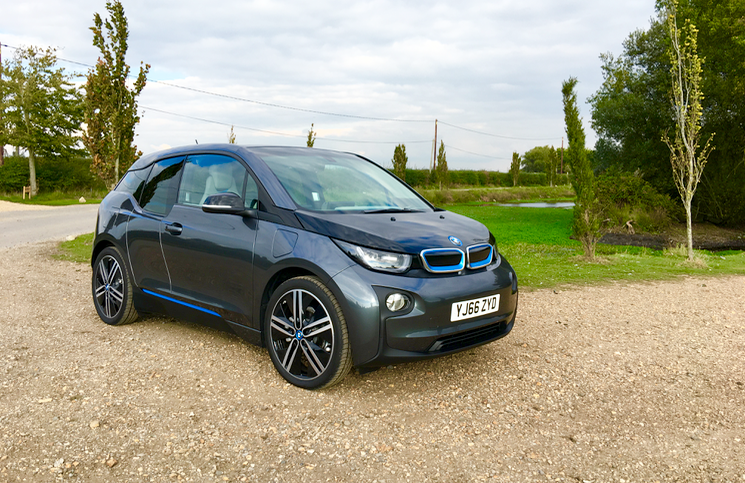 Electric cars have come a very long way over the past decade and are really starting to change preconceptions people have of them. There are many benefits to making such a switch including; lower fuel costs, lower tax, reduced maintenance costs, and even some free parking spaces for electric cars only. This all sounds great, however, the biggest hurdle for the everyman has been the vehicles range. In order to get people to even consider giving up combustion an electric car has to be at least as convenient, and not require hours of charging at the side of the M25 just to get home. The new BMW i3 94ah might just be the most convincing proposition yet.
Let's kick off with the way it looks because the visuals are rather polarising. Some love it, others hate it. Personally I am the
former and think that BMW should be applauded for being bold. In a world where many cars look near identical, the choice to make their car of the future actually look like it is from the year 2025 certainly makes it stand out. Gloss finishes create a two-tone body and when paired with the grey of this car actually looks very premium. Its stout proportions plays homage to the family "kidney grills", although they are not grills anymore as the added cooling isn't required.
The interior has a tangible zen-like quality to it. It feels light and airy with plenty of glass allowing natural light to enter. Neutral colours found in our test car further amplifies a sense of space.
Thanks to the batteries being in the floor of the BMW i3 94ah interior volume is maximised and a lack of transmission tunnel means there is no protrusion. BMW's iDrive infotainment system is as ergonomic as ever but in this car the widescreen display seemingly floats above the minimalistic console. Whilst this is an electric car, it is still a BMW and so luxuries such as heated seats and climate control feature. Opening the rear hinged rear doors allows for two further adults to be seated comfortably. The lack of a B-Pillar makes for easy ingress and egress. This specific i3 is the Range Extender model and so under the boot floor is a two cylinder 647cc engine that acts as a generator if the battery level becomes low. Boot space itself isn't class leading at 260 litres but it is enough for a few bags and is supplemented by a small cubby under the bonnet.
Push the starter button and a chime is emitted, but that is all. The sound of silence is only joined by a faint hum as you get underway. I have now driven a fair few electric cars, but how eerily quiet the experiences is, never ceases to amaze me. You just waft along on the wave of torque rather effortlessly whilst the rest of the world exists outside this rather calming bubble. 168bhp is what this BMW i3 94ah generates and it can be summoned instantly. Whilst 0-62mph in 8.3 seconds is respectable, 0-40mph via 184lb ft of torque is seriously rapid and it could likely outdo some performance cars. Knowing that you have instant response under you right foot is reassuring. The steering isn't overly communicative, but it is accurate and
responsive leading to strong agility. A low centre of mass also means that when driving at a brisk pace the i3 doesn't lean all that much through the corners. In fact, it is one of the best handling electric cars on the market. Your only real limitation is the grip offered from its skinny tyres. At higher speeds there is some road and wind noise, but generally speaking it is well surpassed and primarily noticeable due to the lack of engine noise. I spent a fair amount of time on motorways and the i3 never felt out of its depth. Around town you will find that visibility is good and it has a very useful tight turning circle.
What about that all important battery life? Well, in perfect conditions the BMW i3 94ah with its new battery and Range Extender will do a claimed 243 miles which is pretty impressive. The car new DC charge will get it to 80% capacity in just 40 minutes. All of a sudden this electric car becomes almost as convenient as the petrol equivalent. An 8 year warranty also gives added peace of mind.
The new BMW i3 94ah certainly impressed me with how easily it fitted in with my everyday life. On top of that, it didn't sacrifice being a luxury car just to be green. At £27,830 or £30,980 for the Range Extender it isn't cheap, but it is certainly the best small electric car on sale today bar none.