The BMW M235i won Inside Lane Car of the Year outright when it was first introduced in 2014. We liked it for its good looks, keen handling, and everyday usability. It was a car that not only got you to work, but gave you an excuse to take the scenic route. Now the model is back with a thoroughly revised package and a new name. The question is.. Does this BMW M240i have what it takes to snatch the top prize once again?
Whilst still clearly a BMW 2 Series, the subtle aggression the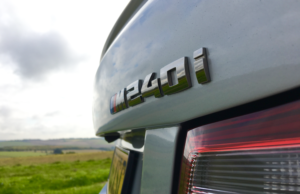 M240i emits is just the right side of devilish. Stitched into the flowing coupe profile you will find larger intakes and grills, sharper creases in the bumpers, and more defined alloy wheels. Silver isn't usually a very exciting colour for a car, but on this example it serves a as a good canvas to highlight character lines that run the its length. Subtle contours on the bonnet sit above intricate headlight clusters and, of course, that iconic set of kidney grills appear here too. It is a handsome machine with great proportions.
The interior is ergonomic with a clean layout and well designed features. Whilst the centre console is beginning to look dated, it does play host to BMW's excellent iDrive infotainment system. A widescreen display and easy to navigate system gives you access
to everything from DAB radio to navigation. Inputs are done via the familiar scroll wheel/joystick/touchpad arraignment. A pair of bolstered seats are not only supportive, but comfortable enough to spend lengthy periods in. The rear bench seats a further two, however, the sloping roofline and limited leg room makes these only a temporary seat for adults. Boot space provides * litres.
Curious about the name change yet? It is all to do with the 3.0 litre turbocharged straight six that lives under the bonnet. 335 BHP and 369lb ft of torque actually begins to put legends such as the 1M in the shade. 0-62 MPH comes and goes in 4.8 seconds and it will go onto an electronically limited top speed of 155 MPH. Whilst those numbers are pretty impressive, even more eyebrow raising is how it deploys them. With that turbo on song this
engine is an absolute gem. Responsive, rev happy, and an utter joy to conduct with this 6 speed manual transmission. Enable Sport mode and the throttle and steering gain even more purpose. On a twisting country road the BMW M240i feels planted with excellent body control, especially when optioned with adjustable dampers. The steering is precise and is weighted to perfection. Great brakes complete an impressively engineered chassis This BMW is ever so satisfying to play with, kissing apexes and feeling involved in the process. These events are all set to a masculine soundtrack that serves to encourage you to push on. It really is a fantastic drivers car with an impressive turn of pace. However, that impressive star rating above isn't achieved by just being a blast on challenging roads. Oh, no… It needs to be 'the complete package." And I am very pleased to report that such a phrase is exactly how I would sum up this 2017 BMW M240i. Set it back to Comfort and the ride is supple enough to use every day. It is still what you would describe as sporting, but it is far from uncomfortable and on our brittle roads that is an achievement. To drive in an urban environment it is placid and easy to live with. The M240i's relatively compact size means that parking isn't a problem and you can play the opportunist squeezing through gaps in traffic. BMW claim that the car will return 36 MPG on the combined cycle.
The BMW M240i is just one of those cars that ticks all of the boxes. As well as providing an engaging and enthralling time behind the wheel, it is also the machine that drops the kids to school in the morning and takes you to work. Want to know something even more pleasing? The price… By the time the keys are in your hands it actually costs less than its predecessor! At £35,090 I'd say that this junior M car is worth every penny.