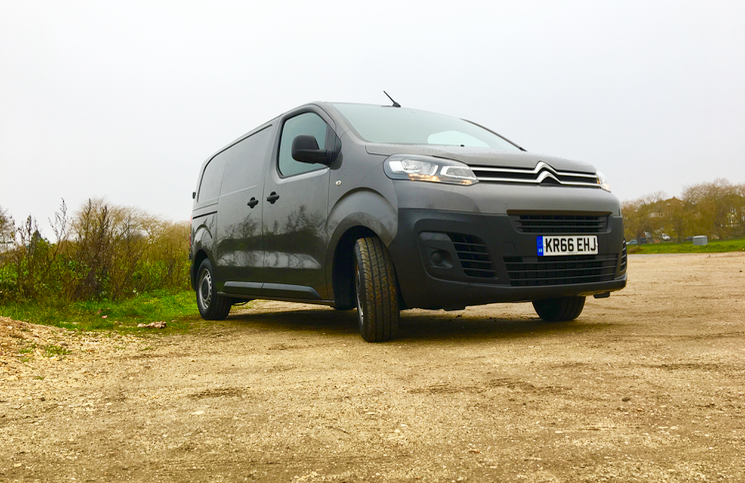 If you think about it, vans are very important to us. Sure, some are driven 3 inches from your rear bumper, or park over your driveway, but aside from "The Sun" reading stereotypes, they are vital. Much of what you buy is transported in a commercial vehicles and without them many businesses wouldn't be able to deliver. However, they are more than simply boxes on wheels, as for the driver this is his office. Competition is tough in this segment, but the all-new 2017 Citroen Dispatch has high hopes.
Injecting some rare French style into the class, the new 2017 Citroen Dispatch van looks considerably better than its
predecessor. The shape is more rounded and shares the family face with the range of cars. Its double chevron extends out to form a narrow grill whilst the headlights wraparound the body. Other than the optional metallic paint, this van is in base specification and despite that, still looks more upmarket than some rivals. Steel wheels or not, the Dispatch has certainly transformed from the ugly duckling of the range.
The cab in any van is a very important place as this is where the driver will spend much of his day. You wouldn't appreciate an office space with a rock hard chair any more than someone who spends 9 hours+ would on the road. Thankfully the 2017 Citroen Dispatch has a triplet of comfortable seats of which also support storage within their base. Further cubby holes and storage bins
are dotted around the interior. This may be the entry level van, but it does provide DAB radio, BlueTooth, and a USB port. From this high driving position you can enjoy, not only the view, but also the spacious interior. The new Dispatch comes in multiple flavours, but this is the M model and so behind its solid bulkhead is 5.3 Cubic Metres of load capacity. A pair of sliding doors come as standard, handy for delivery drivers, and wide opening barn doors at the rear present a low floor. As well as various tie-down points within, the vans panels are boxed off the help prevent any damage from stray cargo.
The engine powering our 2017 Citroen Dispatch would be our pick of the bunch as it is one we are familiar with from the PSA car range. This 1.6 litre BlueHDi diesel engine produces 115 HP, but more importantly 300Nm of torque. That mechanical shove means that it doesn't feel underpowered and on the motorway can certainly hold its own. Another benefit of said power unit is that once up to speed it is a smooth operator. Yes, at lower speeds there is the usual diesel rumble but many rivals are considerably more vocal. A long legged 6 speed manual gearbox is ideal for spells on the motorway. There isn't much in the way of noise penetrating the cab, there is some wind noise at higher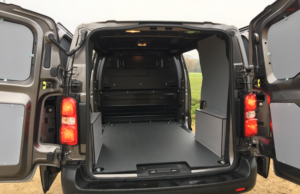 speeds of which is to be expected, but generally the engine is a quiet one. Refinement is something the 2017 Citroen Dispatch has plenty of, as the ride is simply the best in class. Even unladen it retains composure over our rough British roads. It is genuinely the most cushioned ride I have ever experienced in a van of this size. Well damped, not over sprung, happy to soak up surface imperfections. The steering is one of the few disappointments of this package as it feels vague and underweighted. This is a shame because around town it means that it isn't a wresting match to get out of a junction, which is great, but on faster roads it does feel a bit woolly. Emissions of 137g/km CO2 and a claimed 55 MPG combined makes it a front runner in its segment and should be relatively cheap to run.
Some people will think that having a comfortable van is like having a cushion padded washing machine, why does a white-good need to be refined? Let's put it this way… If you had to spend much of your day in traffic and deal with the many stresses of the road, keeping your driver happy in other respects is something that gives the 2017 Citroen Dispatch a competitive edge. Something else that is competitive is pricing. Starting from a reasonable £17,915 the Dispatch is certainly a proposition worth considering.