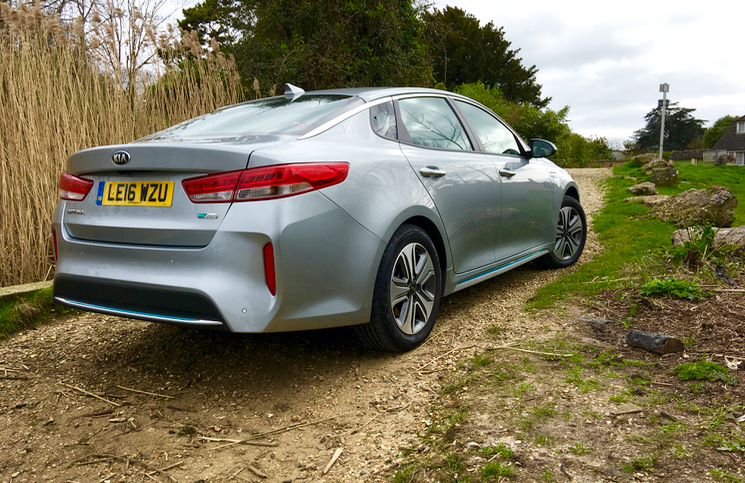 The notion of a Plug-in Electric Hybrid Vehicle is a simple enough concept to understand, but actually a very difficult one to master in reality. To marry combustion with battery power makes a lot of sense when confronting that dreaded range anxiety, yet in reality the execution is rarely seamless. We like the new Optima and so it makes for a good place to start in regards to Kia's first model of this type. How does the 2017 Kia Optima PHEV do out on the road?
Whilst some hybrid and electric vehicles kick and scream about their environmental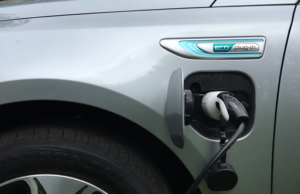 credentials with space age design, the Optima takes a more reserved approach. Looking broadly similar to the model on which it is based, the PHEV makes a few aerodynamic modifications. The "Tiger Nose" grill is now shrouded and sits above a much cleaner front bumper. Subtle blue trim has been added along its length, but other than a set of more aerodynamic alloy wheels, it looks near identical to a standard Optima. Conclusion? This very much appeals to those who want their car to look like a car, and not something from the year 2054.
Just because this car has environmental credentials doesn't mean that occupants have to live in poverty. There is just one trim level and it comes fully loaded with toys. Heated leather seats, DAB radio, cruise control, heated steering wheel, duel zone climate control, and a touchscreen infotainment system all feature. The front seats might not offer much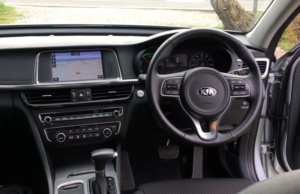 in the way of side bolstering, but they are comfortable. Much like the exterior, the interior mimics the the regular Optima, no bad thing, by providing a durable and well built cabin. Rear passengers are supplied with good leg room, however, the sloping roofline does cut down on space for the tallest of passengers. Boot space is slightly smaller than the standard car, this is due to the onboard battery pack, to a still usable 307 litres. A slight practicality gripe some might have with the 2017 Kia Optima PHEV is that the rear bench can not be folded flat.
Under the bonnet is a 2.0 litre petrol engine of which is paired to an electric motor for a total output of 202 BHP and 189lb ft of torque. Traveling in pure electric mode is somewhat blissful as there is very little noise. A sense of tranquility fills the cabin as you quietly hum to your destination. The 2017 Kia Optima PHEV can travel for up to 33 miles in this state of which encompasses the average daily commute. Charging takes 6 hours from a standard household socket or 4 hours from a rapid charger. I found plugging the car in at night no more of an inconvenience than doing the same with my mobile phone. Something else which aids with day-to-day living is the fact that this is a PHEV and so range anxiety does not exist. In its hybrid setting the battery is used to boost performance or run the car when it is most efficient to do so. Regenerative braking tops up the battery when depleted but in the mean time the petrol engine is more than happy to pick up the slack in a more conventional manor. The combination of the two power sources is relatively seamless and the overall feeling when on the move is one of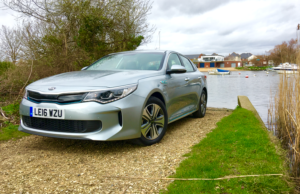 refinement. This car isn't going to win any awards for an entertaining drive, but a comfortable ride means that it is a nice way to travel from point A to point B. Long journeys are easily consumed with cruise control turned on and if you find yourself being held up by a dawdler, it is at home enough on the M27 to dispose of them. However, if you were to primarily spend lengthy time on the motorway we would strongly recommend the diesel Optima for overall fuel efficiency on such journeys. Kia claim 176 MPG combined, and whilst pretty unattainable in reality, if you can keep the car primarily running on electricity it can do well for itself. 75 MPG is possible without trying very hard.
You might be surprised to know that this 2017 Kia Optima PHEV is actually Kia's first Plug-in. Considering the numerous hurdles involved in creating such a car, they have produced a commendable initial offering. £33,995 is a fair chunk of change, but then the equipment level is higher than many competitors. In addition, Kia's unrivalled 7 year warranty might just be enough to seal the deal.