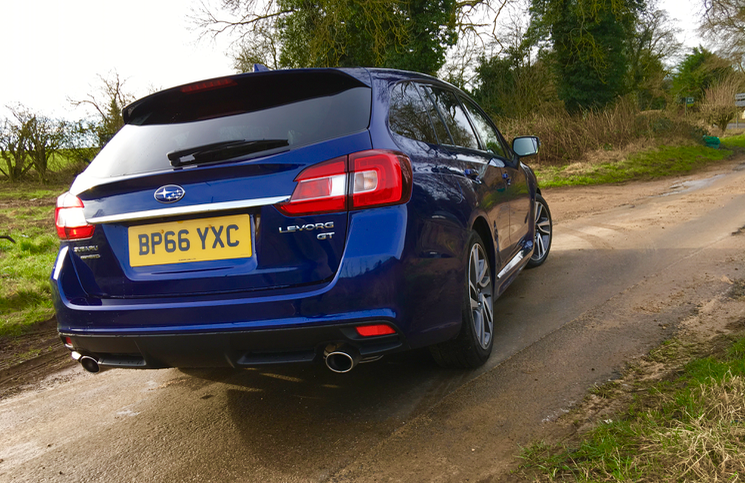 There is something to be said for manufacturers that supply what some would call a niche. Whilst these products will never make money hand over fist, those who have search long and hard always become loyal customers. Subaru has always been a brand that defies convention, and whilst the estate car is a dying breed, they have just launched a new one. Updated, tweaked, and recalibrated, this is the 2017 Subaru Levorg GT.
We struck it lucky with our test car as this deep blue with contrasting silver mirror caps portrays the Levorg in the best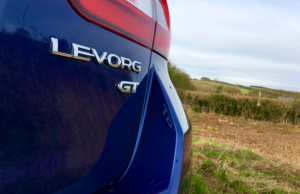 light. The chiselled profile of this car produces a masculine stance full of purpose. That signature bonnet scoop sits proudly above a blunt nose. Broad shoulders add some muscle to the design before it finishes with a utilitarian squared off rear end. In the UK top specification GT trim is the only option and that means all cars come with smart 18 inch alloy wheels.
The GT influences are also to be found inside where sporty heated leather seats offer plenty of bolstering. Blue stitching annotates the cabin and dances its way around the edge of the flat bottomed steering wheel. Contrasting elements on the dashboard raise perceived quality. Whilst the interior is not the most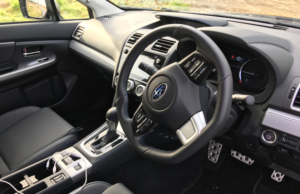 imaginative in terms of design, it feels well built and certainly durable enough to tackle daily family life. The centre console houses the Star Link touchscreen infotainment system as well as dual zone climate control. Rear occupants will find loads of head room and plenty of leg room if you are in the outermost seats. The middle position has always been the short straw for all wheel drive cars and the Levorg is no different. It does feature a hump in the floor, that said it isn't as protruding as found in some rivals. Boot space is where this car excels with 522 litres to use, or a vast 1,446 litres with the rear seats folded flat.
Through that distinctive bonnet scoop is a 1.6 litre turbocharged boxer engine that produces 167 BHP and 250Nm of torque. This is then channeled through all four wheels via a CVT transmission. *ALARM sounds, children begin to scream* Generally speaking journalists don't tend to be very positive about Continually Variable Transmissions due to their lack of refinement under acceleration and their detachment from the driving experience. I was certainly quite vocal about the pre-facelift Levorg, and to a point I still feel that Subaru is missing a trick not offering a manual or diesel in the UK. However, this car has been reconfigured and instead of the CVT making a monotone mooing sound when you want to pick up the pace, the gearbox now simulates a regular automatic. In short, it lets the engine rev out to the redline before selecting another "false" ratio. Much better Subaru! We all understand the efficiency benefit of CVT but doing things this way allows you to keep the turbo on song more of the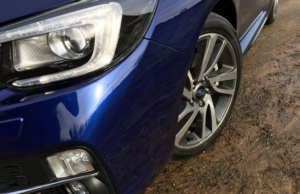 time. The 2017 Subaru Levorg GT is at its best when it is driven enthusiastically. At low speeds the firm ride can unsettle the car, but push on and the chassis displays keen handling characteristics. A strong resistance to body roll and precise steering means you can attack corners with a bit of vigour. This is in part thanks to the inherent low centre of gravity that a boxer engine has. All wheel drive gives you ample levels of grip, not just in general. but in all weathers. The added reassurance is something that typical Subaru customers value and a trait new ones will come to love. No matter if it is rain, snow, or sunshine, the Levorg will get you to where you need to go. Around town the Levorg is easy to manoeuvre for its size, especially with the rear reversing camera. The 18 inch alloy wheel with relatively low profile tyres do have a habit of thumping into road imperfections at these lower speeds. Subaru claim 38.9 MPG combined.
A key feature added to the 2017 Subaru Levorg GT is the addition of an EyeSight camera. This binocular setup enables the car to accurately identify pedestrians, cyclists, obstructions, and other cars. In the event of an impending accident it can hit the brakes to minimise the impact or prevent it all together. Another handy feature that EyeSight gives you is an alert that the car ahead has pulled away from you in the traffic. There is now no excuse for those who distract themselves and holdup the vehicle behind.
This car with its limited engine and transmission choice of one is still very clearly a niche product, but for those who fall in love with a Levorg, I'm sure they will be very grateful to Subaru for producing it despite the numbers sold. £29,680 lands the 2017 Subaru Levorg GT in with some serious competition, but as 99.3% of all Subarus sold over the past decade are still on the road, there is no contest in terms of reliability.