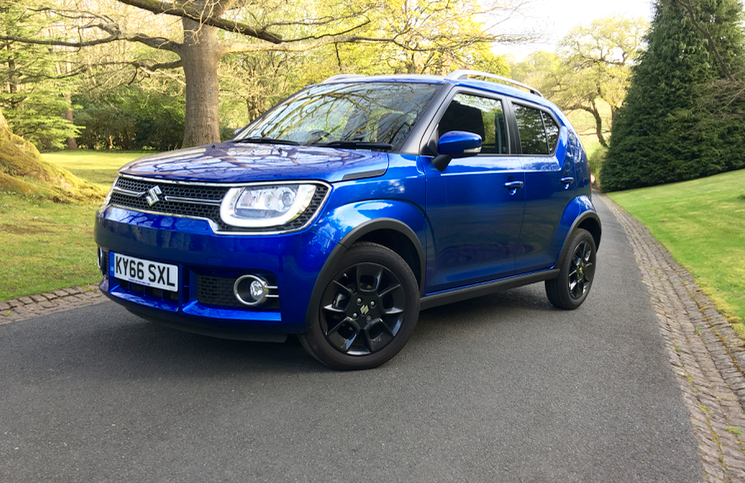 With crash regulations dictating the design of cars more than ever, it is unsurprising that a glance around the carpark results in many new models looking alike. Considering that your own personal mobility can often be an outward representation of yourself, not everyone wants to blend into the crowd. Enter the 2017 Suzuki Ignis ALLGRIP. A funky little city car that is big on character.
Whilst it may look alien parked against a gaggle of germanic hatchback clones, the Ignis positively hums with intrigue. A broad grill houses large rounded headlights whilst its boxy stance is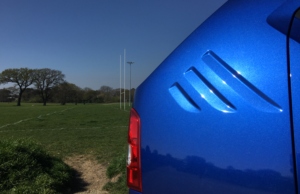 broken down by protruding wheel arches. Our top specification SZ5 test car looked pleasingly smart with contrasting black alloy wheels and memorising metallic blue paintwork. Roof rails, black cladding and a raised ride hight contribute towards a slightly more rugged look. Stylistic creases in the rear quarter serve as a nod back to the Suzuki Whizzkid whilst the rear end slopes downward for a bunt finish. It was a brave move from Suzuki to make the styling so unconventional, blunt it has paid off.
The interior of the 2017 Suzuki Ignis ALLGRIP SZ5 is also filled with interesting elements. A two-tone dashboard, contrasting details, faux carbon surrounds on the air vents. A Pioneer touchscreen infotainment display has been introduced, of which is a big step forwards from systems of old. Whilst it does have its moments of contemplation, its user interface is easy enough to use. There is a real sense of space inside the Ignis curtesy of intelligent packaging. However, large amounts of scratchy plastic do degrade the perceived quality of the interior. Don't get me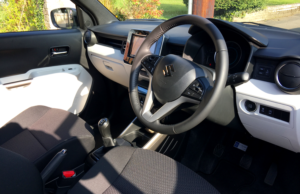 wrong, it is well screwed together and the "wipe clean" nature will go down well with small children, but some plusher trims in the top specification car would be welcome. The rear bench is made up of two individual seats that can slide and reline. Leg room is good as is head room for everyone but the tallest of individuals. The 204 litre boot is smaller than its front wheel drive sibling, but thanks to its shape every inch is usable.
This ALLGRIP model is actually a mild hybrid and incorporates a battery as well as the 1.2 litre naturally aspirated engine. Whilst some hybrid cars are complicated with many different modes, the little Ignis manages its drive behind the scenes. You simply drive and the car enables the battery to boost power as and when is appropriate. If only everything in life was that simple! Whilst a total output of 89 BHP may not sound like much, but weighing just 860KG it is enough to get the job done. The rev happy little engine is actually a grin inducing thing to play with alongside the 5 speed manual transmission. There is some body roll through the corners and the steering could do with more feel, driven enthusiastically it does have a real feel good factor to it. Of course this city car wasn't really designed for all of that larking around and within the gauze of urban life it feels very much at home. Small dimensions mean you can dart through traffic and easily park in tight spaces. Speaking of parking, respectable visibility all around aids with this as does a rear reversing camera. Light control weights make the 2017 Suzuki Ignis ALLGRIP an easy car to drive and its suspension puts up a fair fight against our rather rubbish British tarmac. Heading on the motorway provided quite the surprise… Whilst there was notable wind noise due to the shape of this car, the Ignis was very happy to sit at the speed limit. On one day in particular I did over four hours of motorway driving and not once did I feel uncomfortable or fatigued. SZ5 examples also get the luxury of cruise control. Suzuki claim 60 MPG combined.
As an ALLGRIP this model gets all wheel drive, and whilst it isn't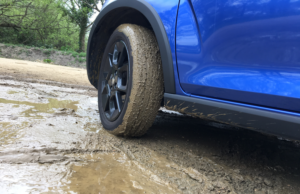 going to be scaling any mountains, the added traction means that it can stray further from the beaten track than many rivals. It even has hill descent control!
An 80's song poses the question "are we living in a box, are we living in a cardboard box?" Well, the 2017 Suzuki Ignis ALLGRIP demonstrates some of the outside of the box thinking that Suzuki has become known for. With more character in its headlights than most cars have in their entirety, this plucky little car with all wheel drive is an endearing proposition. £14,714 represents good value for money too.