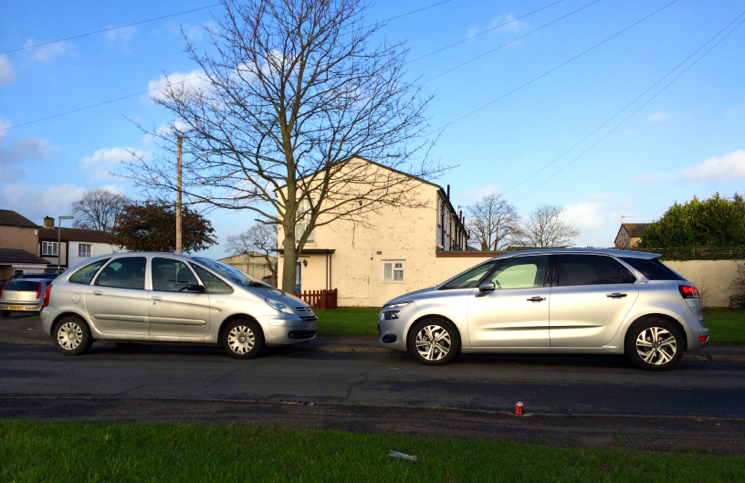 As I am sure you will have seen on the national news, much of Dorset has been washed away like water soluble paint from a soggy piece of paper in some of the worst floods for decades. Elderly ladies threw life rings to their cats,
fisherman moored their boats in local high streets and sights of teenagers wakeboarding behind pick-up trucks became commonplace. What was I doing whilst whilst all of this chaos unfolded before me? I simply observed whilst going about my business like an omnipresent spirit in my living room on wheels. This week I have been testing the new Citroen C4 Picasso.
The MPV market is an important one for Citroen and the Picasso nameplate has served it well in this battleground. However, this segments sales have been increasing year on year and so competitors are very keen to steal Citroen's thunder. Can this third generation car still claim to be one of the best people/bulky object movers on the road?
This specific Citroen C4 Picasso is the 1.6 litre turbodiesel model in Exclusive trim with every optional extra equipped. That means that whilst the Picasso starts at a reasonable £17,500 our test car comes in at a slightly bonkers £27,775. Not that I am complaining! Remember, there is a flood the other side of this glass so biblical a chap called Noah is building a rather large boat and so all creature comforts are most welcome.
Visually the C4 Picasso does a very good job of standing out from other MPVs. The thin band of LED lights that join the chrome trim gives the car an almost other worldly appearance. Neat body lines, an overall curved silhouette and some very stylistic alloy wheels make the C4 appear premium. Premium is also very much how I would describe the interior.
Entering this Picasso's cabin is reminiscent of getting into one of Citroen's top of the line DS branded cars. The quality and abundant design features immediately set a tone of luxury. The heated and massaging seats that are upholstered in leather are almost sculptures in their own right with their two-tone design and intricate stitching. There is a vast amount of space inside this car that is amplified by the large windows and a glass roof. Whilst the front passenger is treated to armrests and even a footrest, those in the back are made perfectly comfortable with adjustable seats and sun blinds. This interior is dominated by a centrally mounted 12 inch display that offers up the cars instruments and other data. Located below is a 7 inch touchscreen display that takes care of everything from infotainment to air conditioning leaving the dashboard almost buttonless. It is safe to say that this Citroen's cabin is a relaxing place to be even before you set off on your journey.
The keyless system means that from getting in, starting the engine is just a push of a button away. This car has a 6 speed automatic transmission with paddle-shifters if you want to change gear yourself. Personally I think that on
a car like this such an option only offers Dads on the school run a few moment of escapism as they pretend to be Lewis Hamilton before their child inevitably cry "are we there yet?!" Leaving the gearbox in automatic, it does a fine job of selecting an appropriate cog and changing, even if the changes themselves are not always the smoothest. Driving around town the C4 Picasso wafts with minimal engine and road noise. The steering is very light which is perfect for a car of this size in a urban environment, but the tradeoff is that it provides little driver feedback. This cars turning circle deserves particular praise as it can navigate a complete revolution of a pancake roundabout with ease. This dexterity combined with rear parking camera and excellent visibility makes placing it in a space easy. That said, if you are not very gifted in terms of spacial awareness, the car is merry to park itself in either a parallel space or a bay. On the motorway the Citroen C4 Picasso excelled providing tranquility and comfort even when the traffic ground to a halt. The suspension soaks up the bumps of the UK's often poor road surfaces well and body roll through corners is kept at bay.
Though this very C4 Picasso comes with a big price tag, it does ofter an environment so full of creature comforts that I returned home questioning why my bed wasn't as comfortable. Many of these toys wont be selected by the majority who buy this car, which is fine because as a machine of function this new Picasso acquits itself just as well as its predecessor. A huge boot and plenty of room for the children makes it a perfect fit for families. All-in-all I was impressed with the C4 Picasso and only wish that I could have kept one of its electric heated, massaging, fully reclinable, footrest equipped seats to sleep in.