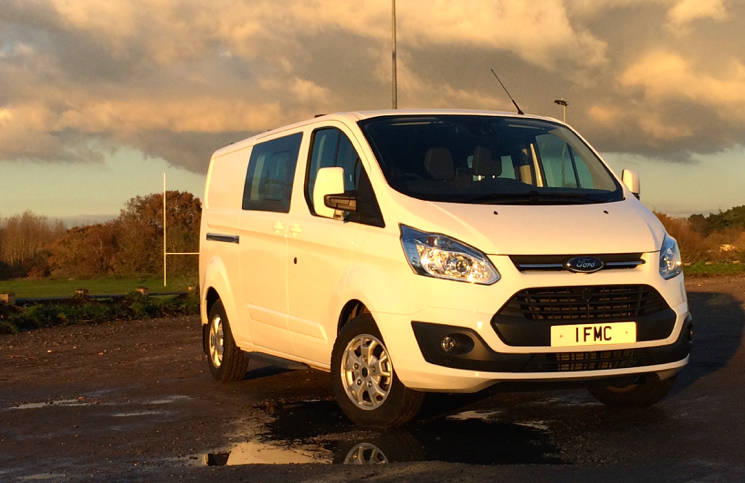 When you think of a van several things may come to mind… The colour white, poorly brewed tea, The Sun and maybe even a builders arse crack. Sorry for that mental image. But one word trumps the builders bum and that is Transit. In 1965
Ford of Europe introduced a tool of revolution. This purpose-built van was not only excellent at carrying things, but also affordable. Small businesses were soon mobile as the Transit name became the byword for van. Something this legend has always been commended for is the way it drives. During the 70's it was about as quick as most cars and handled like them to0, which for such a vehicle was a world first. Criminals loved them as getaway cars and the police soon found themselves spouting that old phrase "if you can't beat them, join them." Today over 7 million Ford Transits have been produced and it has won countless awards in its 49 years. With a new generation now introduced, the question is can this Ford Transit Custom Double-Cab-in-Van LWB 2.2 TDCi live up to its forefathers reputation?
You have more chance of being struck by a falling satellite than not being able to find a Transit van that is right for you. There are more body styles than you can shake a stick at making this model infinitely versatile. What we have here is the Transit Custom which is a mid-size van possessing front wheel drive. Our specific Transit is the double-cab meaning it has two rows of seats but it is also a long wheel base model meaning that there is an additional large loading area behind them.
For a van the Ford Transit Custom is quite a striking looking machine. In a world of relatively unremarkable slab-sided panel vans here we have something with a bit of design flare. Its ovular grill and large headlights are inspired by the same architecture as Ford cars and presents a pleasing aesthetic face that is very recognisable. Down the vans length a strong shoulder line runs under the passenger window to the rear. Back here you will find slender vertical lights that cascade downwards. Several people remarked upon how smart it looked. I mean really, who has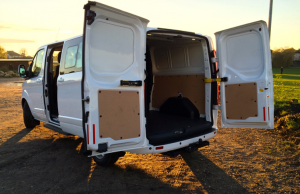 ever complimented a van for its visuals? Ever? Obviously this Transits numberplate drew plenty of attention with FMC1 being THE Ford number plate. (Ford Motor Company 1)
This generation Transit has the best interior of any van bar-none. Although utilising a slightly outdated centre console, the dashboard will be more familiar with drivers of cars. Sculpted surfaces and an instrument layout identical to that of the Focus makes this space not only feel ergonomic, but also welcoming. Three can sit upfront, each with heated seats in this case, with access to DAB radio, satellite navigation and the ability to pair the their Bluetooth devices. Cubby holes, glovebox and a large storage area under the seats are all very useful. The only issue I have is that the air conditioning controls are a bit of a stretch to reach as the driver. In the second row three adult can easily be seated with plenty of room. They are even treated to a full size
window. Open the two large rear doors and observe the great amount of space at your disposal. 4.4 cu.m is on offer which is impressive considering this van seats six in comfort. The doors can also swing open 180 degrees allowing for easy loading.
Powered by a 153BHP 2.2 litre turbo diesel engine, this Ford Transit Custom Double-Cab-in-Van LWB 2.2 TDCi has more than enough grunt even when fully loaded. Acceleration is more than adequate and its low down torque is highly accessible. Gear changes are completed via a rather slick 6 speed manual transmission. Pedal feel is good although there is a notable resistance to them as they are likely engineered to be operated with big boots. At low speed this transit is very manageable for its size and drives much more like a car than a traditional van. It is refined and the controls are well weighted. Visibility is good thanks to large door mirrors and a reversing camera integrated into the rear view mirror. At speed I am pleased to say that the Transit still retains its much loved handling characteristics. It is keen to turn in and with torque vectoring hitting an apex is easy. Ample grip gives confidence until you push on a bit too hard and the inevitable understeer begins to build, but that really is when you take it to its limitations. The ride quality is exceptional! Speed bumps, potholes, it takes them all in its stride and also manages to keep lateral motion to a minimum.
The Ford Transit Custom Double-Cab-in-Van LWB 2.2 TDCi is "van mans" best friend. Polite driving manors, versatile with something for everyone and handsome. This specific van came to £34,578 witch is a princely sum, however, it does have just about every option available and includes VAT. In reality it is highly unlikely that your average business user would specify their van so highly or even in Titanium trim. We got 34MPG combined from it this week which isn't far off of the official 40.9MPG. If it sounds like I hardly have a bad word to say about the Transit  it is because I don't. This van is very deserving of its best in class status.