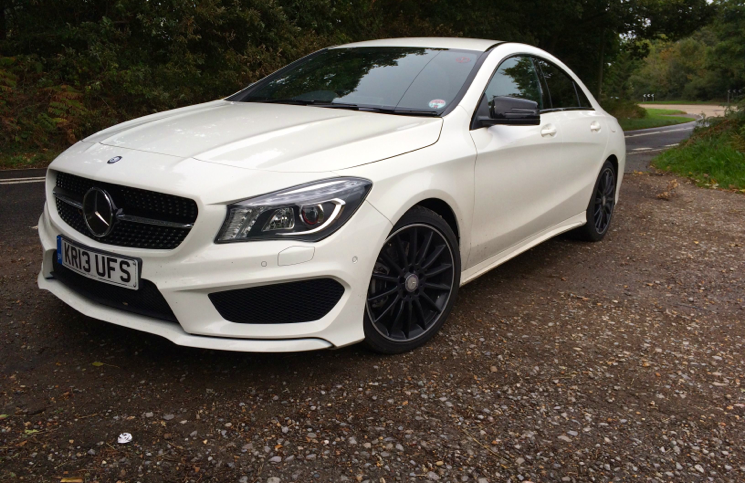 The three pointed star represents a lot of things to a lot of people. Some see the badge and think success and wealth, others a symbol of comfort and reliability, but there are a few who still think "old man." This last group have very much missed the memo when it comes to a modern Mercedes-Benz. Just a take a look at todays line-up and you shall see fresh designs that carry much of their concept car origins into the real world. Mercedes do still build their luxury palaces on wheels that are aimed at an older demographic, but much of their range has shifted focus to young aspirational types. The CLA is very much case and point when it comes to todays Mercedes-Benz.
Based upon the well received Mercedes A-Class hatchback, the CLA is a baby saloon that wields bold muscular look and heaps of class. From its blunt nose to the elegant slope of its tale, this CLA exudes character. Strong body lines draw your eyes
along its profile in an almost hypnotic fashion highlighting the sculptured details that make this car very handsome indeed. Our test car is the 220 CDI AMG Sport meaning that its aesthetics are highlighted by snazzy exhausts and those seductive 18" AMG alloys it wears.
The interiors of all new Mercedes-Benz cars, both big and small, are fantastic as the quality of material and design is clear for all to see. Red stitched leather narrates a premium interior that features aluminium vents inspired by aviation. Its seats are well bolstered and very adjustable. A large screen on the console displays the cars infotainment system. It doesn't take long before you realise that the baby Benz retains the brands luxurious core values. Unfortunately the fabulous styling of the exterior has a detrimental effect on the interior with the small side windows not letting
in very much light. The low sloping roofline at the rear also reduces rear passenger headroom, and with the bench having to be set further forward, leg room also. In the front of the cabin it is near faultless, however, passengers in the rear will find it a bit cramped. Boot space is generous allowing for plenty of luggage to be stored.
Starting the 2.1 litre four cylinder turbocharged diesel engine in this car is as refined as reading the newspaper in bed on a Sunday morning. The cars 350Nm of torque has no problem surging the CLA along. It is in fact that torque that is the defining characteristic of this car with acceleration feeling brisk and engine response immediate. The diesel unit can be a tad noisy at full throttle but settling down to normal driving finds the experience to be relatively tranquil. Through the corners the car feels like it has plenty of front-end-grip allowing for sharp turn in and addictive use of that torque to pull you around the bend. There isn't very much in the way of body roll, that said you do pay the price for that firmer suspension set-up in terms of ride quality. Over bumps the CLA could be described as being a bit firm and it is this that clashes a little with the luxurious Mercedes atmosphere the interior conveys. This CLA is equipped with a 7 speed DCT automatic gearbox with shifter paddles. In auto mode the cars gear shifts are almost unnoticeable as they are so quick and smooth. Mercedes have really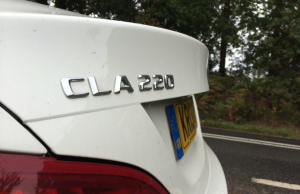 polished their cog swapping and it pays off in this car. The paddles allow for manual shifting when the mood takes you and on country roads, when you are looking for a bit of excitement, they play their part. Down shits are quick but the up shifts are immediate! When you are done with being a hooligan, simply rejoin the motorway, somewhere the CLA feels very much at home, and sink back into those supportive seats.
Officially capable of 62.8MPG, this CLA is a good choice for someone who has to commute a fair distance. It will whisk you along in style and comfort with that German reliability making the ownership experience peaceful. Our specific car loaded with all of the toys comes to an eye watering £39,415. Remembering that the options list is the real bank buster in any German car, its standard price is a much more reasonable £31,555. Though this car does have its faults, the 143MPH CLA 220 CDI has character and it is this that will entice its buyers the most.