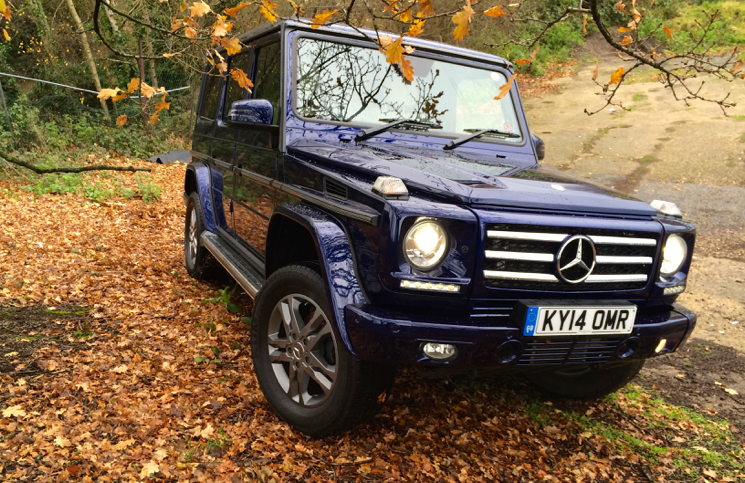 So you have a bit of money to buy a new toy but you don't want to merely get something expensive, you want to make a statement. Your proclamation when behind the wheel needs to be "don't you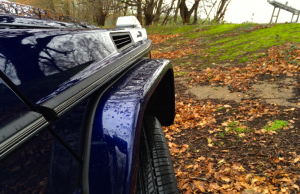 even think about it…" Clearly you are not shy, an introvert or a peasant. Sourcing its origins from a military vehicle, the G-Wagon, or G-Class as it is now known, has hardly changed in its appearance since 1979. Why? Because if what you have read above fits your description, you might just be one of the many cult followers of this German icon. We spent some time behind the wheel of a Mercedes-Benz G 350 BlueTEC LONG WHEELBASE in order to experience just what makes this car a dictators favourite.
There is no getting away from the G-Class' brutish charm. Its boxy visage detailed with design elements of pure function create a utilitarian and meaningful object. This sort of ethos is only seen elsewhere today on the Land Rover Defender. The Mercedes-Benz G 350 BlueTEC is truly unlike most in its class as it wears round headlights, stocky flared arches and a huge externally mounted spare wheel with pride. Our car was finished in an unusual Designo Mystic Blue and trimmed with chrome. This lean, mean, machine looks nothing short of intimidating preceding whoever may step out of it.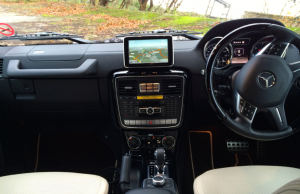 There is something beautifully analogue about the way the G 350's doors open. A firm press of a button leavers open a weighty door. Climbing upward and into this tall German legend you will find a complete contrast to its exterior. Instead of being full of exposed screws and heavy things to bash your elbow into, the cabin is lavish. Sumptuous Mercedes-Benz luxury is tailored into every inch of this cars porcelain leather. The architecture in here might be dated due to its blocky layout, but the amount of comfort enhancing technology at your disposal fuses past and present together. From your highly adjustable throne you have access to Mercedes 8 inch infotainment screen which sits above a flush facia. Brushed aluminium contrasts piano black features creating an undeniable sense of quality within the cabin. The front passenger receives a dash mounted grab-rail which hints at the G-Wagon's off-road potential. The second row seats five upon the same beautiful leather as those up front. Head room is plentiful, however, for such a large car space for passengers legs is less than you might expect. A highly usable boot makes up for this and thanks to its boxy shape, can be easily loaded with bulky items. Access to the loadspace is granted via a side hinged door which looks fantastically "old school." That said, in a parallel parking scenario there needs to be ample space for it to swing open.
Looking out of the windscreen and over just about everything, you feel a huge sense of dominion. Fire up the Mercedes-Benz G 350 BlueTEC LONG WHEELBASE 3.0 litre turbo V6 diesel engine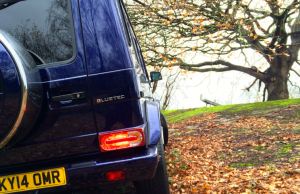 and this 2,570KG beast gets into motion. Do not go thinking that this car is all about image. Its retro looks provide good approach and departure angles for serious off-roading and the car is also equipped with a three way lockable differential. 540Nm of muscular torque will get this 4×4 up and over just about anything you point its nose at. It clearly is a highly focused machine when the going gets muddy, but this does somewhat compromise its driving experience. The high centre of gravity means that it leans almost comically through bends and heavy steering that doesn't self-centre can become tedious in an urban environment. Put your foot down in a straight line and 211HP, along with all of the aforementioned  torque, surges this leviathan along at a rate that will get you to 62MPH from standing in 9.1 seconds. Not bad for something of this size at all. Pottering along the tarmac reveals its engine noise to be a bit intrusive and its 7 speed dual clutch gearbox in manual mode not as fast as you would like. Despite these attributes there is still an unrelenting charm to the G-Class which makes driving it an occasion. People take pictures of it as you drive past or stare up in wonderment from their considerably lower driving positions. There are very few cars that make you feel like a celebrity when you drive them, but this is a very fine example.
Ultimately the Mercedes-Benz G 350 BlueTEC LONG WHEELBASE is flawed by the usual standards, but this SUV is anything but usual. It is beautiful in its prestigious preservation of the past and stands today as a very unique vehicle. You can't help but like its strange "peanut butter and jam" combination of old and new. Even if this one will set you back £106,150 and do a combined 25.2MPG.