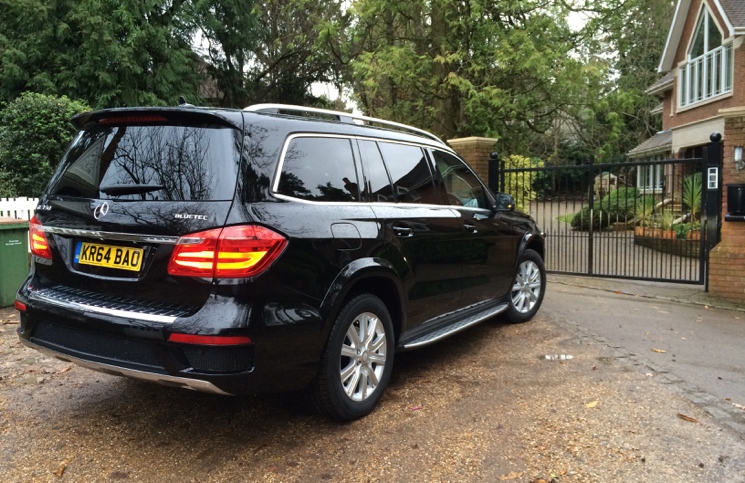 Convenience is great when possessed, but painfully frustrating when out of reach. A Swiss Army knife is a fantastic implement and saves you from carrying around a small toolbox. It fits in your pocket, has a device for almost every situation,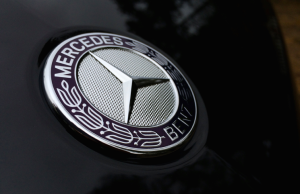 and has a well engineered Swiss touch. Ideally your car should be like a Swiss Army knife in that it should perform multiple functions to the best of its ability. Unfortunately we often have to compromise; performance for practicality, or aesthetics for ability. Mercedes-Benz could just have a solution in the Mercedes-Benz GL 350 BlueTEC 4MATIC AMG SPORT.
I will be honest, the Mercedes-Benz GL is not for the shy. It is big, bold, and in this case black. Towering above its surroundings, this luxury SUV with its blunt facia and chiseled body shape isn't going to get lost in a car park any time soon. Our test car, sporting AMG trim, had larger intakes and cooling ducts on its chromed bumper. An aluminium step runs between its long wheelbase mirroring strong body lines. A flat rear end is again decorated with chrome and a set of rather attractive rear lights. Body length roof rails span the GL tapering downward to a small rear spoiler. The cars overall appearance is one of class with just a hint of imposing aggression.
Climb up and into the cabin where you will find a vast interior. The cliched phrase "enough room to swing a cat" would be appropriate for the acres of space made available to occupants. A tall centre stack plays hose to a wealth of gadgets including infotainment and dual zone climate control. Comforting leather seats with a heater function are at the service of those sitting in the front. Aluminium details on a chunky steering wheel and gives the environment a true premium feel. Large leather armrests for each of the two front passengers further a promotes a sense of facilitation. The second row, seating three, presents a light airy space with a glass panoramic roof overhead. Both leg and head room are ample for even the tallest of specimens and cries of "are we nearly there yet" are kept at bay thanks to two headrest mounted TVs. A third row can be deployed from the boot floor revealing two further leather seats with just enough leg room for an adult on a short trip, or suitable for children. These two electrically deployable extra seats are also treated to cup holders. There is still 295 litres of boot space available with the car loaded to passenger capacity, but
with the rearmost seats tucked away that grows to 680 litres. Fold flat all of the seating and a gargantuan 2,300 litres awaits. This on top of all of the useful storage compartments makes for a practical family space.
A 3.0 litre turbocharged V6 diesel engine provides the pulling power for the Mercedes-Benz GL 350 BlueTEC 4MATIC AMG SPORT. 258HP and a huge 620Nm of torque means that the GL never feels under powered. Step on the throttle and the bonnet rises with the surge of acceleration. Despite weighing 2,455KG, with this engine it is still capable of 0-62MPH in 7.9 seconds and go onto 137MPH. However, the first thing that strikes you whilst driving this large 4×4 is not its straight line performance, but how manageable the car is to manoeuvre. The steering is light, every input is met with swift responses and visibility is excellent all around. On the move the driving experience is quiet and comforting whilst the supple suspension soaks up road imperfections. Put the suspension into its sportiest setting and it will reduce the amount of body roll in faster corners, but at the cost of the ride whilst in this mode. Its 7 speed dual clutch gearbox is perfectly happy to swap cogs for you and on the whole the shifts are smooth, yet when manually selected via paddle shifter they are not as quick as you'd hope. From its commanding driving position to smooth running, the GL is very good at creating an atmosphere of relaxation. That is until you enter your local town. There is no getting away from the fact that this is a big car and most "normal sized" spaces will struggle to facilitate it. Whilst the birds eye view camera and multiple sensors make the act of parking easy, finding a large enough space in the first place is a bit trickier. On another note, you might look at the GL and think of it as a bit of a "Chelsea tractor" or "all show and no go." You would be wrong… With adjustable ride hight, various terrain settings and hill decent control this Mercedes-Benz is equipped to deal with the rough stuff should the opportunity arise.
The Mercedes-Benz GL 350 BlueTEC 4MATIC AMG SPORT is a real multitasker and a highly capable machine in many areas. The biggest problem this GL has is actually nothing to do with the car itself, but its competitor. Range Rover's latest offering is undeniably the class king and with our test car coming to £73,675 you have to concede that the Brits have got the Germans here. That is not to say the GL is a bad car, not by a long shot.