Winter is here and if the newspapers are to be believed, it could be the coldest the UK has hosted in 50 years. All of a sudden having all wheel drive on your car doesn't seem like simply an expensive option box. More and more manufacturers
are offering all wheel drive across their range as customers like the extra security and capability it can provide when the weather gets a bit grizzly. Mercedes-Benz are one such manufacturer who can give you a 4MATIC variant of everything from the huge GL to the little A-Class. Fitted with winter tyres and ready for the oncoming storm, we put the stylish Mercedes-Benz GLA 220 CDI 4MATIC AMG Line through its paces.
Joining the fast growing SUV crossover market, the GLA is a high riding variation of the A-Class. Looking extremely premium in AMG Line trim, our test car in white with 19 inch AMG alloy wheels and contrasting black details turned many heads. More aggressive AMG bumpers gives this GLA sporting appearance which compliments its compact proportions. Further details such as bold bonnet lines and tinted windows complete a package that looks deserving of the three pointed star it proudly wears.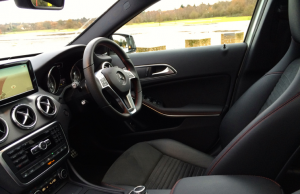 Inside the lavish styling continues in a manor seldom seen in this class. The cabin is dominated by two large red stitched seats armed with a tremendous amount of bolstering. They are man eaters and very supportive. Flowing facias with highly polished aluminium details creates an environment that feels expensive. A large dashboard mounted screen serves as infotainment whilst three shiny air vents sit below in an orderly line. Light floods in through glass panels in the roof making for a more airy space. Practicality on the rear bench is good seating three in the back. Leg room is more than is on offer in an A-Class although the aforementioned roof option does cut into head room. The boot is again larger than the A-Class, by a full 40%, sitting at a respectable 481 litres. Fold those rear seats flat and its capacity goes up to 1,235litres.
Under that rather masculine bonnet is a 2.1 litre four cylinder turbo diesel engine which sends 168BHP and a chunky 350Nm of torque to all four wheels. Around town this combination of low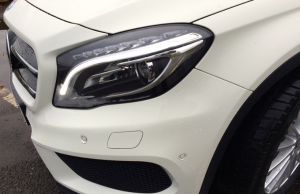 down torque, available from as little as 1,400rpm, and all wheel drive traction makes for brisk getaways from notoriously difficult junctions. At low speeds the steering is light and the 7 speed dual clutch gearbox smoothly clicks through the gears. There is some road noise but not vast quantities. This Mercedes-Benz GLA 220 CDI 4MATIC AMG Line strikes a fine compromise between riding well over lumpy roads, even with this cars sports suspension, whilst maintaining composed body control through corners. This models 19 inch alloys did lend to thumping into potholes and so we would recommend a smaller size for our rather battered road surfaces. There is plenty of grip to be had and that reassuring all wheel drive can send up to 50% of its power rearward if required. Whilst the GLA is a relaxing car to drive and performance for its turbocharged engine is strong, the diesel engine is not the quietest. It is a little intrusive at ideal and when accelerating hard it isn't the most orchestral sound. That said, it does make the GLA capable of 0-62MPH in 8.3 seconds and a claimed 55.4MPG combined. More dynamic driving reveals the chassis to be well setup but the steering could do with a more interactive approach. It is also in this scenario where its 7 speed gearbox also falls a little short not offering the fastest of changes when directed with the steering wheel mounted paddles. Even in its sportiest setting, upshifts are acceptable but downshifts are preceded by a slight hesitation before the change is made. For the majority of potential owners this is nearly a minor irritation, but with competitors using the superior ZF gearbox, Mercedes-Benz have some catching up to do. As a whole the driving experience of the GLA is perfectly pleasant making for an easy drive and a very nice means to get back home after a long day.
This car will sell in vast numbers I have no doubt at all. The ever growing popularity of this segment  means that for Mercedes-Benz to build such a car was an easy decision. It is a desirable object with style, practicality and good build quality. However, our Mercedes-Benz GLA 220 CDI 4MATIC AMG Line does have an achilles heel… The price. With all of its options including luxuries such as heated seats, AMG body styling, aluminium roof rails, dual zone climate control, reversing camera, surround sound and more its price tag of £37,065 is colossal for a small car. The range starts at just over £26,000 without all wheel drive and so its toys make an expensive car even more so. It could be argued that, like an Apple iPhone, such a premium product can demand such a cost.