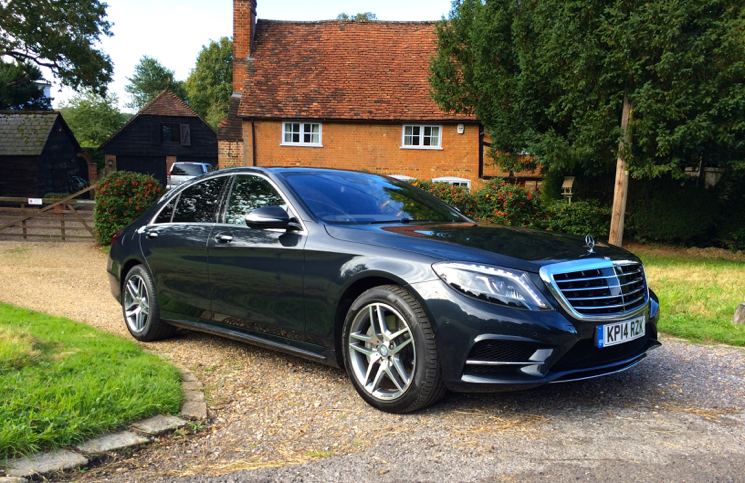 Are you someone who appreciates the finer things in life? Someone who knows the difference between sparkling wine and champagne, manchego and edam, Hugo Boss and Armani suits? Clearly such a sensitive pallet for life can not drive a car
for the everyman. Representing the finer things in life, the Mercedes-Benz S-Class is the flagship of the three pointed star and in its latest incarnation promises to be one of the most luxurious machines on the road. This Mercedes-Benz S-Class S300 BlueTEC HYBRID L AMG Line proposes a more opulent way to travel.
Whilst the demise of Maybach come to an end, Mercedes-Benz has decided to move the already affluent S-Class up to fill the void. As a result this car must satisfy everyone from stockbrokers to global dictators. The new S-Class silhouette is a sensationally sleek affair with soft flowing lines running from nose to tail. Its design has a distilled fluidity to it creating an elegant sculpture. A large chromed grill boldly displays this cars prestige along with a classic bonnet ornament. The whole package is a statement of class and wealth, a symbol of success.
Enter the cabin of the Mercedes-Benz S-Class S300 BlueTEC HYBRID L AMG Line and you are greeted by a level of luxury and craftsmanship akin to that of a private jet. The black interior wraps around occupants surrounding them in quality materials and technology. Piano black segments are detailed with aluminium trim highlighting their form. Two widescreen displays make up the instrument panel and the infotainment screen promoting a highly modern aesthetic. The steering wheel is a work of art crafted in leather, the same piano black the trims the rest of the cabin and brushed aluminium. A small plaque at the bottom of the rim reads "Mercedes-Benz" in italics, a signature of approval from the company itself. Its front seats are very supportive and sport intricate contours. They are highly adjustable, heated, cooled as well as capable of offering a massage. However, it is the rear segment where many owners of this long wheelbase variant will spend their time. Two large seats welcome you into an area of the car that benefits from its extra length. These chairs recline
and can do all of the services that the fronts provide. Two screens are housed on the rear of the front seats and a fridge sits between the rear occupants. Surround sound, mobile internet, and a remote control for almost every function means that you have all you may need to run your business on the move or even prepare for world domination. This interior is not only the most impressive piece of design to be within a Mercedes-Benz, but short of a Rolls-Royce, any car.
Push the starter button and silence is all you will hear as you pull away. This being the hybrid model means that its electric motor can power the car at low speeds. Slightly increase the pace and the 2.2 litre turbo diesel engine makes itself known. The surge of 369lb ft of torque makes progress effortless and a 0-62MPH time of 7.6 seconds is highly commendable for a car of this size. As you cruise in the S-Class you find yourself again likening it to a private jet in terms of tranquility. It is as if the outside world does not exist and world war three could breakout making no difference to you in your bubble of German royalty. Wafting at low speeds is extremely peaceful, especially when running solely on electricity. The steering is light and onboard technologies such as pedestrian detection systems and even night vision ensures the S-Class is equipped for every scenario. Whilst on the subject of safety, the rear seatbelts are fitted with airbags reducing the chances of rib injuries in a crash. You would think that parking such a large car would be difficult, but with a 360 degree "birds eye view" camera it is easy. Picking up the pace on twisty roads invites you to adjust the air suspension to a firmer setting, the car can also use the system to raise itself over mountainous speed bumps. In its sportiest mode the throttle response shapes and there is noticeably less roll in the corners. The S-Class is well behaved handling its weight without complaint, however, the diesel engines noise can be a bit intrusive under load. On a motorway the Mercedes-Benz S-Class S300 BlueTEC HYBRID L AMG Line is at home, floating past the great unwashed in their simple conveyances, you become aware of just how blissful a journey in this car is. The car has adaptive cruise control and even a system that will keep it in the centre of a lane around slight bends. A respectable 61.4MPG combined is quoted by Mercedes in terms of fuel economy.
The Mercedes S-Class is a modern-day marvel, a real benchmark within its class. This Mercedes-Benz S-Class S300 BlueTEC HYBRID L AMG Line is ideal for those who want all of the luxury the Germans can offer but also lower running costs. With all of the equipment onboard, this specific S-Class comes to £103,185 which to us mere mortals is a huge amount of money. That said, dependant upon how you look at it, the S-Class can be seen as good value considering just how much car you get.