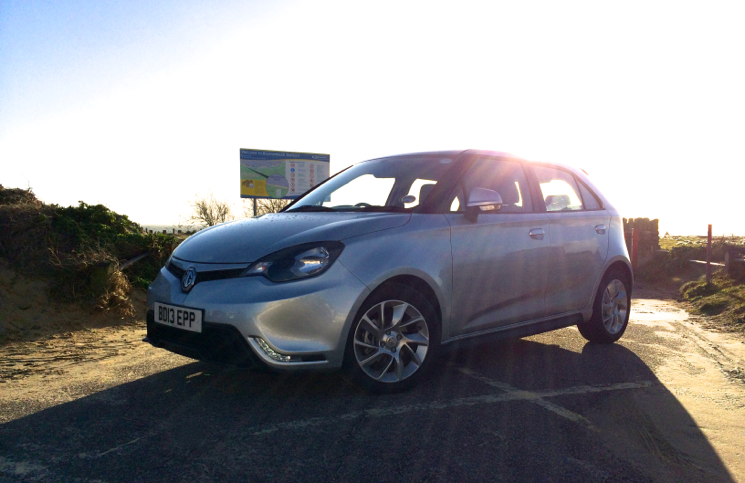 One of the toughest times of year for our cars is the Christmas period. Manic last minute trips to the high street in stop/start traffic, heavy and often awkwardly shaped gifts to lug around, motorway slogs in order to get to family, and that is even before we get started on the UK's erratic winter weather. Over Christmas I have been testing the new MG3, but the question is, how did this little car cope with hustle and bustle of December?
 This MG3 was in 3From Sport flavour and for those of us who don't speak MG, that means it is one trim level down from the top specification 3Style. So what do you get? In this "Silver Fox" tone the 3 presents itself as a rather modern piece of design that should play well with the iPod generation. It looks good proportionally with its little 16 inch alloy wheels placed in each corner creating short overhangs. From the couple of MG3's we have driven in the past, it is clear that the customisation options do give the cars very different characters. For example a previous configuration with bonnet stripe and black wheels gave it a very sporty appearance. Another with pink wing mirrors and a patterned roof created a more feminine vibe. Without any of the stickers or contrasting mirrors our test car looked rather gown up and had several comments thrown its way about how smart it was.
The interior is very spacious for a car of this size and does well to maximise things such as head and leg room for passengers. Its boot is also a good size and was very happy to swallow the families holiday gifts. Despite this car costing only £10,000 its equipment list is very generous. DAB radio, Bluetooth, steering wheel mounted audio controls, air conditioning, smartphone dock and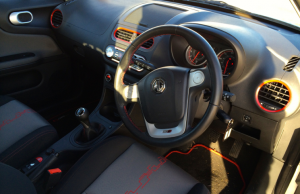 electric mirrors are all included. Considering the only option on this MG3 was its paint, the 3From Sport model scores highly in terms of value for money. The console layout is simplistic but functional and is home to a rather funky temperature gauge for the air conditioning. This MG3's dashboard follows suit and allows for easy reading at a glance. As for the seats themselves, they are comfortable and to be perfectly honest, I prefer them to the half leather ones you get in the 3Style model.
Powered by a 1.5 litre petrol engine, the MG3 skips along at a reasonable pace. The majority of this engines power is found high up in the rev range and as a result fuel economy suffers at times. That said, this car does seem to have a playful manner about it and so revving the nuts off of it on some twisty forest roads is actually rather enjoyable. Something MG have got very right with their latest car is its handling. Throwing the car into a corner reveals good levels of front end grip and a lack of body roll. The steering has good feel and allows the driver a better connection to what is
going on where tyre meets tarmac. In terms of suspension, the MG3 rides well and this adds to what is a competent chassis. On the motorway road and tyre noise are at levels lower than expected, but the lack of a 6th gear means that the engine is at higher revs. Heading back into town, the MG3's agility that provided much entertainment on country roads, proves useful in a busy urban environment. With good levels of visibility and the cars compact size, parking is a doodle. A very handy thing when at this time of year people are willing to chew their own arm off in order to get a space near the shops.
So whilst the Christmas rush is over and done with for another year and the MG3 ticks itself to to sleep outside, what can we conclude? Well, this new MG certainly appeals to a much broader audience than the MG6 and its low price combined with many customisation options should entice younger customers into showrooms. The machine itself is practical and fun to drive when the mood takes you. Whilst a wider selection of engines would be welcome, for buzzing about the city and the odd motorway blast, the MG makes for a very reasonably priced alternative to competitors. If the octagon keeps playing its cards right, the future should be a bright one.