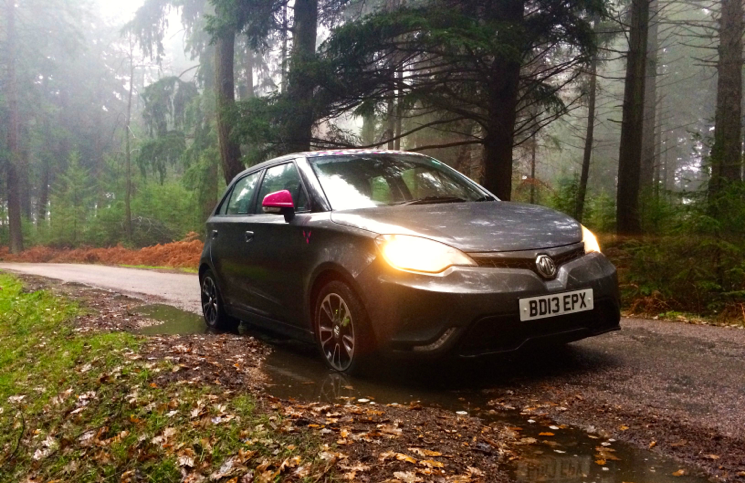 And so MG are well and truly back… The only thing is, have you seen one on the roads? Your answer is likely to be either no or very few. Whilst the MG6 in diesel guise is actually rather good, a small dealer network and lack of advertising means that most people were unaware of the prestigious brands return to its home nation. With the launch of a more mainstream hatchback in the form of the MG3, the octagon is going all out to let people know about their new arrival.
Now, we are guessing whoever sent us our MG3 test car with pink door mirrors and questionable roof design fell off of their chair laughing as it was driven out of the factory. Whilst in grey with these rather girly touches, my masculinity was questioned by members of the public, but strip that away and what you have is a rather funky looking car. The blacked out A-pillars and snazzy alloy
wheels give the MG real character. Its short overhangs and a compact stance makes it look trendy and modern, but then what do I know, I own a pair of orange shoes! Clearly being aimed at a younger audience, the MG3 has a wide range of customisation options meaning that an owner can  make their car a bit more unique. However, the biggest plus for younger buyers is that this fully loaded 3Style model costs less than £12,000!
Enter this car and the true "value for money" element is revealed. For less than £12,000 you get a car not of poverty specification, but one equipped with toys such as; automatic windscreen wipers, DAB radio, Bluetooth, air conditioning, cruise control, parking sensors and a smartphone dock. Ask for the same list of kit on any of this cars competitors and you are talking about spending a
noticeable amount more. Interior space is generous with MG clearly harnessing Time Lord technology to make it "bigger on the inside." Seating five in part leather sports seats, the 3 makes for a nice place to sit and garnished with simple easy to use controls, it is easy to live with too. The cabin is not as well polished as some competitors and there are a few quality issues in places, but then for every little niggle like that I find myself coming back to just how cheap it is.
On the road the MG does very well for itself. Around town it skips from street to street like a frog does lilypads. The 5 speed gearbox is configured primarily for urban use and the good levels of visibility makes it easy to park. Powered by a 1.5 litre petrol engine we achieved around the 38MPG mark across multiple environments. That MPG figure is a bit lower than other cars in this class, something that an expansion of engine options might help in the future. Over bumps and the potholes that our roads are seemingly riddled with, the MG3 rides well. On motorway journeys the lack of a sixth gear means that the car revs higher, but that said both engine and tyre noise are not overly intrusive. These longer journeys showed the MG3 to be comfortable and more refined than anticipated. However, long flat strips of tarmac are boring and this little hatchback agrees as shown through its apparent enthusiasm when the road gets twisty. Taking the MG3 out into the countryside provides the best opportunity to show that the octagon still knows what it takes to build a good handling car. Throw it into a bend and the front end drives towards the apex without a second thought. A lack of body roll and a well sorted chassis means that this car is great to chuck around. With all of the power being at the top of the rev range, a cheeky heel-toe downshift before a corner is immensely satisfying. The steering feels nice and direct complimented by good levels of grip. Driving the MG3 in this manner does put a grin on your face and bodes well for future sporty MGs.
In many respects this car has met its objectives. It is cheap, gives the competition a hard time in terms of value, it appeals to a younger broader audience and provides the opportunity for MG to get back into mainstream car sales. This MG3 represents the future of this brand in the UK and so an awful lot is riding on its adoption. It deserves to do well and I think if marketed in the right way it will do just that.