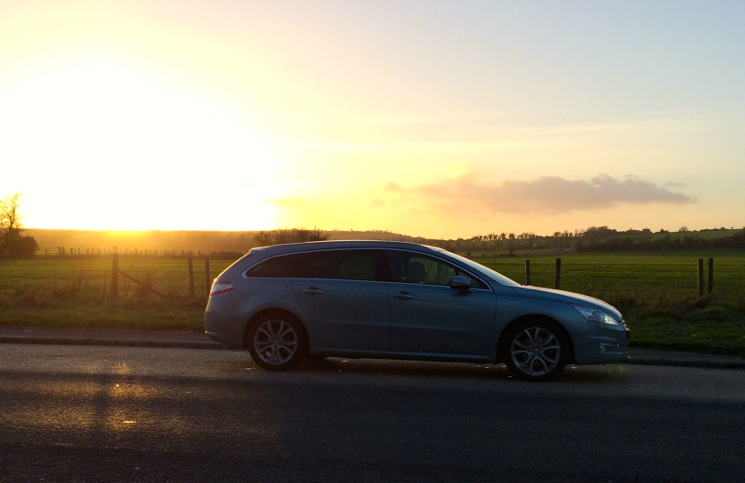 For those cars that will become the family workhorse there have always been many things to consider before purchasing. Is it practical enough for mundane chores such as shopping? How safe is it? Will it be comfortable to use everyday commuting to and from work? However, in todays world there is yet another parameter that has to be taken into account. How efficient is it? With the cost of fuel only going one way and cars being penalised for high CO2 emission, economy has become a higher priority for new car buyers than ever.
This is the Peugeot 508 SW, a rather stylish estate car that ticks plenty of the above boxes whilst adding a generous dollop of extra practicality over a saloon. Peugeot are well aware of the importance placed on fuel consumption
and emissions with new strict Euro 6 standards coming into force from later this year on new models, but for all cars from 2015. This particular Peugeot 508 SW gets ahead of the game and is powered by a 2.0 litre diesel engine that the French company has branded BlueHDi. What is so special about it? Well in a nutshell, to cut down on emissions the car effectively adds chemicals and filters exhaust gases in order to expel less CO2. Obviously the BlueHDi is a lot more clever and scientific than that, but the end result is a 150BHP 2.0 litre diesel engine that only emits 110g/km of CO2. Better yet, it will only cost you £20 a year to tax.
Visually the long profile creates a sense of elegance from badge to boot lid. In what Peugeot calls "alpine blue" our test car with chrome trim looked grown-up and overall quite good looking. The 18 inch alloy wheels on this model are very smart and serve well to draw attention to other local features such as horizontal body lines and those steeply raked headlights.
This mature design architecture also lends itself to the cabin which is by far one of Peugeots best. A central control console that leads from the main dashboard divides the driver
from the front passenger. On this unit are handy shortcut buttons for satellite navigation, radio and use of the handsfree Bluetooth feature. All displayed on a screen above, the system is ergonomic with navigation inputs done primarily through a small joystick. The cabin feels like a premium place to be with smooth leathers and some glossy trims. This 508 has a full length panoramic glass roof that is great for letting in lots of natural light. Its instrument cluster is a work of art and watching the dials dance into life on ignition and fade away into darkness when you are done with them is a nice feature. On this Allure model the front seats of the 508 SW are supportive and comfortable on long journeys with the added bonus of being heated for those cold days. In the back, head and leg room is plentiful. The central rear passenger can also enjoy a flat floor that is pleasantly lacking transmission tunnel protrusion. Boot space is adequate though some competitors do offer more with their estate cars. A nice feature of the boot is the addition of cargo netting that prevents lone bags from wondering around the space.
On the road the 2.0 litre diesel engine in tandem with its 6 speed gearbox proves to be exceptionally smooth and quiet even under heavy acceleration. The 508 SW is happy both in urban and motorway environment as its silky smooth ride irons out the rutted nature of our roads here in the UK. You are always aware that the SW is a big car, but visibility is good all around and so parking and navigating tight junctions are never too much hassle. The torque on offer is a further asset at busy roundabouts enabling the driver to take advantage of a gap. Pedal feel is good and the brakes, when applied firmly, inspire plenty of confidence in the car. My only real gripe with the car in town is that its steering weight seems inconsistent sometimes requiring no effort at all to turn the wheel, but the next moment being considerably firmer.  On dual carriageways and motorways the 508 settles down into a pleasant rhythm and covers ground with ease. There is enough power and torque from the engine to pull off even the most courageous overtaking manoeuvres. Driven with your lead boots on, the Peugeot 508 will merrily guzzle the diesel you feed it, but be sensible and like us you can get 53MPG in real world driving conditions.
The Peugeot 508 SW Allure 2.0 BlueHDi 150 deserves commendation as it has proven itself not only to be a comfortable and practical solution for families, but its economy and cleanliness can also save them money. It might not be as engaging to drive as some rivals but this car feels like a premium product and some, considering the amount of time they will spend in it, will value that more.