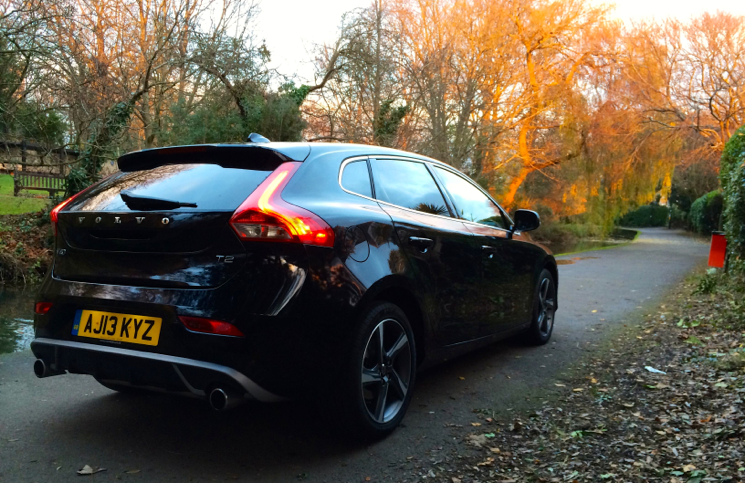 Technology is something that each and everyone of us takes for granted in todays world. Take a moment to think about how convenient it is that your smartphone can tell you what the weather is like where you are going, remind you of what time to leave in order to avoid the traffic it has found on your route, as well as guide you to your eventual destination. All of that from a little box in your pocket that was originally designed to make a phone call. Volvo are at the very cutting edge of technology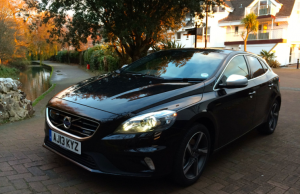 when it comes to the automotive sector. Their advances in safety technology and endless research has not only provided their customers with safer vehicles to travel in, but also spurred competitors into advancing their own technologies to compete. Volvo's reputation for safety is well deserved and hard earned but the question is can they package it in such a way that, much like our mobile phones, we take it for granted? The V40 aims to do this, but also beat attempt the Germans at their own game in the arena of premium hatchbacks.
Looking fantastically executive in the Black Sapphire Metallic of our test car, the Volvo V40 provides an aesthetic design that is both elegant and purposeful. The sculpted shoulder line and wide grill are complimented by that proud Volvo badge on the cars nose. This being the R-Design model means that it gets dual exhaust pipes and  a set of very smart alloy wheels. Its visuals are unique in comparison to competitors and convey the grownup premium nature of the V40.
The interior is a masterclass in practicality, build quality and design. Seating five in comfort the overall spacious feeling in the V40 is the basis for a pleasant environment. The R-Design models receive a set of these rather sporty half leather half
alcantara seats that offer good levels of bolstering and support. Rear passengers are treated to plenty of leg and head room, not to mention half a dozen neat storage facilities. Heading back to the front of the car you will find its completely digital and customisable instrument cluster that sets the high-tech tone that runs throughout. DAB radio, satellite navigation, Bluetooth and other media functions are all accessible using the controls on Volvo's signature floating central stack. On said console there is also access to some of the V40's innovative safety features, but we shall get on to those later. The thing I love most about the interior of this car is the attention to detail. It really does feel like engineers have sat down and looked at every element of the cabin thinking "is there any way we can make that better?" Take the mirror for example… Designers have made this one without a black frame around the edge, a very small and almost irrelevant detail, but in doing so the now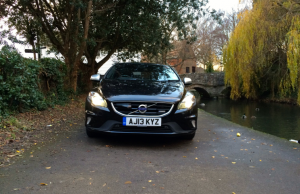 floating piece of glass is much more pleasing to the eye. Everything you touch or interact with has a nice firm feel that promotes a real sense of care from the people who built it. My only real criticism with the interior is that the boot as it isn't quite as big as competitors and has a high lip. Other than that it is genuinely hard to fault.
Equipped with a 1.6 litre 118BHP petrol engine, this Volvo V40 T2 whispers into life at the push of a button. The intuitive digital instruments display detailed car graphics for alerts and local speed limits in a manner that shows it to be a very user friendly interface. In motion the V40's engine is responsive and in cooperation with a well geared 6 speed manual, it is a pleasure to drive. The driving position itself is comfortable and useful steering wheel mounted buttons are logically placed bringing peace of mind as opposed to the blind panic of some cars when you accidentally cancel the navigation. Its pedal set feels good with the weight of the steering complimenting the way in which this car interacts with the driver. Turn-in is precise and the whole chassis is actually good fun when driven hard on quiet country roads. Over bumps the V40 is comfortable although when the road surface becomes particularly bad it does feel a bit fidgety. On motorways it becomes apparent vey quickly that the Volvo can swallow vast distances with ease. Setting the radar guided cruise control allows the driver to relax and enjoy the journey. The car will sound an alert if it feels you are getting tired or need a break as well as ensure you don't accidentally drift into another lane. It will also apply the brakes to avoid a collision with the vehicle ahead if the situation arises. That collision mitigation system also works for pedestrians at lower speeds. Sticking with the subject of running over members of the public, Volvo have equipped the V40 with a pioneering new safety system that deploys a bonnet airbag to cushion a pedestrians fall onto the car. A fantastic feature that will no doubt save lives! Another of the cars useful gadgets is its ability to parallel park itself, very handy in a built-up urban environment.
The Volvo V40 T2 R-Design puts forward a very competent and complete package for those who desire safety, high levels of technology and comfort. Gone are the days where you would sit impatiently behind the driver of a beige Volvo who appears to be stuck in 1989. No, todays Volvo man wears a sharp suit, has the latest iPod in his pocket and glides along in a car that is at the forefront of technology. The V40 does it all without you even thinking about it, a bit like your smartphone…