Nobody likes being second best. No matter what our mothers told us when we were younger, "you almost won" is no consolation for missing out on your time at the top. VW may dominate the motor industry by owning giants such as Audi, Lamborghini, and Bugatti, but in the small hatchback sector the Polo has always played second fiddle to Ford's Fiesta. "No more" say the Germans as they go all out with this new generation Polo.
Looks pretty sharp doesn't it? Our test cars metallic black paint does well to emphasise the much more aggressive design characteristics. The well defined shape garnished with bold lines gives this Polo a look of importance that was absent from previous generations. As the vast majority of car purchases are made mainly on how the machine looks, this one should do well as it ditches its once bland appearance. The pleasant architecture is carried over to the interior bringing with it some nicely sculpted surfaces as well as well defined areas of the center console. Every button and knob not only looks and feels premium but they all bring a sense of purpose to the cockpit. Too many cars today have meaningless symbols scattered like lost scrabble tiles all over the place, but here everything has been logically placed and perfected. That is really what the Polo must take as its most competitive element. Whilst the Fiesta and rivals are cheaper and have other merits, this German hatchback could pass as a small saloon thanks to its high levels of refinement. Seating is supportive with some rather functional headrests. I mention these specifically as driving the Polo is so effortless that you will find yourself leaning back much more often. In the rear section headroom is generous but the space for passengers legs was distinctly average. Boot space is again average for the class but does include a false floor to store fragile or precious items underneath.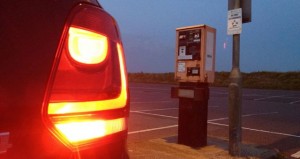 In motion the 1.4 litre motor pulls well delivering good levels of performance around town. Coming out of junctions it may be a little slow to respond, thanks to not having the most responsive throttle peddle, but to the casual driver it isn't anything major. The steering is also well balanced for the urban environment and provides a rather neat little turning circle.  At idle the engine is near silent and often provoked comments such as "is it turned on" from many of my friends. The gearbox deserves particular admiration as it is so silky smooth that you can literally swap a cog with your little finger. Pair that with its light clutch and you find yourself with a fantastic car for commuting. The whole driving element of this machine is extremely polished and with good levels of grip it never leaves you feeling that the car is anything less than capable. On motorways this refinement is bliss as journeys of a few hours are effortlessly completed and soothed from a passengers perspective thanks to a sound system of high quality.
However, as with everything, you can unearth a few undesirables with the Polo when you get nitpicking. The steering wheel isn't the most comfortable
object to hold in your hands for lengthy periods of time. Its hard plastic surface feels a little abrasive for my liking and that is a shame as everything else is of such a high standard. As I said the steering is well balanced for the urban environment, but at motorway speeds it can feel a little vague. I guess this is the trade off that Volkswagen made in order for the little car more suited to an urban environment. My only other gripe with car is with its onboard computer continuously telling me what gear I should be in. One of the joys of owning a manual car is being able to make a decision as to what gear you want by yourself. The system isn't intrusive but the arrow on the dashboard telling me to change up in order to save fuel became a pet hate. But really these aren't deal breaking issues and the Polo can still stand tall and proclaim itself as one of the best all round hatchbacks on sale today.
Our model as tested cost £13,600 which isn't all that much more expensive than a similarly specified Ford Fiesta, the gap certainly is much more narrow that what it has been in the past. So does the Polo surpass the master of this class? It really is very close but where Fiesta loses out on interior fit and finish, it does make up for in its enthusiasm on country roads. The VW Polo is a very fine car and does such a good job of being a dependable machine that you would be pleased to own.