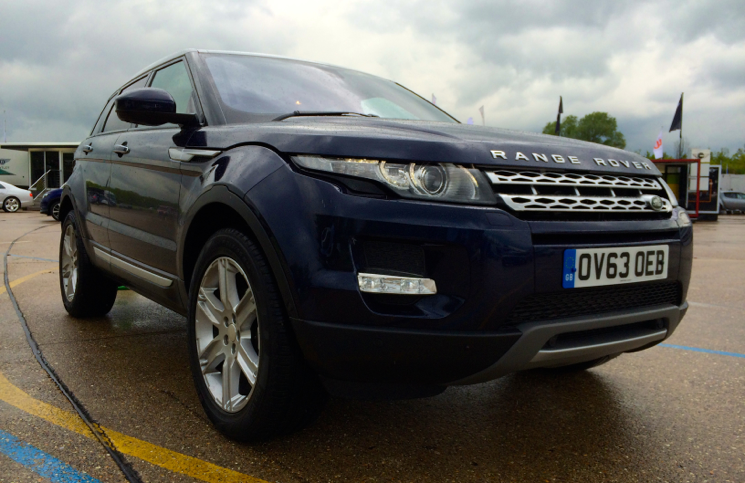 The term "trend setter" is used far too much these days. Something that is flavour of the month isn't necessarily going to be still setting the world on fire a few years down the line. A period of time has to pass before a product can truly claim that
title and so, using that theory, we can now very safely say that the Range Rover Evoque has indeed shaped the market. Just like the iPod, this stylish SUV became what people wanted and when rivals saw just how many sales it was generating, they had to try and get a slice of the pie. This is the 2014 Range Rover Evoque Pure SD4 5 Door.
Sticking very close the the LXR concept which gave the world its first taste of a baby Range Rover, the Evoque still has that high class ora of its bigger brothers. Its proud grill and signature
typeface are worn on its nose like a medal of distinction. The raked roofline and straight accents running down the body creates unique silhouette which is clean and modern. Obviously the bold wheel arches are there to enforce, that despite its size, this car is still capable when the road runs out. Our test car was finished in what Range Rover calls "Loire Blue" which complimented its contrasting silver roof very nicely.
The cabin is beautifully crafted and has an air of tranquility about it. As the panoramic roof of this model saturates the passenger space with light, the high quality of materials is clear to see. Leather and intricate stitching cover this cars cascading surfaces. The centre console houses a touchscreen infotainment system and climate control. This surface travels downward presenting the drive with a rising gear selector and terrain response options. Seating is both
supportive and comfortable. Rear passengers have good levels of head room in this 5 door model, whilst leg room is adequate.
This Range Rover Evoque Pure SD4 5 Door is powered by a 2.2 litre 187BHP diesel engine that Range Rover says is capable of 47.1MPG combined. Our specific Evoque is equipped with a new 9 speed ZF automatic gearbox which is silky smooth. You might think that 9 gears is a few too many but with the seamless action of each change you hardly notice the transition. Other than some road noise the Range Rover Evoque has a good set of road manners being very compliant on bumpy surfaces whilst feeling nimble in the bends. There is some body roll as you would expect from a car of this type but it remains composed which is a great ancestral trait of Range Rovers.
Our test car came to a princely £49,659 but it was loaded with options including the Lux Pack at £4,650. Said hefty option includes; powered tailgate, panoramic roof, premium audio system, a very snazzy dual view touch screen, digital TV, surround cameras, keyless entry, blind spot detection, climate control and parallel park. Considering the amount of kit and the fact that you are buying a premium product, I think the price is justified.
We look forward to spending some more time behind the wheel of an Evoque to bring you our full review.