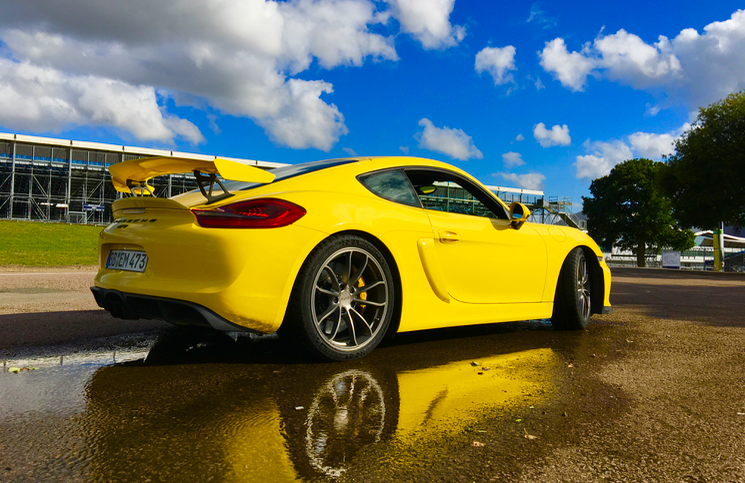 Any performance brand has the core objective of chasing progress. Lighter, faster, stronger, more advanced with every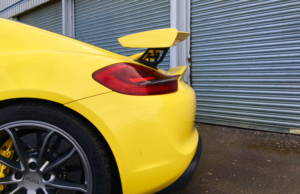 incarnation. An endless game of chase to find perfection. However, perfection is different dependant upon your perspective. Whilst on a spread sheet one solution may yield a "better" result yet out here in the real world that might not compute. You see, us humans are strange creatures… Influenced by emotion and unquantifiable desire, the most efficient solution isn't always the one that sets our senses alight. With the Porsche 911 GT3 RS only available with PDK and the latest Boxster loosing two cylinders, I began to worry that Porsche had been looking at graphs for a bit too long. But then this arrived! The Porsche Cayman GT4.
Looking lean and mean in this intense yellow, the Porsche Cayman GT4 is the latest edition to the GT family. Lower and wider than the standard model, this coupe has the stance of a racing car. Enlarged intakes enable it to breath in more freely whilst a central dual exhausts allows this little menace to exhale. A huge rear wing, boot lip, and diffuser all work together to increase downforce and provide quite the spectacle for onlookers. Proportionally its is a great looking machine full of purpose and aggression.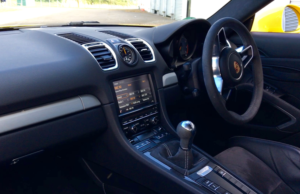 Our test car was endowed with a pair of optional carbon fibre racing seats of which provide exceptional levels of support for track driving. You sit low in the chassis becoming that organic component in this recipe. That said, they are not the most dignifying things to climb in and out of. The rest of the cabin is a blend of Cayman architecture and GT character. Alcantara lines the simple three pronged steering wheel as the Chronograph clock ticks away in the dashboard. A large roll bar sits behind occupants hinting that the race breeding goes well beyond the visuals. Despite clearly being a performance tool, the GT4 is still practical with some rears storage space and a good size boot situated in its nose.
Turn the key and you are in for a treat. The Porsche Cayman GT4 erupts into life with a bark from its naturally aspirated flat six engine. No turbos, just combustion at its purest. As you set off you immediately note the control weighting. It's not too heavy, but it has meaningful resistance enabling you to make precise inputs. The revs build and the car feels alive with anticipation for what comes next. Line the car up with an empty stretch of tarmac and pull the trigger! You are sucked back into your seat as a symphony of 380 BHP from that 3.8 litre unit fill the eardrums of every living thing within a mile. The GT4 howls as you grab second from its delightful short throw manual transmission. 0-62 MPH is done in 4.4 seconds and its top speed is 183 mph. As your velocity builds you can feel the car hunker down and become very confident in its placement on the tarmac.  Approaching a technical section you can lean on the the communicative brakes. Downshifts are met with an auto-blip of the throttle. Upon turn in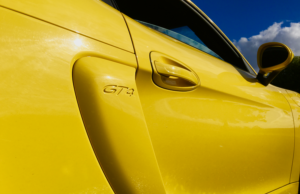 this cars body control is masterful and the accurate steering that works with the driver is an utter joy. Some suspension components are even borrowed from the GT3. Its neutral handling characteristics makes for a really exploitable package that will bring a smile to the face of anyone who loves driving. On track you can firm those dampers up for an even more focused setup. Whilst at low speeds the ride can get a bit bumpy, especially on our battered British roads, but it isn't what you would call backbreaking.
For a while now the Cayman has been creeping up on its bigger 911 brother. As the elder has matured, its sibling is filling the slight gap that it leaves behind. The Porsche Cayman GT4 is one of the most involving, dynamic, and satisfying cars I have ever driven. Porsche listened to its fans and the end result is a machine built for enthusiasts. At £64,451 I wouldn't just say that its worth its money, I bet people would happily pay more.
By Tyler Heatley