Badge snobbery is nothing new. Audi and BMW drivers will tell you the history and prestige of their logos until the cows come home. But what does the symbol on the bonnet of a car mean these days? Because today I have learnt that judging a car by its badge is just like judging a book by its cover. When being told that I was to review Hyundai's new i40 I was intrigued by its sleek shape but much more overcome with envy as I could have got the keys to the new Range Rover Evoque. Nevertheless it is my job to test anything with wheels and the i40 would be my chariot for the day.
The preconception of a Hyundai tends to draw people to the same singular word. "Cheap." Well, our test car was certainly not that as with its 1.7 litre diesel and fancy paddle-shifters its cost came to £23,495. Being a large family car and that price means that Hyundai have set themselves up for a fight with the big boys, particularly the class leading Ford Mondeo.
The i40 sets about its mission of changing your assumptions of the car from the moment you lay eyes on it. It is a fantastic piece of design blending sleek
lines with muscular features. I was stopped by several people asking what the car was and once told they could not believe it! The handsome looks continue into the cabin with highly sculpted consoles, well crafted panels and high levels of detail. Boot space is also something to be applauded as its generous size puts it on par with the competition. The inside of the car is a genuinely nice place to be and our model with all its toys made life entertaining and relaxing. So we have established that the i40 ticks the boxes in terms of practicality and styling, but what is it like in motion?
Our test cars keyless-go means that providing you have the key on your person the engine will start at the simple touch of a button. A feature that is a clear sign of Hyundai's progression into a more premium market. On the move the 1.7 diesel pulls rather nicely and noise within the cabin even at motorway speeds is minimal. Good levels of torque mean that the i40 is never shy to make a quick
move at a junction, though pottering along at under 1,700rpm the engine is a little grumbly. Ride comfort is par for the class but driving comfort in general scores very highly. I did not feel uncomfortable at any point in the car as the seats provide ample support and the air-conditioning is simply brilliant in this car. The steering, however, is a little lacking in its feedback. It is good, but not outstanding. But get the car onto a motorway and there it will really shine. Good MPG and an astonishing ability to mask its speed, the i40 is very at home on the open road. That said, even for a big car, hitting the sport button on an a-road is still entertaining.
I do have two complaints I'm afraid… Sometimes, particularly around town, the gearbox can be caught napping in that there is just a little to much of a delay between an input and a response. Also due to its sleek shape, the large a-pillars do restrict visibility at junctions. These gripes are by no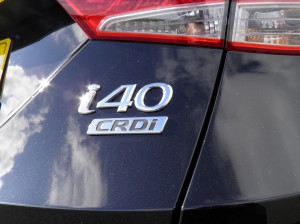 means huge but in an urban environment the i40 is a big car and this does not help. Yet a vast amount of equipment on the car is standard including the rear camera. Parking the car around town is easy with this tool and the well placed parking sensors do a marvelous job of playing safety net.
The base i40 starts at a very reasonable £18,000 and with the vast quantity of standard equipment that is often found to be optional extras on competitors, the i40 sure makes finical sense. Is it as good as a Mondeo? It is a case of close, but no cigar. The Hyundai i40 is a competitive car in a very competitive market and for that it must be commended. The Mondeo is a bit more of a drivers car
and that is why it gets my vote, but if you are after a well priced, tranquil family hauler the i40 must be at least considered. It even comes with a 5 year, unlimited millage warranty!
Well done Hyundai, good job.