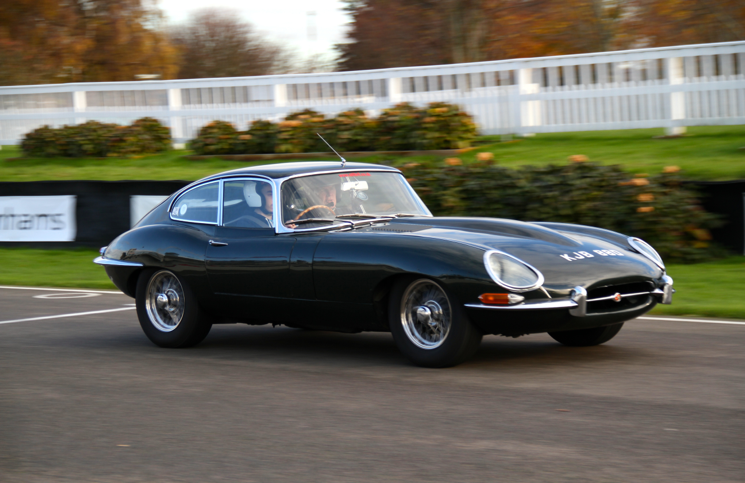 Since I was a boy I have been captivated by the motorcar. For something so mechanical they are capable of stirring an emotional response. They are almost alive with their intakes to breath in, exhausts to breath out, all feeding a heart of combustion. Their designs give them a character and when I was little the Jaguar E-Type spoke to me the most. That long bonnet and short rear overhang is still my favoured body shape today. Clearly even at the age of 5 I had good taste as when the car was new Enzo Ferrari himself proclaimed the E-Type to be "the most beautiful car in the world." Back in the real world, once I had stopped reminiscing of the days me and my model Jag were inseparable, I have to pinch myself as sat before me is
a beautiful 1966 Jaguar E-Type. Even more amazing was that I had its keys in my hand!
Glistening under the sun in British racing green, this living legend is even more handsome in person than pictures could ever do it justice. Its handcrafted bodywork creates a sleek curvaceous profile that is so utterly charming that it could only have been created in 60's Britain. Using cutting edge technology and a wind tunnel, Jaguar's Malcom Sayer crafted an icon. Powered by a 4.2 litre six-cylinder engine, this 270BHP Series 1 E-Type Coupe can do 0-62MPH in 7.0 seconds and go onto a top speed of 150MPH. Not bad for a machine that is 47 years old, back in its day it was the fastest production car in the world. Today we have the use of the historic Goodwood circuit, a track that this cars forefather, the D-Type, competed and won at.
Opening the tiny doors of the Jag gives you access to a rather cramped cockpit. After clambering over the high sill and into your seat, you are cocooned in a snug leather trimmed blast from the
past. The wood rimmed steering wheel sits proud like a trophy at the drivers chest. Instrumentation reminiscent of an era where British engineering was some of the most capable on the motorsport world stage presents itself. You can tell from the moment you tuck your legs into the narrow footwell and look out from the low driving position, that this is a true drivers car. The gearstick falls to hand with ease, the pedals sit close together and a vast rev counter stares right back at the driver.
Starting the E-Type begins a chorus as smooth as honey from underneath that elongated bonnet. Though the steering is unassisted, in comparison to other classic cars, this Jag's light weight design made steering manageable at low speeds. In this 4.2 model gone is the notoriously difficult to master Moss gearbox of the 3.8 and in its place is a synchromesh 4-speed that satisfyingly clicks into place. Open the taps and it is clear that this cat still has claws. Whilst purring along the car is relatively refined, but setting it free brings out the sporting nature of this race-bred classic in a brilliant gauze of transmission whine and exhaust noise. The E-Type is very responsive to driver inputs with sharp acceleration and direct steering. You can place it exactly where you want it
and the well engineered chassis simply complies. Due to its skinny tyres grip is limited, but allowing the car to slip wide upon the exit of a corner makes you feel like Sir Sterling Moss. The disc brakes are a revaluation in a car of this age giving you the confidence to push on where most classics would call it a day. Jaguar hit the nail on the proverbial head with the E-Type, for keen drivers the communication through its flexing wooden wheel is excellent. Blasting down the Lavant Straight, darting through Woodcote and shifting down to thread this magnificent car through the chicane was not only the realisation of a childhood dream, but a life altering event on wheels.
The Jaguar E-Type is astonishing in every sense of the word. It is capable of getting the heart racing simply by looking at it and if that fails, you are probably blind, but then taking it for a spirited drive where amazingly you will find that it still thrills today. If there is one car from this nations past that you have to drive, it is this. It is not simply a great car, but one of the greatest of all-time.
Words by Tyler Heatley.
Photography by Sean Ward.