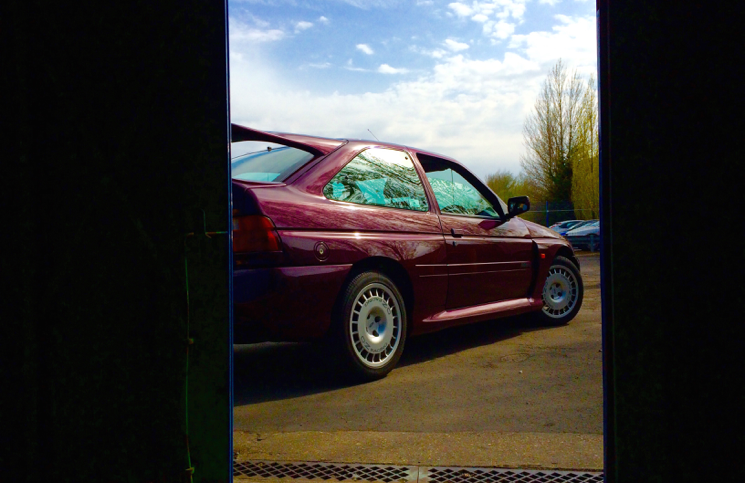 Just like childhood superheroes, everybody has their "fast Ford." A power to the people performance car that that gave the working man the ability to put Playboys to shame. In the 60's it was the
Ford Lotus Cortina, the 70's Escort RS200, late 80's Sierra RS Cosworth. However, for me it was all about the Ford Escort RS Cosworth. As a child one of my prized possessions was a 1:18 scale model of the Escort Cosworth as well as a poster of the rally car. This car spoke to me and struck a chord with my already automotive obsessed mind. Its whale tail rear spoiler was like something from the Batmobile, the bonnet grills just like the rally car, and the fact that I would occasionally see one drive past are all etched into my memory. Today is quite a special day for me as I would be driving my childhood icon. Would it be a case of "never meet your heroes" or could it be everything I envisioned in its 18 times smaller counterpart? Ford kindly gave me access to one from their Heritage Collection to find out. Not just any Escort Cosworth though… It was 1 of 70 1994 Ford Escort RS Cosworth Monte Carlo ever made.
In 1994 the Ford Escort Cosworth rally car won the prestigious Monte Carlo event. It was Ford's first victory there in over 40 years and to celebrate they built this Monte Carlo edition. Each finished in Jewel Violet and sporting unique OZ alloy wheels, this variation looked even more sinister than my model car. In the metal it is a pure collage of testosterone creating a vision that wouldn't be out of place in the film "Mad Max." Its aggressive bodywork is so in your face, so antisocial, that you wouldn't be surprised to find it growling at other cars in the carpark.
Inside the car is recognisably Escort with a familiar instrument cluster and standard steering wheel. You could happily fit the family in the back and all of their clutter into the boot. That is the beauty of Fast Fords, regardless of their performance, they are still ultimately based upon a usable platform. Clearly there are hints that you are not in a standard Ford Escort, predominately the lack of any rear visibility due to that huge spoiler. Bolstered seats wrap around your ribs and an aluminium gear knob falls to hand. A cluster of gauges sits on top of the dashboard above the cassette player. Within said cluster is a turbo boost gauge and it is this that dominates the Ford Escort RS Cosworth Monte Carlo experience.
Turn the key and the 2.0 litre inline four cylinder turbocharged Cosworth engine fires into life. Immediately an air of tension is formed between man and
machine as you are made very aware that this is a serious piece of kit. Place your hands upon the wheel and you can feel this machines pulse. Its heavy idle, vibrations and noise makes it feel alive. Stroke the throttle and the car shakes like a caged animal. Engaging the first of its five gears and setting off you would be forgiven for maybe thinking what all the theatre was about? Trundling along the steering is relatively light and the gear changes are nice and precise. Unless you are executing a three point turn or reversing around a corner the car is perfectly pleasant to drive. However, hit the noisy pedal and you unleash the beast. Initially acceleration is brisk, yet not outlandishly so… But then comes the turbo. All of a sudden the lag phase has passed and you are fired off down the road. It is like you are Wile E. Coyote from Looney Tunes tensioning a rubber band before launching yourself towards the horizon. The anticipation for the turbo to spool up is palpable in the cabin, but then it erupts, sucking you back into your seat and surging you onwards narrated by an angry exhaust note. It is totally intoxicating the way this car delivers its
227BHP via all four wheels… 0-62MPH takes 6.1 seconds which is still respectable today, let alone over 20 years ago. Top speed comes in at 140MPH. Familiarise yourself with this cars excitable nature and you can keep the turbo on song whilst you row through the gears. The Monte Carlo feels planted as you take it through a series of bends and the brake pedal has a wonderfully analogue feel enabling a strong connection to the car beneath you. A lack of body roll and accurate steering promotes agility. Throw this Cosworth into a corner too exuberantly though and it will simply understeer, however if you learn to tame the animal and apply half throttle just before the apex, its all wheel drive system pulls you towards it. This is a car that you have to drive, it will not do the work for you and you certainly have to be aware of what the boost gauge is doing. For this I love it as for you to get the most out of the car, the car has to get the most out of you. The whole time Ford Escort RS Cosworth Monte Carlo feels like your partner in crime.
Back in this cars day more Ford Escort RS Cosworth were reported stolen than ever produced, meaning that even thieves fell victim to their popularity. Some people won't understand the appeal of this car. They will say it's too brutish, too antiestablishment, and to them I say I don't care. This thing put supercars of its day back in their place for just over £22,000 and for that alone it earns a
place in Ford's history. This 1994 Ford Escort RS Cosworth Monte Carlo is worth more than the sum of its parts. It is a slice of motoring brilliance and I had the pleasure of clocking the 40,000th mile on this example. What did I do to celebrate this milestone? I made mile 40,001 count and I loved every second of it!
They say never meet your heroes, but for once this fairytale has a happy ending. The boy and his Cosworth, you could almost call it fate… I call it a bloody good day in the office!