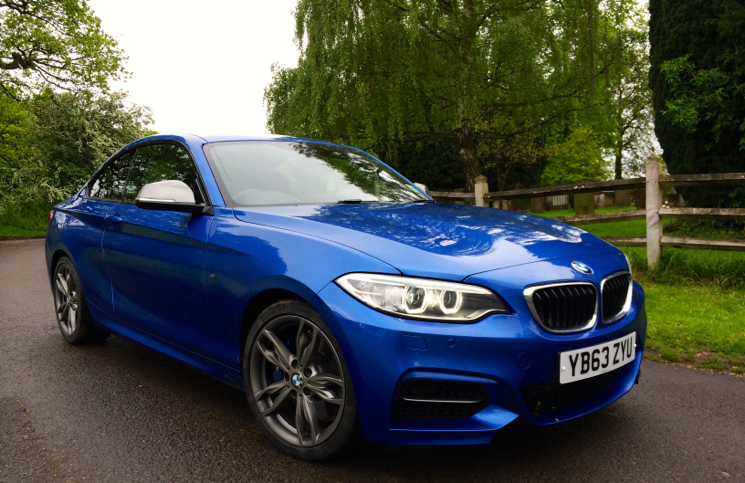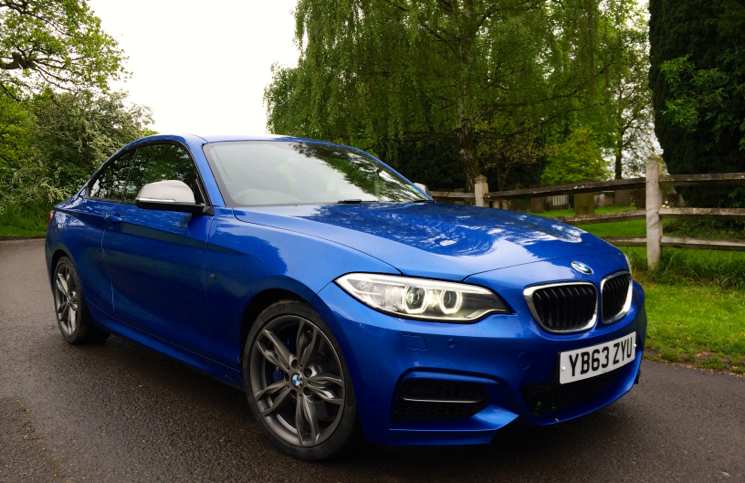 The driving enthusiast is a dying breed. Not only are we ferociously taxed and penalised at any opportunity, but car manufacturers are losing their appetite for driver focused machines. Look around todays showrooms and see how the manual
gearbox is going the way of the dodo. Most cars now have electronic nannies telling you that your exuberant driving is killing too many baby seals. Fun behind the wheel is simply seen as inefficient by far too many engineers these days and so those who truly enjoy driving find themselves in this predicament. However, there is solace to be found in the 2014 BMW M235i.
BMW divided the 1 Series into two separate models for hatchback and coupe last year and so this car goes by the name 2 Series. But you would be foolish to think that this is simply a run of the mill BMW 2 Series coupe. It is in fact an M235i and whilst not a fully fledged M car, like its 1M stablemate, it is something quite special. This is a neat little package proportionally with a long bonnet and short rear overhang. Muscular creases run up and down the stout body creating a real presence. The iconic BMW kidney grills sit proudly on the nose of our test car that also sported
some rather handsome blue paint.
Behind those grills and below the contoured bonnet sits a turbocharged 3.0 litre straight-six engine that produces 321BHP. Power is sent to the rear wheels via a 6 speed manual transmission and in action this package can crack 0-62MPH in just 5 seconds. To say this car is quick is something of an understatement, especially with a top speed of 155MPH. But they are just numbers. What is the 2014 BMW M235i like out in the wild?
In short… Bloody fantastic! Hit the starter button and fire all six pistons into life. From the word go this car feels like it has a pulse, one that begs to beat even faster at any opportunity. Whilst stuck behind a van, on what would otherwise be a rather delicious stretch of tarmac, I got the sense that the M235i just wanted to pick up and go. An almost impatient fizz emanates around the cabin as you are alerted to your low seating position and sporty steering wheel that is beautiful in its simplicity. At low speeds this car is well behaved and refined. Although the ride at times is a
bit firm for our battered British roads, the body hugging seats and widescreen infotainment make life comfortable. The cabin feels compact but never cramped and will happily seat four in leather upholstered German tranquility. Well, it was tranquil until I spotted an opportunity to overtake the van… Kicking it down a gear and mashing the throttle results in a fantastic rush of acceleration narrated by a burley engine note. As you are sucked back into your seat and the traction control fights to put all of those ponies down on a rather greasy road, the adrenaline rush begins. Cracking through the gears like a sniper reloads a bolt action rifle, you can't help but have a childish grin on your face. The world outside becomes blur just before the heal and toe action begins ready for the pending sequence of tight bends. Its stopping power is confidence inspiring and only serves to encourage you to brake later next time. This M235i feels light on its feet when it eagerly changes direction. Its precise steering makes short work of the apex as the car dances around the corner. Grip levels are good but you would be wise to remember that a generous prod of the throttle mid-corner will kick the back end out. Body roll is almost nonexistent in the sportiest setting that also increases throttle response. The level of driver involvement and sheer pleasure this car creates will have any petrol head cooing over it. Once you have finished smoking the tyres and acting like a complete child, the 2014 BMW M235i is very capable of settling down and getting on with the journey ahead in an almost "Dr Jekyll and Mr Hyde" fashion. Visibility is good all around meaning that urban environments shouldn't be much trouble. It even has a decent sized boot! Whilst BMW's i-Drive infotainment system is still one of the worlds great enigmas and the centre console leaves much to be desired aesthetically, the cars list of shortcomings is spartan.
The engineers at BMW should be very pleased with what they have created in this machine. It is a genuinely emotive experience behind the wheel, something that all enthusiasts crave. Our test car may have come to a princely £42,000 with all of its toys, £7,700 worth, but in our eyes it is worth every penny.