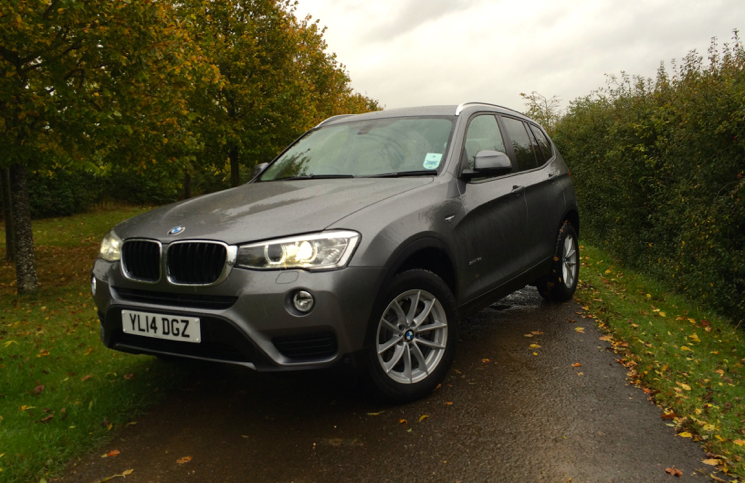 Once upon a time the thought of BMW producing an SUV would have been laughed at, but today they make not just one but five. The BMW X range has been a huge sales contributor for the German brand offering potential customers an
executive option in this segment. If the BMW X5 and X6 are too large as well as the BMW X4 being a little too ostentatious for your tastes, the X3 might just be the bowl of porridge that is just right. Playing Goldilocks in the scenario, we took the 2014 BMW X3 sDrive 18d SE to see what this sales success is all about.
To be totally honest, I wasn't much of a fan of the original X3. It always looked like the poor relation of the BMW family and drove a bit like one too. This F25 generation, however, really does look sharp. In Space Grey the cars sculpted nose and strong shoulder lines creates a purposeful aesthetic. Chromed kidney grills are classic BMW and match the roof rails of this specific car. Proportionally the X3 is a good size being not too small to be mistaken for a jacked-up hatchback, but also not too large. It looks like the car of a professional and is easily the best looking X3 to date.
The interior of this BMW X3 is well equipped and comes with plenty of standard equipment. Parking sensors, automatic lights, automatic wipers and leather seats are included at no extra cost. For 2014 heated seat and an electric tailgate are also thrown into the standard equipment list. Our test car had a handful of additional toys including the media package and sports seats. Heading the console is a widescreen display which hosts all of the cars infotainment. It runs the latest version of BMW's iDrive and has arguably the most detailed navigation system of any premium brand. There is a great deal of space within the cabin and the high quality materials that furnish the space makes it a nice place to spend time. The leather seats are well bolstered and very supportive. A rear split folding bench will seat two adults comfort, however, the middle seat is compromised in width and also in leg room due to a protruding transmission tunnel. Its boot capacity is a pleasing 500 litres with the rear seats in place, but fold them flat and that extends to 1,600 litres.
Under the bonnet of this 2014 BMW X3 sDrive 18d SE is a brand new 2.0 litre 4 cylinder diesel engine that produces a 141BHP and a healthy 236lb ft of torque. This engine may not be the quietest but BMW claim it can net you 56.5MPG combined. Comfort and refinement are good on motorway journeys, especially with this cars adaptive suspension. It soaks up bumps well and
keeps road noise to a minimum. Surefooted at speed, the X3 makes for a good daily commuter. The engine performs well with its torque happy to surge you along. However, it is in its handling where you will find this compact SUV to be most impressive. This rear wheel drive model feels nimble and when put into sport mode it has good throttle response and steering weight. Whilst it is by no means the fastest X3 you can buy, especially with a 0-62MPH time of 9.5 seconds, you can carry plenty of speed through the corners thanks to a lack lateral motion. It is keen to turn into corners and has reassuring levels of grip. Despite being what purest might call "not a traditional BMW" the keen handling traits beg to differ. We can see the 2014 BMW X3 being an easy car to live with as visibility is good all around and the steering is light around town. This car was optioned with the 8 speed ZF automatic transmission, and I know we say this in almost every BMW review of late, but it is fantastic. Easily the best automatic transmission on the market with seamless shifts that you hardly notice and quick responses when you manually select a gear.
Whilst the 4X4 models might be a better option for when the weather turns nasty, this 2014 BMW X3 sDrive 18d SE presents a good case for itself. This car came to £36,345 but can be had without any extras for £30,085. That is still a considerable sum of money, however you are buying a truly premium product in the X3 and its highly polished driving manors make it a true consideration for class honours. We would suggest trying out the more powerful xDrive 20d which adds all wheel drive and a bit more power. That said, the 18d isn't to be knocked.