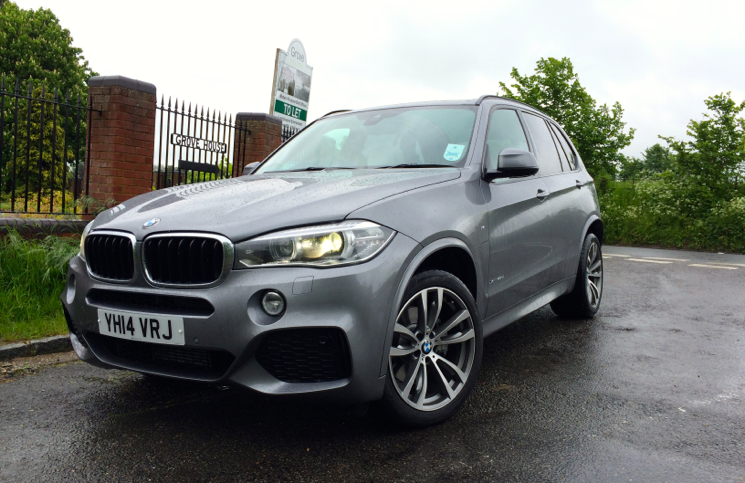 At the beginning of this millennium BMW launched their first SUV. The 4×4 BMW X5 came at a time where financially the world was in quite a good place. European households had healthy amounts of disposable income and those who were
doing very well indulged themselves in a BMW that told their neighbours that they were the boss. The Germans saw huge success with this car and went on to build a second generation. However, as we all know, this financial bubble burst and the resulting global recession had far reaching repercussions. All of a sudden owning a big luxury SUV was far too costly. BMW stuck with the X5 throughout, but now the scars of the banking crisis are beginning to heal, 2014 could again see a boom in X5 ownership. As the craze for high riding family cars has grown over the years, competitors have had no choice but to produce some stiff competition for BMW. Can this all-new 2014 third generation F15 model become king of the castle?
Our specific car that we are testing is the 2014 BMW X5 xDrive40d M Sport meaning that just about every bell and whistle is equipped. Powering this X5 is a 3.0 litre turbocharged diesel engine that sends its potential to all four wheels via an 8 speed ZF automatic transmission. Total outputs are 313HP and tarmac torchering 630Nm of torque.
In its Space Grey metallic paint, the muscular structure of this new M5 has a somewhat menacing demeanour about it. Angled headlights and huge kidney grill nostrils gives this SUV an almost snarling expression. The M Sport bodywork adding swollen intakes and grills  genuinely add to this machines distilled aggression, something missing from the standard car. This is a big powerful machine and it wants everyone to know it…
Inside the passive aggressive exterior styling dissipates into a refined executive environment. A beautiful widescreen display sits on top of the console providing access to the cars system settings and infotainment. Whilst BMW's iDrive system gets a lot of stick, and even now its not perfect, in its latest form it is much more fluid and nicely illustrated with graphics. The console itself is logically laid out with well engineered ergonomics at its core. This X5's high quality leather interior adds to the premium nature of the vehicle and the bolstered seats they that it wraps around are very comfortable. A panoramic retractable glass roof, a £1,295 optional extra, bathes the cabin in light. Rear passengers are to be just as comfortable as those in the front with loads of head and leg room. The boot is huge offering 650 litres of space with the rear seats up, or 1,870 litres with them folded flat. We also very much like the split tailgate.
Slip into the drivers seat and hit start, the 2014 BMW X5 xDrive40d M Sport comes to life in a quietly civilised manor. Our test cars heads up display may be another costly £995 option, but due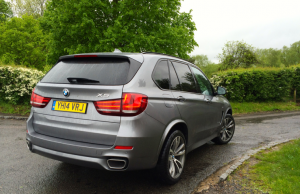 to is clarity and wealth of displayed information it is well worth the investment. Setting the chassis to comfort via its adaptive suspension will see the X5 soak up even the most begrudging potholes our battered Uk roads have to offer. The steering has reasonable feel and good weight to it making for accurate placement of the car. visibility is good all around and the overall experience actually makes the X5 feel much smaller on the roads than it actually is. Hit the sport button and feel the steering become a bit heavier and the throttle response sharpen. You are now ready to experience this car at its best. You see whilst it does the family workhorse bit very well, it wears a BMW badge and so eager drivers should expect an involving drive. They needn't be disappointed as the handling of the 2014 BMW X5 xDrive40d M Sport is some of the best in the class. A lack of body roll and bags of grip will have you feeling confident when it comes to opening the taps on that 3.0 litre engine. The X5 surges forwards utilising its torque to accelerate what is quite a big car to speeds the wrong side of the law. 0-62MPH is completed in 5.9 seconds and it won't stop until it gets to 147MPH. The most impressive thing about how this car drives is just how effortlessly it dishes out its performance. Thanks to the high levels of refinement, you need to keep an eye on just how fast you are going as it masks its speed exceptionally well.
Now, we all know that the options list on any German car is enough to make even the most generous bank manager wince, this 2014 BMW X5 xDrive40d M Sport is no different. When all is said and done this car comes to a vast £65,115. £9,750 of that accounts for optional extras. Despite its performance credentials, 44.8MPG is claimed by BMW. It may be a costly purchase but this X5 is a strong contender for class honours.