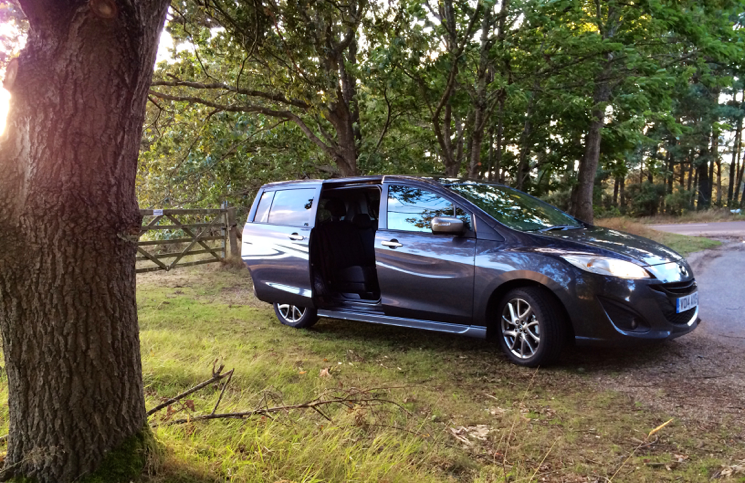 Unlike "geek chic" owning a people carrier has never really come into fashion. It is just one of those  things in life that you have to accept. When you need seating for seven and plenty of space, your only choice is some form of MPV that is about as interesting as broccoli. However, Mazda reckon that just because the day has come to surrender to the necessity of being practical, doesn't mean giving up on enjoying driving. This 2014 Mazda 5 1.6 Sport Venture proves people movers can be a bit more appealing than many think.
In Sport Venture trim cloaked with Meteor Grey Mica paint, our Mazda 5 looked very smart in comparison to some competitors. 17 inch alloy wheels compliment the contrasting wing mirrors in a quiet manor that matches the demeanour of this specific car. Flowing body lines grace the sides of the Mazda 5 creating a fluid appearance on its surface. This car does not look as tall as many other people carriers thanks to tapered design features that carry the eye from nose to tail. Whilst clearly not as extravert in its styling as a Citroen C4 Grand Picasso, for some it will be the power of the understatement that will draw them to the Mazda 5.
The current model was introduced in 2010 and has been revised with small changes in 2013 and 2014. Its age does unfortunately show as soon as you enter the cabin. A red backlit display crowns the centre console displaying the air
conditioning status and current MPG in a fashion reminiscent of an old DVD player. That said, just below, a touch screen infotainment system housing functions such as radio, Bluetooth and satellite navigation brings things a bit more up to date. The neat and tidy ethos of the exterior is carried over into the interior with uniform controls. Although there is a lot of hard plastic finding a home in the front of the Mazda 5, everything does feel durable and ideal for family life. In this Sport Venture is leather for all seven seats and a function that heats the front two. Its second row of seats allows for plenty of head and leg room meaning that comfort on long journeys isn't a problem. Adding to said comfort is that these seats not only slide backwards and forwards, but they also recline. Foldaway trays and a deployable armrest/cup holder extend the list of creature comforts. An ace up the 5's sleeve is its pair of sliding rear doors. They are perfect for such a machine as they allow for a larger aperture to fit children, prams and other bulky objects in as well as remove the fear of your offspring opening a door into the adjacent car. The rearmost seats are only really suitable for children as leg room is restricted, however, a larger than expected window lets in plenty of natural light. Its boot is of a good size, but it is here where some rivals get the better of this MPV.
A department where its classmates do not get the better of it is handling. Mazda have always instilled a little bit of a sporting feel to each of their models. Whilst I'm not going to say that this
people carrier is anything like an MX-5, there are characteristic that will please those who enjoy driving. Responsive steering in tandem with a relatively short throw to its 6 speed manual gearbox makes for some enjoyable moments on twister roads. Pedal feel and weighting is well judged enabling more precise inputs. What really impressed me about this 2014 Mazda 5 1.6 Sport Venture is how well balanced the chassis and suspension is. There is very little in the way of body roll in faster corners but instead of making the usual trade of handling for comfort, the suspension is actually quite sympathetic to its occupants on British roads. Road, wind and engine noise are hushed around town but all three do pick up much more at motorway speeds. Visibility in the Mazda 5 is good with pleasantly thin A-pillars and a reversing camera. This 1.6 litre turbo diesel model averaged 39MPG whilst we were testing it. That isn't bad considering the size of this car, but again, fresher competition can do better. The engine itself pulls cleanly throughout the rev range whilst producing 113BHP and 270Nm of torque.
At £22,415 for our top specification car, the 2014 Mazda 5 1.6 Sport Venture is good value for money. Bulletproof Mazda reliability and build quality are more reasons to put it on your shortlist, not to mention its pleasant driving manor. This generation might be showing its age in some areas, but has still proven to be a credible choice for the family man or women who enjoys driving with a bit of vigour.