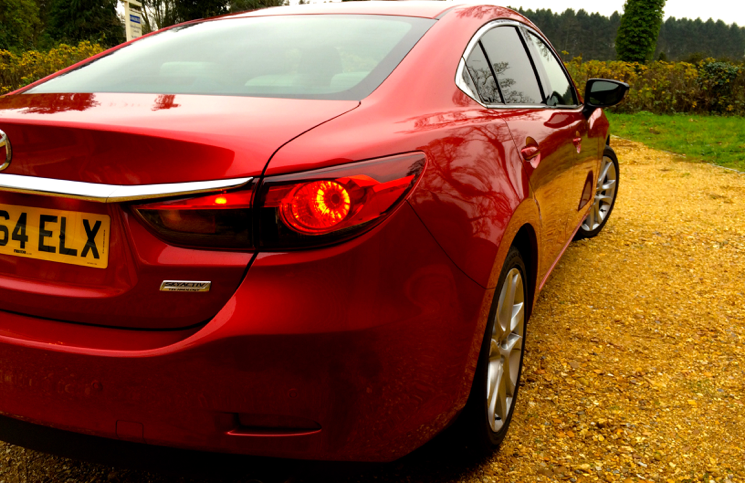 Truly handsome cars are becoming harder and harder to find, especially in the mainstream market. I'm not talking about cars that simply "look nice" but real head turners. The reason for this is that many safety requirements prevent designers
from drawing what they like on a blank page. Instead there are regulations for the hight of lights and pedestrian impact zones. However, Mazda whilst still woking within these confines, they have created something of a stunner via their Kodo "soul of motion" design language. From nose to tail the Mazda 6 2.0 165ps Saloon Sport Nav is a work of art.
Our test car is specified in one of the best colours to compliment the cars detailing. This Soul Red Metallic paintwork has real depth to it and when the light falls just right on the car, can exaggerate the athletic body lines. A long bonnet is flanked by sweeping front wings giving the Mazda 6 an immediately dynamic character. The dynamism gives way to a neat flowing glasshouse defined by chrome trim. It then leads onto the elegant rear saloon proportions which slopes towards a pair of deep rear lights. This fluid sculpture looks the part even when parked next to a BMW or Audi. 19 inch alloy wheels on this car are the icing on the cake.
The interior is exactly what you would expect of a modern day Mazda being ergonomically designed and carrying with it a feeling of durability. Completing an eye catching pairing of that red paint is its light stone leather trim. The cream seats and door panels contrast a black dashboard creating a classy atmosphere. Unfortunately that exciting external styling isn't carried through onto the console which still uses an old TomTom based infotainment system. Early next year this will be updated to Mazda's new and very well executed system, more on that when we attend the launch of the 2015 Mazda 6. This cars shapely seats are fantastically supportive and promote a sporty feel to this saloon. These seats are also heated which is a nice feature in the depths of winter. In the rear there is plenty of both head and leg room, although the middle seat is slightly compromised due to a protruding transmission tunnel. The boot is of a good size at 483 litres, but if you fold flat the rear seats that figure grows to a massive 1,632 litres.
Push the starter button and the smooth 2.0 litre SkyActiv comes to life. It is quiet and very little vibration enters the cabin. Set off in the Mazda 6 2.0 165ps Saloon Sport Nav and it
immediately presents itself as an engaging car to drive. Unlike many of its competitors that have seemingly lost that link between man and machine, the 6 plugs you into the action with communicative steering and good pedal feel. Its slick six speed manual transmission has an almost sports car-like short throw making for rewarding changes. Ask for some performance from that 2.0 litre engine and you shall receive very linear naturally aspirated delivery. Find some twisty country roads and this Mazda 6 thrives like no other car in its class. It may be a practical saloon car, but just like many Mazdas across the range it knows how to move. Body control is sublime and the sharp responsive steering allows for pinpoint accuracy. You can really thread the corners together and if you let the engine rev out to above 5,000rpm there is an almost fruity exhaust note to be heard. There is a trade to be made for this sporty handling and that comes in the form of a firm ride. It is far from back breaking, but potholes do send a thud through the cabin. On a motorway the Mazda 6 is happy to cruise all day long with only minor wind noise interrupting a pleasing drive. Its Bose sound system must also be commended as it provides great quality sound. In an urban environment the Mazda 6 is easy to drive and park thanks to good visibility and a reversing camera.
The Mazda 6 2.0 165ps Saloon Sport Nav is undeniably one of the class leaders defined by being a car for keen drivers. This specific car with dual zone climate control and a host of other toys came to £24,995 which is good value for what you get. Included in that price is the safety package which features a blind spot monitoring system. With a truly handsome aesthetic and a remarkably well engineered chassis, the Mazda 6 is well worth your consideration.