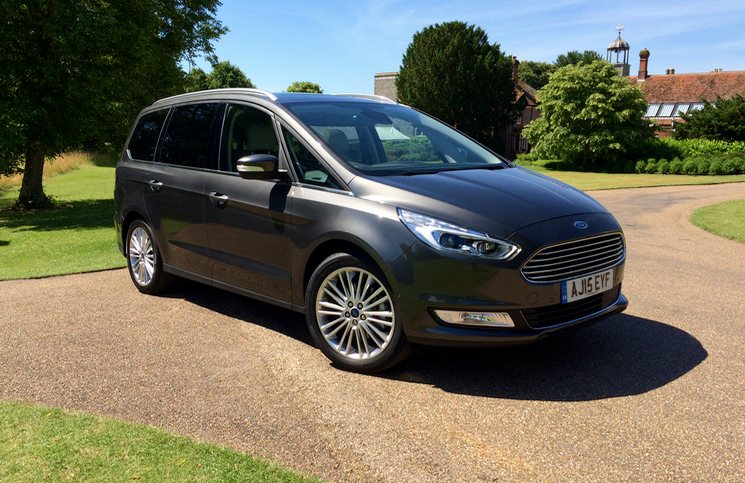 With everyone buying into the SUV market for the cars practicality, versatility and desirability, the people carrier has been somewhat left out in the cold. Loved by large families and taxi drivers alike,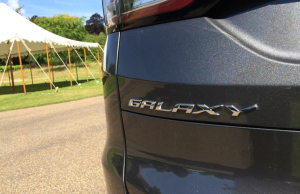 the MPV market is shrinking in this ever image conscious world we live in. Even the longstanding Renault Espace has morphed into an SUV inspired vehicle. Ford are not so quick to give up on this class, especially as their Galaxy is still a strong seller in the UK. However, if this breed of car is to survive it needs to gain some street credibility despite its utilitarian roots. We were one of the first to test the all-new 2015 Ford Galaxy 2.0 TDCI 180PS to see not only if this model can retain its class crown, but its place in the automotive landscape.
It must be said that the Ford design team have done a great job in creating a premium and stylistic image from what is inherently a boxy shape. In top specification Titanium X trim, our test car houses a chromed grill at its nose. Raked LED adaptive headlights and a notable bulge in the bonnet adds character to this large MPV. A prominent belt line runs down the side of this car along with more chrome and multi-spoke alloy wheels. Detailed rear lights and a sculpted boot lid integrates with the large rear window. For a machine that is traditionally used as a school bus, this new 2015 model could be the cause of some driveway envy. But does this cars new executive tone mean it has compromised on the values of its forefathers?
Not a dot! Step inside and you will enter a truly cavernous space with literally enough room to swing a cat, though we don't advise it as cats generally would rather sleep or tell you they are hungry. The airy feeling is further amplified by large windows and, in the case of our Galaxy, a full length panoramic glass roof that allows for natural light to fill the space. Said roof is also partially  retractable to let in those beautiful summer days. From the supportive drivers seat with plenty of adjustment you are presented with clear digital/analogue instrumentation and Ford's Sync 2 infotainment system. From its 10 inch touch screen you have access to everything from climate control to DAB radio. A great option for this car is the Sony surround sound system for those moments when you just have to turn it up to 11. Visibility is excellent all around with parking sensors, rear view camera, and front cameras boosting your peripheral awareness. The middle row seats three adults with good head and leg room. Each post can go forward and back as well as recline. The third row occupants have traditionally been neglected in all cars, but the 2015 Ford Galaxy will house a further two adults in comfort. With all seven seats in place boot space comes to 300 litres, but fold the rearmost down and that is boosted to a massive 1,301 litres. Use this car as a van and you will have 2,339 litres to play with. A nice touch is the ability to electrically raise and lower the flat-folding rear seats. No more scrambling to get them back in place whilst the children complain about going home. The whole interior environment is a wonderfully pleasant place that not only promotes practicality, but also comfort.
Powered by a 178BHP 2.0 litre diesel engine, this big car has plenty of grunt to get a hustle on. Teamed with 295 lb ft of torque this unit is responsive and capable of strong overtaking performance,
all whilst retaining a refined level of noise in the cabin. Speaking of refinement, on the move the 2015 Ford Galaxy is hushed with road and wind noise being nothing to write home about. Its ride is also pleasing as our scarred British roads didn't seem to phase it at all. Entering a series of bends the high levels of grip are reassuring and for such a tall vehicle body roll is kept to a minimum. The steering could do with more weighting, but this is a small complaint in an otherwise impressive package. This specific car was fitted with Ford's Powershift automatic gearbox which does a great job of choosing appropriate gearing, but also is quick to act when manual selection from the paddles is opted for. On a motorway the miles simply tick by as all seven occupants remain comfortable in air-conditioned, leather upholstered comfort. The Galaxy is packed full of technology but one option which could save you some money in the long run is the Intelligent Speed Limiter that was introduced on S-MAX. In a nutshell, the car reads speed signs and limits its top speed to that figure. In theory with this system active you should never accidentally get a speeding ticket. The most efficient model will net you 56.5MPG combined, but this higher horsepower variant will still do 52.3MPG.
Priced from just under £26,500 it is competitive and all wheel drive is optional. The future of the seven seat MPV is still uncertain, but something we can be sure of is that the 2015 Ford Galaxy is the best of the bunch.