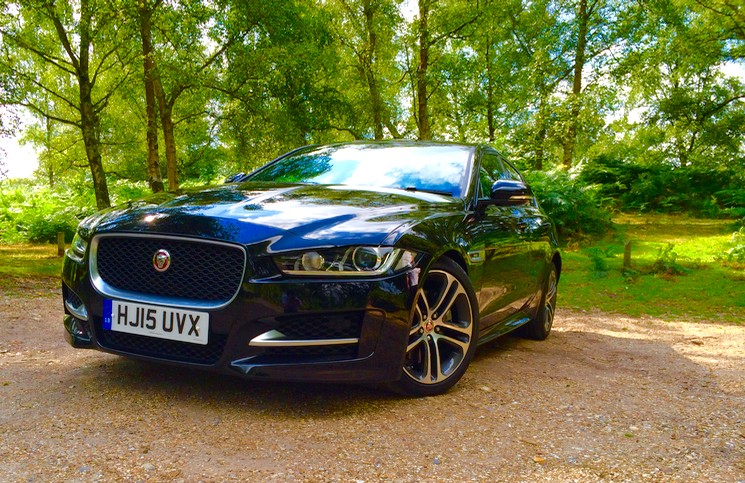 BMW, Audi, and Mercedes-Benz dominate the premium saloon market, gripping it tightly in a leather glove. The 3 Series in particular has made a name for itself as being one of the keenest handling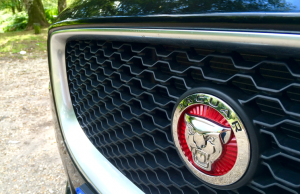 in its class captivating enthusiasts wanting an involving car to drive, but also a upmarket demeanour. Jaguar are on a roll producing some fantastic cars, but even in this golden era for the company tackling something of an icon is no easy task. The 2015 Jaguar XE is very much David taking on Goliath.
I take my hat off to Ian Callum as yet again he has penned a truly beautiful car in this XE. Modern, stylish, sophisticated. A long bonnet stretches out sporting muscular contours whilst a rear bias glasshouse creates a coupe effect. A neat rear end with a short overhang completes an athletic silhouette, one which is distinctly Jaguar. Intricate headlights add to the strong front facia. Our R Sport test car featured some great details including; aluminium vents, red Jaguar badging, and some very classy 18 inch alloy wheels. This 2015 Jaguar XE has a devilish charm to it, a truly handsome feline striking the right balance between power and elegance.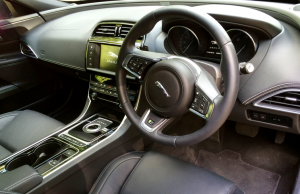 Enter the Jaguar XE and you are welcomed into a cabin that feels sumptuous. There are no bland flat surfaces like you might find in some rivals, instead this cat opts for a sculpted dashboard that features a new touchscreen infotainment display. This system is spreading out through the JLR portfolio and offers access to everything from satellite navigation, DAB radio, Bluetooth, and more. It is clean and easy to use, exactly what you want from a modern interface. The console continues, dividing the two front passengers. Here the gear selector rises up once the pulsing starter button is pushed. A three spoke steering wheel further adds to a sports car inspired interior. Bolstered black leather seats with contrasting stitching are very supportive and highly adjustable. Moving back onto the rear bench there is seating for three. Whilst leg room is ok, head room is restricted thanks to the cars sloping roofline. A 455 litre boot is respectable, but the competition does offer more space. The cabin encompasses its occupants, seating them snugly into the chassis, it is a lovely environment in which to spend time.
Our test car is the 2015 Jaguar XE 2.0 180 R Sport meaning that it is powered by a new 2.0 litre turbocharged diesel engine. This example is the more powerful 178BHP of the Ingenium units that claims 67.3MPG combined. It is paired to an 8 speed ZF automatic transmission which sends power to the rear wheels. What is it like in motion? Quite simply excellent. The engine is smooth and
responsive producing progressive acceleration whilst emitting little in the way of noise. Its automatic gearbox is very happy to select appropriate gears with shifts being so subtle you don't even feel the up changes. On the motorway the tranquility of this XE means that you could easily cover long distances in comfort and arrive just as fresh as when you left. Complimenting this is its ease of use around town. Again, the gearbox seamlessly goes to work and the engine is ideal for taking advantage of a gap in the traffic. Ride comfort is also very good with the car soaking up road imperfections well. The hustle and bustle of an urban environment seemingly goes on around you whilst sat in air-conditioned comfort. However, rear visibility is not very good due to the cars raked rear end. We would advise an XE with rear parking cameras to help overcome this. So, from what you have read so far I am sure you would agree that the 2015 Jaguar XE sounds like an accomplished product? It gets better… The ace up the BMW 3 Series' sleeve has always been how it handles. Well, believe it or not, this Jag is the new benchmark. Switching to "Dynamic Mode" and switching the gearbox into "S" puts the car on high alert. Faster gear changes, sharper throttle response, and more weighted steering all comes into play. Aim the nose of this predator at some interesting bends and it will display absolute control. Strong command of its lateral movements and precise steering means that you can accurately place the XE on the road. Keen to turn in and stable as you apply the throttle, it is an absolute joy. Click through the gears on the paddle shifters and the ZF box delivers cog swaps just as fast as you can ask for them. Fantastic weighting of the pedal box and steering makes you feel connect, you know exactly what the car is going to do. It never feels like a heavy machine and whilst refined, it clearly has a playful agile nature beneath the surface.
This 2015 Jaguar XE not only equals the very best in its class, but surpasses them. Whilst some practicality is sacrificed for aesthetics, the complete package is astonishingly good. You can have a petrol XE from £26,990 whilst our 178BHP diesel R Sport model starts at £34,775. Pricing is competitive, but just like the Germans, optional extras can bump the price up notably. Jaguar has produced another great car, one that has brought BMW's reign of a decade to an end.
The King is dead. Long live the king.