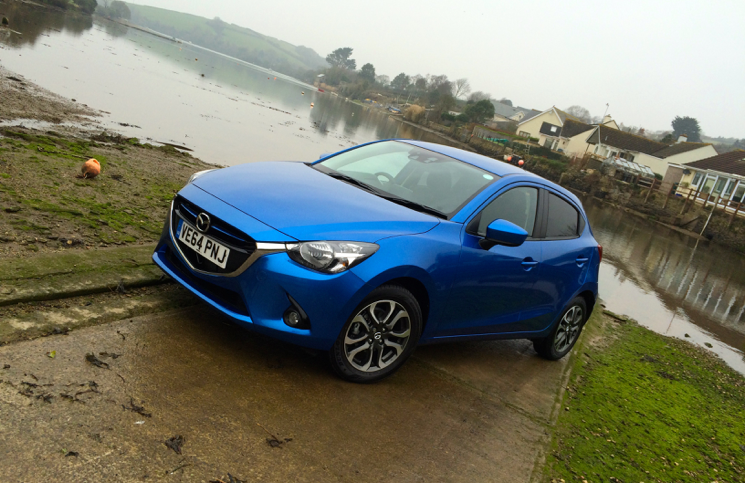 By the end of this year the oldest car in a Mazda showroom will be the Mazda 3. When was that launched? Only last year… This modern model assault will give the Japanese company the newest
lineup of cars out of any manufacturer and an advantage in terms of product unity. Next to join the range is the all-new Mazda 2. We grabbed the keys to the 2015 Mazda 2 1.5 Diesel 105ps Sport Nav and put it through its paces on the undulating roads of Devon.
There are plenty of strong contenders for that coveted spot on your driveway in this segment including; Ford Fiesta, VW Polo and the Seat Ibiza. The previous Mazda 2 did very well for itself, but this car clearly has higher ambitions than attempting to equal the competition.
Our test car, finished in Dynamic Blue Mica, strikes a pose that has to be one of the best in its class. Not only does it hold itself well proportionally, but this latest expression of Mazda's Kodo "soul of motion" design is excessively handsome in the details. Sweeping lines carry yours eyes from its blunt chromed nose, over the front wing and down towards its neat rear end. The fluid design captured plenty of the locals attention. Whilst this example didn't have the optional body kit of the 90ps model we also tested, premium 16 inch alloy wheels factor in a grownup element to its configuration.
As bold as its exterior may be, it is here inside the car where the Mazda 2 makes a real statement of intent. Whilst there are a few bits of plastic that could be replaced with something better, the interior as a whole is a very strong point for this little car. Mazda have taken this model upmarket with leather detailing a sculpted dashboard and then continuing to flow down below the centre console. The companies infotainment unit takes centre stage and features a very intuitive operating system giving you access to Bluetooth, DAB radio, satellite navigation and apps. Everything is laid out logically and functions ergonomically. A premium feel coats the cabin. Red stitching runs down the centre of supportive black cloth seats in this top of the range model adding a hint of sportiness. Rear passengers enjoy reasonable head and leg room, however, those over average hight will be much more comfortable in the front. The boot is a good 280 litres and a nice usable shape meaning that you can make the most of it on weekly shopping trips.
Push the starter button on this top specification 2015 Mazda 2 1.5 Diesel 105ps Sport Nav and the engine comes to life. It is a bit grumbly at first, but once
warmed up and on the move it is a very quiet unit at all speeds. 220Nm of torque means that this new Mazda 2 has a good level of pulling power for a small car. It surges on cleanly and nipping out of a junction is made easier thanks to said torque being located low in the rev range. Its slick six speed gearbox has a playful short thrown and immediate throttle response encourages playful driving. If you chose to submit to this cars hints of play you will find the chassis to be a peach. Body control is kept in check and the car darts from corner to corner like an enthusiastic little lamb. Its handling is brilliant presenting sure-footedness along with a real sense of agility. Use the torque upon the exit of a bend and the car will leap down the road at a rate that feels much faster than its 0-62MPH time of 10.1 seconds lets on. The brake pedal has a nice feel to it allowing good interaction but the steering, though precise, could do with a bit more feedback heading the drivers way. For a 103BHP diesel car it is actually rather enjoyable to chuck around. Its ride is slightly better than the petrol cars too with the extra weight of the diesel up front preventing as much skipping over high frequency bumps. It is also this variant of the 2015 Mazda 2 that performs best on a motorway. It is very happy to be put in sixth gear and maintain a steady speed whilst using its torque when making a strong overtaking manoeuvre. The car is comfortable and the engine quiet, it is only some wind noise from the A-pillar that becomes a minor irritation. Good visibility all around makes the 2 easy to live with, as does a combined official fuel consumption figure of 83.1MPG. CO2 emissions are low at 89g/km.
The 2015 Mazda 2 1.5 Diesel 105ps Sport Nav represents the model with the broadest abilities being as happy in the city as it is our motorways. It is stylish, modern and very efficient leading me to ask just how many more boxes do you need ticked? Whilst £17,925 is a lot of money for our test car, it was fully loaded with pretty much all of the goodies from the toy box. This car in SE-L trim, which is still well equipped, has an RRP of £15,995. This all-new Mazda 2 is incredibly accomplished and fights for class lead with the Ford Fiesta. Factor in that Skyactiv-D engine and an interior that would be at home in the segment above, this could be the hatchback for you.