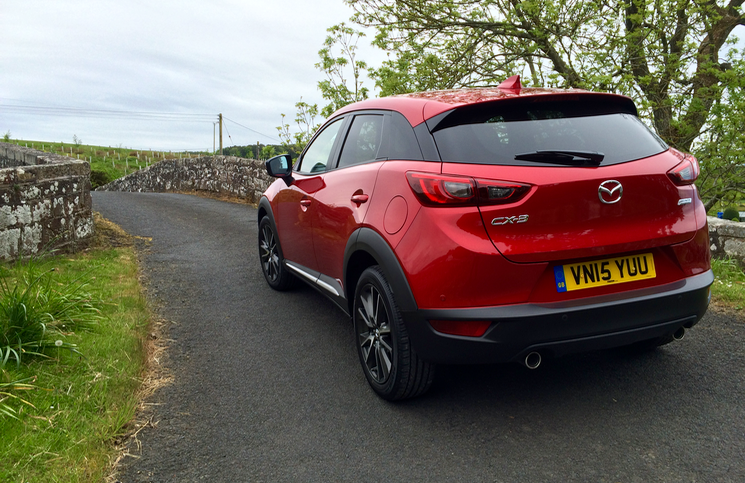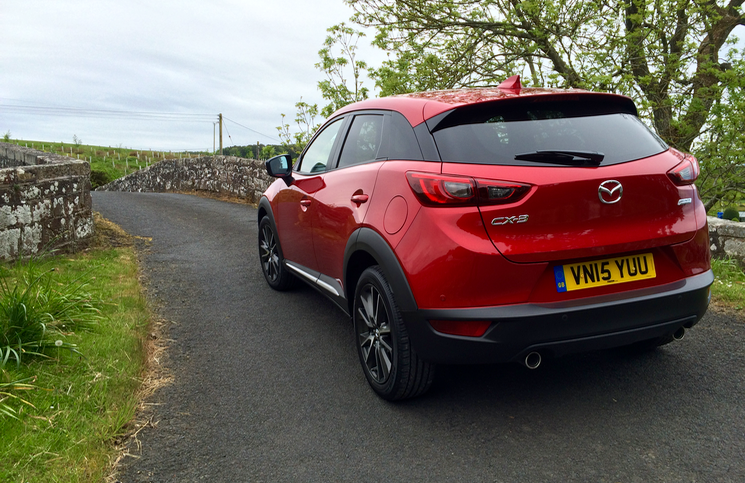 Mazda are rapidly expanding their model range with all-new Kodo designed cars that aim to take the brand
higher in terms of perceived quality. Obviously you don't want to showcase your shiny new examples in a showroom that is "so 2001" and so even the dealerships are being overhauled ready for over 50,000 predicted customer sales in the UK. One such new model that will be contributing is the Mazda CX-3. Diving into the desirable compact SUV market for the first time, this 2015 Mazda CX-3 105ps Diesel Sport Nav goes up against plenty of competitors.
First impressions are everything so they say and the Mazda CX-3 certainly knows how to make an entrance. Our test car finished in Soul Red looks fantastic. Easily the most dynamic looking car in the class, the Mazda Kodo design language has worked its magic and sculpted a very fashionable silhouette. Fluid lines run from the narrowing headlights, along the elongated bonnet and back to the dual exhaust pipes of this top specification Sport Nav model. This example also receives a chromed grill and contrasting 18 inch gunmetal alloy wheels. It looks the part externally, but what is the story inside?
Open the door to reveal a premium looking interior and the CX-3 begins to show itself as a class contender. As mentioned, this is the top specification car and so is upholstered in leather that runs along the dashboard and down the centre console. Mazda have really stepped up the quality in here with everything feeling not only durable, but well crafted. Supportive bolstered leather seats which are also heated offer a near perfect driving position. Through the three pronged steering wheel sits the rev counter right in the middle of the instrumentation indicating an underlying sporting demeanour. Mazda's infotainment system also finds a home here as it spreads throughout the range. This highly ergonomic interface gives you access to DAB radio, satellite navigation, Bluetooth and an array of applications including social networks.  The rear seats offer good head and leg room, but this area can seem a bit days due to the cars tapering windows. This top specification example was equipped with an excellent Bose audio system. Boot space is never huge in this class of car and so the CX-3 meets its competitors with a useable 287 litres.
The most efficient 2015 Mazda CX-3 is this configuration we have here. Power is sourced from a 1.5 litre
turbodiesel engine and sent to the front wheels. In this guise Mazda claim it will return an impressive 70.6MPG and emit just 105g/km CO2. Cruising in this diesel model is a comfortable experience. Whilst at motorway speeds there is a bit of road and wind noise, nothing to write home about, it is well refined and tyre roar can be reduced by choosing a smaller alloy wheel. On the whole this engine is quiet, but under hard acceleration when overtaking it makes itself known within the cabin. However, it is away from the motorway where this car shines the brightest. Present it with a ribbon of tarmac and the CX-3 will pull the ace from its sleeve. Dancing from apex to apex, the agility and precision is unlike that of anything in this class of car. Body roll is kept under control its well weighted steering is an enjoyable tool to use. A lovely short throw six speed gearbox is reminiscent of that in the MX-5. It does ride firmer than some competitors, but its sporting setup couldn't be called uncomfortable. This diesel rides a touch better than the petrol over high frequency bumps, but petrol car is just a bit keener upon turning in. A heads up display in this car helps to keep the drivers eyes on the road. Place the CX-3 into an urban environment and its compact size is ideal for doing battle in the high street. Visibility is good, boosted by a reversing camera. A few more revs are required at junctions as the torque is to be found slightly higher in the rev range than expected. Stop/start will seamlessly shut the engine down when in traffic further adding to fuel saving measures.
Overall the Mazda CX-3 is the most appealing car in its highly competitive class. It drives with vigour, looks as trendy as an iPod, and won't break the bank in terms of running costs. That said, it is more costly than other rivals with the diesel starting at £19,655. Standard equipment levels are generous and so that should be factored into the decision making process.
We like the 2015 Mazda CX-3 a lot.