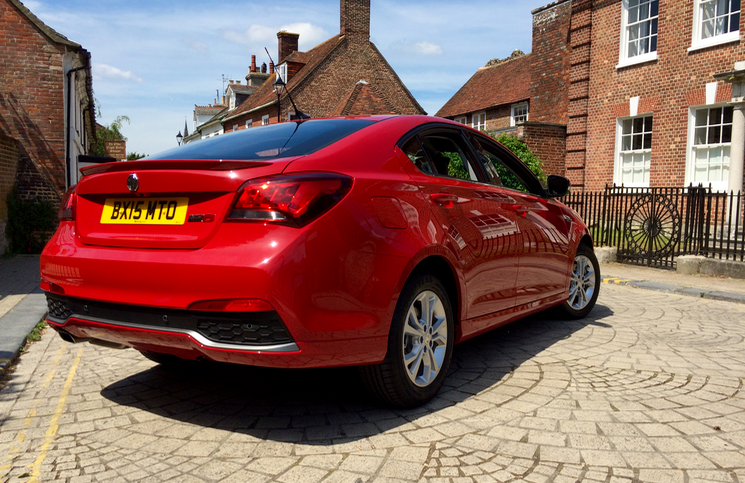 Back in 2011 MG was reintroduced to the country that founded it. Owned by Chinese company SAIC, could they make a success of the British mark where BMW had failed? Well, four years later and
MG are still here and working out of Longbridge. Whilst sales aren't huge volumes, the range has expanded with the introduction of the MG3 supermini. More dealers are opening and brand awareness is on the increase. For 2015 attention returns to the MG6 as it gets a comprehensive update.
Our red MG6 test car arrived primed for its review and immediately had people asking "is that an MG?" There is still plenty of love for the brand in the UK and so many were inquisitive. Whilst the overall external design still doesn't overtly catch the eye, its subtlety has its own appeal. For 2015 a new grill and daytime running lights feature giving the car a bit more flare than its predecessor. A raked rear profile features a small boot spoiler that sits above a more pronounced rear bumper. Head and tail lights have also been altered.
Something the MG6 has always had going for it was the vast quantity of space the cabin has to offer occupants. That is still the case. From the moment you get in it feels like a larger space than its rivals with good sized windows boosting an airy feeling. Our test car was upholstered in leather and its heated seats proved to be comfortable. MG has listened to its critics with the awkward handbrake being replaced with an electric parking brake button. Another area where MG has stepped things up is onboard technology. The car now features a 7 inch touchscreen infotainment display that gives you access to DAB radio, BlueTooth, media and satellite navigation. The system isn't the fastest, but it is by no means the worst example we have tested. Below you will find dual zone climate control which is a nice creature comfort, especially when Britain is enjoying these unusually hot days. Whilst the cabin plastics are not the most pleasant materials, they do appear durable and so should put up a good fight against children, dogs and the in-laws. Rear passengers enjoy ample head and leg room as well as plenty of natural light from the aforementioned large windows. With 458 litres of boot space, the MG6 has one of the largest and most usable boots in its class.
The 2015 MG6 now only comes with a 1.9 litre turbocharged diesel engine which has been revised over the previous model. Whilst it still produces the same 148BHP, it is cleaner emitting 119g/km of
CO2 and a claimed 61.4MPG combined consumption. This years car is also faster to 60MPH clocking in at 8.4 seconds. The engine itself isn't too noisy and only really makes itself known under load. There is a little bit of lag from the turbo but once it has spooled up this unit delivers some great motorway performance. Use that torque to your advantage and the car will surge along making it feel competent at speed. Taking the 6 away from the tedium of the M25 reveals something else rather pleasing. On a country road with undulating surfaces and winding bends, the 2015 MG6 is actually an enjoyable car to drive spiritedly. With good grip levels and steering that feels connected to the road beneath it, this machine can hit an apex with precision. Body roll is also kept under control through fast corners. It isn't the most exhilarating drive, but the MG6 clearly demonstrates that it has a good chassis beneath it. After playing on forested roads and heading into a more densely populated environment, this 2015 MG6 TL utilises its light steering. Visibility is limited at the rear due to the steep rake of the screen and so going for a trim level with parking sensors and a reversing camera is highly recommended. There is also some vibration that comes through the steering wheel and pedals which makes for a less refined experience.
Whilst the original MG6 was a reasonable first attempt at reentering the UK market, this 2015 model with its improvements makes a stronger case for itself. It does lack the polish of its competitors and there are still some build quality concerns, but for the money you pay you do get a lot of car. An entry level 2015 MG6 costs from just £13,995 with our top specification TL being only £17,995. There is no denying the value for money that this car offers, but more than that, this new package is a better car in every direction than its predecessor.