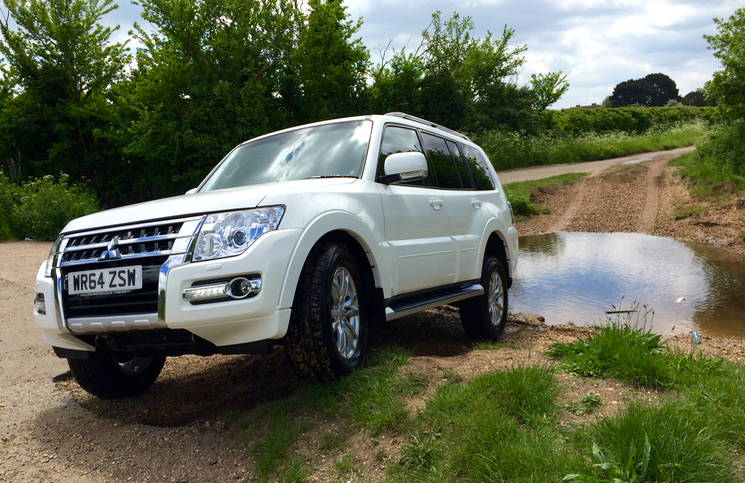 The current trend for owning an SUV surges on as everyone from Mums on the school run to those trawling the motorways seems to have one. Truth be told, the majority fall into the " soft-roader"
category meaning that when the road runs out, they need more than a bit of ground clearance to forge their own path. The Mitsubishi Shogun, just like the Land Rover Defender, has become a staple amongst the 4X4 community. Tough as old boots, this 2015 Mitsubishi Shogun LWB arrives with some new features.
In white the Shogun presents itself as a blank canvas to paint muddy patterns, more on said dirty fun coming up, of which its chiselled outline begs for. Everything from the scale, utilitarian attitude to design and blunt nose immediately suggests that this vehicle means business. This 2015 face-lift model now possesses daytime running lights, xenon headlights and a restyled front bumper. Roof rails and side steps provoke a sense of purpose. Continuing the old school off-roader theme is a large spare wheel that is bolted to the boot. This Mitsubishi looks rugged and has clear links back to the original Shogun.
The interior continues with the form over function theme though our test car did feature rather comfortable heated leather seats. Whilst hard plastics are not aesthetically pleasing, they are durable and it feels like the inside of this Shogun is just about as tough as the outside. You sit up high and gain a truly commanding view of the road ahead. Chunky grab handles are mounted in the A-pillars and a large gear selector protrudes. New for 2015 is a touchscreen infotainment system which gives you access to Bluetooth, satellite navigation and radio. However, the interface isn't the easiest to use with its ergonomics not being as good as competitors. Visibility is great all around and this example even came with a reversing camera. Plenty of natural light floods the cabin through a big sunroof making an already vast cabin seem larger still. The middle row is treated to their own air-conditioning unit and reclining seats. There is also no transmission hump in the floor to increase legroom. This car seats seven and in the floor of its large boot are two deployable seats. The mechanism to deploy them is a bit heavy and so will require two hands to operate. These occupants have access to a socket making it ideal for charging the countless electronic kids tend to have. Kids will likely be the only occupants of the rearmost seats as limited legroom rules out anything other than short journeys for adults. Despite these seats being in place there is still enough space for a few small bags in the boot. The boot door itself may hark back to off-roaders of old but it is very heavy and requires space to swing it open.
I devised a plan to thoroughly test this 2015 Mitsubishi Shogun LWB, but I needed some children. Instead of becoming the Child Catcher from Chitty Chitty Bang Bang, I filled the car with adults
which often display the mental capabilities of children. AKA a select group of friends. The task involved taking this lot on a "school trip" to Salisbury plains where the Shogun would be put to the test on the very same terrain as the British Army's Challenger II tank. Everyone bar the last row of passengers had plenty of space and were quite comfortable in their new school bus. This car is powered by a 3.2 litre diesel engine which is noisy under load. At speed there is also a notable amount of wind noise, but that is the price for short overhangs on a tall vehicle which will ultimately help it off-road. That is pretty much the story throughout the Shogun… It leans through corners, has slights jiggle to its ride and the 5 speed automatic gearbox could be better. However, in return for these flaws you receive a 4X4 that can do battle with Mother Nature all day long. Hitting the tough terrain, the suspension absorbed the craters well and the cars ground clearance meant that clambering over obstacles was a piece of cake. Select all wheel drive mode and there is very little that can stand in its way. Through muddy bogs and up steep inclines using low range, "the kids" were loving every adventurous second. Good approach and departure angles will be very welcome to the enthusiast. Completely caked in mud and now ready to join the road once more, the 2015 Mitsubishi Shogun LWB acquitted itself very well. We achieved 25MPG combined, including our day in the dirt, whilst running this model.
With the "children" back home safely it is clear that the Shogun has its flaws. It sacrifices on road capabilities for some serious off-roading credentials. For those who are looking for something a tad more civilised than a Defender but still a mud-plugger, here you go. But if you are a Mum on the school run it will come across as far too agricultural. The Shogun is a character and will undoubtably be a strong and reliable workhorse, just make sure that it is the car for you. Hardcore off-road vehicles are now a niche product.