Diesel cars have been getting some bad press of late with the scientific and environmental community suggesting that their emissions are more damaging than you may think. There are currently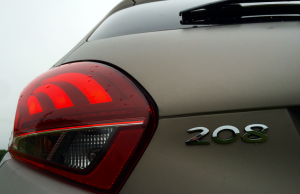 talks ongoing about what to do, especially in densely populated cities like London. With the potential for higher taxes on diesel cars and consumers now more aware than ever about their impact on the planet, could the UK's love affair with diesel be coming to an end? This updated 2015 Peugeot 208 is powered by a small capacity petrol engine, an option that might begin to take more of the traditional diesel dominant marketshare.
Do not adjust your monitors ladies and gentlemen, it is not your display, this car is a rather unusual colour. Our 208 was finished in a new "Textured Paint" option from Peugeot. In a nutshell, this abrasive paint that feels like soft sandpaper gives the surface a matte finish. Unlike normal matte paintwork it isn't as high maintenance. It certainly is unique and will have people stroking your new car, but this week it has garnered a Marmite reaction. You either love it or hate it. For 2015 there has been a few tweaks to the 208 externally including a wider front grill, alterations to both the front and rear bumper, as well as new LED light signatures. This model has always been a brilliantly modern and stylish design, these additions enhance the 2015 Peugeot 208.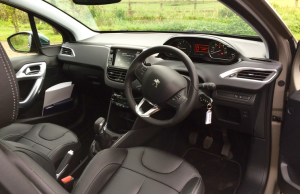 This specific 208 is endowed with the Allure trim level and plenty of options. Leather heated seats greet you offering good levels of support for the front two occupants. Dual zone climate control sits just below Peugeot's 7 inch touchscreen infotainment display. Said unit is easy to use and allows for access to BlueTooth, DAB radio and Satellite Navigation. A shapely dashboard with textured surfaces adds to this cars upmarket interior. It feels expensive with much of the style from the exterior making its way into the interior. Rear passengers in this three door model will be fine if they are children, but adults will find it to be a bit cramped. Also the middle seat does have reduced leg room due to the transmission tunnel. Luckily Peugeot offer a five door variant if you need more space. This car was optioned with a glass panoramic roof which instantly brightens up the interior. A usable 285 litre boot will do nicely for the weekly supermarket shop.
This little three cylinder petrol engine is very quiet and once idling it is hardly audible. Road and wind noise is less than you might expect also, even with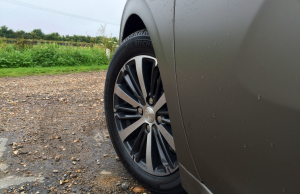 these more premium alloy wheels. Around town the car is responsive and its light steering makes for easy manoeuvring. Good rear visibility, unlike some in this compact class, as well as parking sensors and a reversing camera means that getting into the tightest of spots is made easier. The 2015 Peugeot 208 has a small steering wheel that sits below the instrumentation. Its size adds to the cars nimble feeling as you dart through the urban sprawl. However, on more flowing roads the steering lacks feel and whilst accurate, it isn't the most involving in the class. Letting the car rev out revealed a cheeky thrum from its engine, something I rather liked. There is plenty of grip from this hatchback and it never feels out of its depth on more challenging roads, but notable body roll from its soft suspension means that it is not the car of choice if you are looking for focused handling. That said, that softer suspension setup does a good job of managing the many road imperfections in the UK. Instead of thumping into potholes the 208 soaks up the primary impacts rather well. Something that may surprise you about the 2015 Peugeot 208 is that despite its little engine and 5 speed manual gearbox, it actually copes rather well with motorway life. The cabin is a peaceful place to sit for a commute and its long final gear is more than happy to carry it through motorway cruising speeds. Obviously with 82BHP it isn't going to set the world on fire, and if you are doing regular motorway distances the diesel offering is the stronger performer, but for what it is we were pleasantly surprised. Peugeot claim that this 1.2 litre car will do 62.8MPG and emit just 104g/km CO2 making it cheap to run.
The 2015 Peugeot 208 is stylish and sophisticated. Our test car came to a princely £16,360 but it was loaded with toys and £645 worth of fancy paint. More realistic specifications are inline with rivals. These changes have added a bit of extra shine to a hatchback we have always liked. Competition in this segment is stronger than ever, but the 208 still has its appeal.