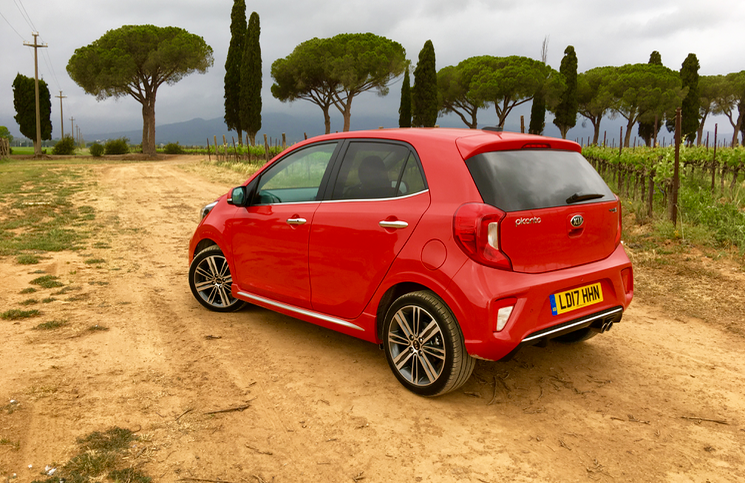 The city car class might be made up of small cars, but it is big business for manufacturers. Truth be told, we don't all need big cars and for many residing within the urban sprawl, something that gets you from A to B whilst being easy to park is a godsend. Kia, over the years, has flourished into a keen contender within the automotive arena. Its wide range starts with the little Picanto and extends all the way up to the 7 seat Sorento. The time has come for the all-new 2017 Kia Picanto to make its debut in Italy where we have come to be amongst the first to sample this compact contender.
Well, somebody certainly put a firecracker under the designers desk whilst drawing this one! Sat next to its predecessor, of which appears reserved and polite, this new car has real attitude. Squat but broad, angry yet composed, a big character but in a small package. The wide "Tiger Nose" grill bridges the gap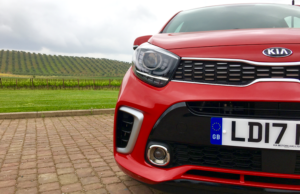 between intricate raked headlights. This being the top specification car it wears a set of sharp 16 inch alloy wheels and a chromed exhaust tip. Sure, it has that classic box form factor of all city cars, but the overall aesthetic is one that you wouldn't mistake for another.
Inside the 2017 Kia Picanto GT Line S shares the same seemingly magical trait of the TARDIS, in that "it is bigger on the inside". For most cars in this class the cabin is a tricky subject, but the Picanto has been intelligently packaged. Front and rear passengers enjoy good headroom with legroom for the rearmost being respectable also. Even the middle occupant needn't straddle a hump in the floor. Surprisingly boosted two toned seats make
themselves at home in the front, as does Kia's ergonomic touchscreen infotainment system. Alas, those traditional scratchy plastics can be found throughout the interior. That is a shame because other than that the Picanto isn't a bad place to spend time. Redemption is to be found in a class leading 255 litre boot that can grow to 1,010 litres with the rear seats folded flat. Clearly the 2017 Kia Picanto GT Line S is big on practicality.
This little car has a few engine choices of which can be plumbed in. First up is a 66 BHP 1.0 litre and that is fine for pottering about town, but does feel a bit lacking at speed. Coming soon is a 99 BHP turbocharged three cylinder of which sounds very promising indeed! However, we are testing the 1.25 litre four cylinder naturally aspirated unit that churns out 83 BHP and 122Nm of torque. It is clearly no Ferrari with a 0-60 MPH time of 11.3 seconds, but it is brisk enough and the power band is pleasingly broader than the entry level motor. The 1.25 is much happier on the motorway than its sibling. Power is sent to the front wheels via a 5 speed manual transmission. Said gearbox has a nice short throw but a slight notchy feeling at times. What really stood out for me was this Picanto's steering. Kia has come a very long way and this car provides the most promising evidence yet that the brand is listening to feedback. Whilst it could possess a bit more feel, the weighting is sensible and inputs are met with a precise response. It was rather rewarding being able to place this pint-sized Picanto exactly where I wanted it on twisting mountain roads. Having the wheels pushed to the very edge of each corner is a plus for handling. There is some body roll but also more grip than you might expect. Stir the gearbox and let its engine rev, the fun is to be found in maintaining momentum through the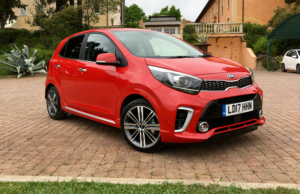 bends. Obviously most owners won't be driving their example with anywhere near this much vigour, so you will be pleased to know that we took it to some busy Italian towns too. The ride on the whole is good, larger alloy wheels on the GT Line S do make it firmer, but the standard car soaks up imperfections very well. Visibility is positive and top specification models are further improved with a rear reversing camera. It is an easy thing to drive in a crowded space and feels at home in the hustle of urban life. Kia claims that this example emits 106g/km of CO2 and returns 61 MPG combined.
Prices of the new car start from £9,450 and if you want this top specification 2017 Kia Picanto GT Line S it is £13,950. Kia should be rather pleased with their work as the baby of the range certainly gives other manufacturers something to think about.