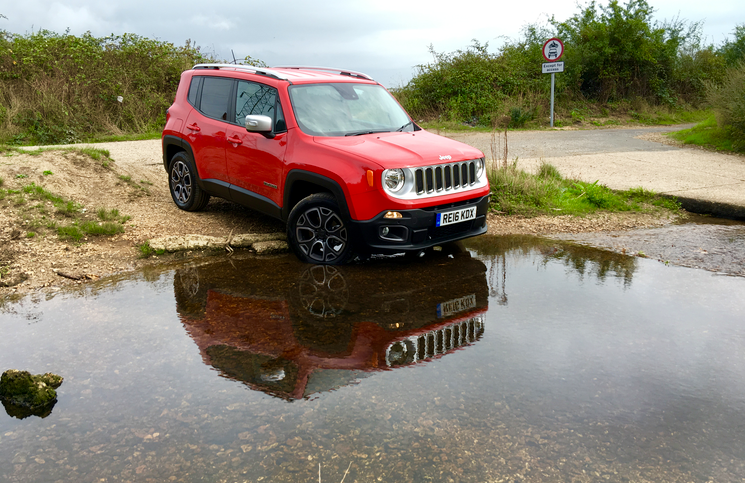 The compact SUV is no longer a new thing, but its popularity hasn't subsided. Every car manufacturer and their mother is getting involved in this segment and, to be honest, why not? Give the people what they want I say! However, many manufacturers end up diluting their product in order to fit in with the mainstream. Not Jeep though, they have stuck to their bold characteristics in order to create something rather unique in this segment. This Jeep Renegade loves mud.
It certainly makes a statement visually. Wielding the iconic Jeep grill and round headlights, along with stout proportions, it looks like nothing else. These attention grabbing design elements on such a small car makes it look like some sort of Micro Machine or something Hot Wheels would come out with. Personally I really like that it is different and I think designers should be applauded for taking a bit of a risk. Despite its size, the Renegade has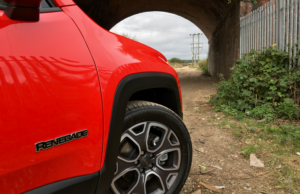 respectable ground clearance of which aids it when the road runs out. Finished in Colorado Red with some aesthetically pleasing 18 inch alloy wheel, the car got plenty of attention.
A key advantage of having a boxy shape is that it is ideal for packaging. Ever wondered why boxes are box shaped? This allows the Jeep Renegade to happily seat 5 occupants. The rear bench offers plenty of head and leg room and a relatively low transmission tunnel means that the middle passenger isn't squeezed out of the equation. In the front you get that desirable higher driving position but also a comfortable set of seats from which you can survey your surroundings. The interior feels durable and has some nice rugged touches such as a passenger grab rail on the dashboard.  Our Limited model featured a 6.5 inch touchscreen display and dual zone air conditioning. Visibility is good in general with nice large windows, but the chunky A-pillar can be a bit intrusive. The 351 litre boot isn't the biggest in its class but is suitable for the weekly trip to the supermarket.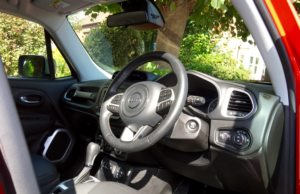 Jeep have hidden fun little "easter eggs' around the Renegade for owners to find. There are dozens of tiny Jeep insignias and silhouettes dotted around. My favourite has to be the little Willys Jeep climbing the edge of the windscreen. There are so many that I didn't manage to find all of them in my time with the car.
Our specification of the new Jeep Renegade employed a 2.0 litre diesel engine that produced 140 BHP and a pleasing 350Nm of torque. Power can then be channeled to all four wheels via a 9 speed automatic transmission. Pottering around town the Jeep is primarily front wheel drive, part of the reason why it claims 48 MPG combined, and it is perfectly pleasant. Its compact size and light control weight make it easy to use day to day and having a blunt front and rear aids parking in tight spaces. The 9 speed automatic transmission is very smooth when left to its own devises blending changes together nicely. On faster roads the Jeep Renegade proves to have plenty of reassuring grip as the moment the onboard computer detects any loss in traction, all four wheels become driven. There is some tyre roar and wind noise as you might expect, but set the cruise control and it is happy to partake in long hauls. Strong torque delivery low in the rev range makes for brisk overtaking from this competent diesel.
But road driving is only part of the Renegade story. Having the
capability to lock the car into all wheel drive mode, selectable terrain systems, hill descent control, and low range mode, means that this little SUV is very well equipped to take on the rough stuff. It really is astonishing witnessing it climb steep muddy embankments and waking through fords. Not once did it get stuck, nor did it complain. Clearly it is not a Land Rover Defender, but it will very happily put many larger 4x4s to shame.
The 2016 Jeep Renegade isn't the most fuel efficient or refined car in its class, but it does have bags of character. I grew quite attached to our test car and received many compliments about it. Whilst the vast majority of these Jeeps will never be driven on anything other than tarmac, it is an empowering feeling knowing that it can go off road should you need to. The Jeep Renegade starts from £17,495.