MG has put a lot of energy into creating its new era of cars. Whilst the MG 6 had a bit of a bumpy start, the diesel marked progress, and the funky MG3 supermini isn't bad value for money. With the compact SUV segment growing at a pace it makes good business sense for MG to jump on the band wagon and give the people what they want. The 2017 MG GS aims to broaden brand appeal and further push MG in the right direction.
I have to say that I like the way it looks. Its silhouette is sharp and modern with some unique styling to set it apart from competitors. Creases run from nose to tail and the thin grill it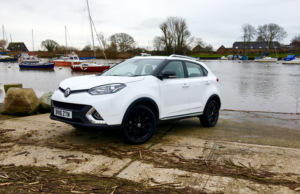 wears on the nose masters the power of the understatement. An overall raked profile gives the GS a dynamic appearance. The rear of our test car, finished with a gloss black element, looked very smart indeed. Contrasting black alloy wheels, roof rails, and kick plates complete a car that sticks very close to its well received concept.
Enter the spacious interior and you will find interesting cascading surfaces, glossy inserts, and concave characteristics. A honeycomb grid of buttons sits below an all-new touchscreen infotainment system of which is a huge improvement over its predecessor. It is considerably more ergonomic to use and also features DAB radio in our test car. However, there are plenty of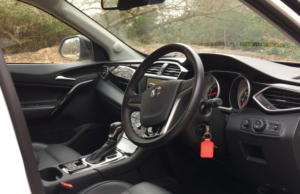 scratchy plastics around and this somewhat diminishes the perceived quality. The rear bench seats three with good levels of head and leg room for all. A 335 litre boot can expand to 1,336 litres with the rear seats folded flat.
Power is sourced from a familiar 1.5 litre turbocharged petrol engine that produces 164 BHP and 250Nm of torque. These are healthy figures, and once the initial lag from the turbo is overcome, the 2017 MG GS can make good progress. However, this example was fitted with the 7 speed automatic transmission and that is certainly an option box we recommend you leave unchecked! Left to its own devices at low speeds it delivers shifts that are acceptable in terms of smoothness, but sluggish and ill-timed in regards to delivery. Often it changed several gears mid-corner, or noisily dropped ratios in a desperate bid to overcome the turbo lag. Put your foot down and the delay from the engine is amplified by the gearbox that also takes its time in understanding what you want from it. Manually selecting gears from the wheel mounted paddles proved fine, but doing that all of the time in order to ease the frustration rather undermines the point of paying extra for an automatic. I Personally feel that with a manual gearbox the driving experience would be vastly better, but I can't say for sure until we put some miles on one. I will say that around town the rest of the drive is more refined with engine and road noise being well suppressed. Good steering weight and a resistance to body roll proves that the chassis can deliver, if only
it wasn't hampered buy other drivetrain components. The ride is a tad on the firm side, but that is the trade that has been made for respectable handling. MG claim that this model can return 45.5 MPG combined.
I must also report that the car experienced a number of faults during its evaluation, placing a question mark over build quality. A rear parking sensor went off continuously as if the car was too close to an object, even if parked in an open space. Whilst this error did go away after a few days, it shouldn't have been there in the first place. Also whilst streaming music via Bluetooth there would be a slight hiss and crackle from the speakers. The icing on the cake was when the 2017 MG GS satellite navigation left me stranded in Devon thanks to a complete inability to navigate me home. I ended up on a farm after continuously retracing the same road it had made me go down not 10 minutes before.
I really wanted the 2017 MG GS to be the car that brought the brand back into the fight. Whilst the initial signs were good, I can't help but feel disappointed with this SUV. Sure, it offers practicality and good levels of standard equipment, but its other issues makes it difficult to recommend. Especially at the £20,995 this example demands. The range starts from £14,995.