We were amongst the first to test the new Peugeot 3008 SUV in Italy and it is fair to say that it left a good first impression. Premium looks, beautifully engineered cabin, and it drives pretty well too. However, the silky smooth roads of mainland Europe don't necessarily reflect the conditions we have back home. We have got the keys to 1 of only 9 3008 SUV currently in the UK to see how this stylish model deals with a catwalk lined with potholes.
Visually our test car finished in white with a Black Diamond roof contrasted its winter backdrop of the Peak District. It is a much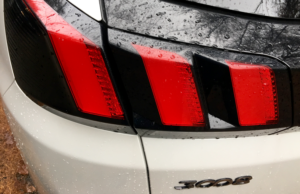 bolder design than the previously conservative ethos of Peugeot's past products. A large chromed grill creates a floating effect for the proudly displayed lion on its nose. Distinctive headlights, and signature claw marks at the rear detail a handsome silhouette. Body lines that run from nose to tail creates a sense of athleticism, but also elegance. Proportionally it looks great and many peoples stopped to ask about the car on its photoshoot.
The cabin of any car is an important element to the overall equation as, after all, it is where we spend all of our time. It would not be an exaggeration to say that the Peugeot 3008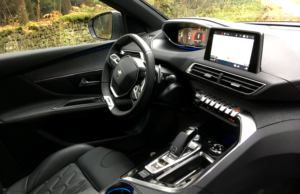 interior is the best in its class. The new i-Cockpit design not only cocoons you in high quality materials, but also technology. A 12.3 inch display sits within the instrument binnacle and its graphical interface is totally customisable. The detail in animations and overall presentation are usually what you pay extra for in premium brands, here it comes standard with every 3008. Likewise for the new 8 inch touchscreen infotainment display. New software and a responsive screen makes for a more ergonomic experience. Drive and passenger are separated by the console that plays host to a set physical "piano keys" that act as shortcuts for the infotainment system. They are not only visually pleasing, but also make a lot of sense. How many times have you fumbled around on a touchscreen when all you want to do is access the navigation? This car received supportive quilted leather seats for front occupants and a rear bench that seats a further three. The outermost passengers have plentiful leg and head room, however, the middle occupants legs are restricted by a protruding set of vents. Boot space is a decent 591 litres that is accessed via a large opening.
We first drove the 2017 Peugeot 3008 SUV with its 180 HP 2.0 litre Diesel engine, but the biggest seller will be this 1.6 litre BlueHDi unit. Producing a healthy 300Nm of torque and 120 HP, this diesel claims to return 64 MPG combined. Whilst there is still that traditional diesel engine rumble under hard acceleration, that very quickly melts away and the refinement of this new SUV becomes apparent. Wind and road irritations are kept to a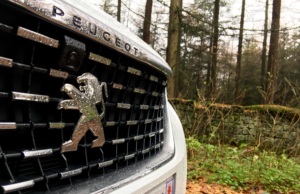 minimum promoting a relaxing environment within. The controls are well weighted and the previously mentioned i-Cockpit layout means that your eyes can stay more focused on the road. On faster roads the 3008 is a masterful motorway cruiser, especially with this 6 speed automatic transmission. It is indeed a comfortable way to get from A to B. Whilst this engine is smaller than the other we tested in the past, it is still well endowed. Strong torque levels means that overtaking is still relatively effortless when the time comes to dispose of those dawdling on the M3. On more entertaining roads the 2017 Peugeot 3008 acquits itself well too. Whilst not the most entertaining car, it isn't an MX-5, there is plenty of grip and and good composure through sweeping bends. The small steering wheel further grows a sense of agility. Select "Sport Mode" and the increased steering weight allows for more precise inputs. Ride comfort is an important factor in this test as our rutted roads provide quite a challenge for most cars. I am pleased to report that this new SUV does a respectable job, although, the larger the alloy wheel the more it will thud into potholes. This car was optioned with Grip Control of which aids the front wheel drive SUV in finding traction in all weathers. Overall this 1.6 litre engine is a good fit for the real world and it is clear to see why Peugeot expect it to be such a big seller.
Starting at £21,795 or £28,745 as a loaded Diesel GT-Line with the automatic gearbox, doesn't make it the cheapest in this segment. Peugeot are reaching upmarket, however, factor in the vast amount of standard equipment over competitors and it still represents positive value for money. The 2017 Peugeot 3008 SUV marks a paradigm shift for the brand. It is a clear statement of intent that the French company don't want to simply "make up the numbers" but lead its respective classes. With this new car, that is exactly what they have done.