For over four decades the Golf GTI has been a symbol of attainable performance for the everyman. This classless hero might not have founded its breed, but it has come to define it. Though seven generations the evolutionary process has cultivated some mighty hot hatchbacks. Ok, so the odd generation fell off of the wagon, but the GTI nameplate has quite the lineage. For this model year the icon receives a number for revisions, but the question is… Can the 2017 Volkswagen Golf GTI retain its status in arguably the most competitive segment?
Visually little has changed for this facelift model, not necessarily a bad thing as the GTI's mastery of understated design is what makes it attractive to many. There are some reworked elements to its front and rear bumpers and a set of sharp LED lights now find a home either side of that thin grill. Subtle GTI plaques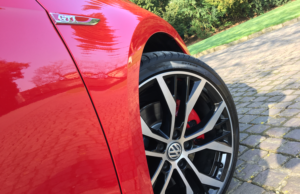 further denote this car as something more than its lesser siblings. Our 5 door test car in "Tornado Red" looked smart wearing a set of 19 inch alloy wheels. A blunt rear end plays host a neat boot spoiler and a pair of exhaust pipes.
The interior is a strong example of the high quality fit and finish VW are famed for. This ergonomic space feels durable, a reassuring thing if you intend to put the destructive force of a toddler inside. A flat bottomed, red stitched steering wheel proudly wears the GTI logo. Whilst the architecture will be very familiar to those who have driven the initial MK7 Golf, this "MK7.5" has much more tech onboard. The most notable of these additions is the new 9.2 inch Discovery Pro infotainment system of which offers a very visual and easy to navigate user interface. Gesture control is part of the package, a first in this class of car.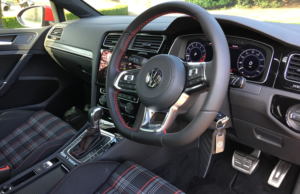 Analogue clocks have been ditched and inside the instrument binnacle is filled with a 12.3 inch digital display. This allows for graphics such as navigation maps to be displayed right in front of the driver. A set of supportive sports seats, finished in traditional tartan on this car, are plenty comfortable. Said tartan continues through to the rear bench where the outermost passengers can claim good head and leg room, but the middle occupant must straddle a protruding hump in the floor. Boot space is a solid 380 litres in this 2017 Volkswagen Golf GTI, accessible via a wide opening.
This 2017 Volkswagen Golf GTI is power by the same 2.0 litre turbocharged engine, but power output has been bumped by 10 BHP. Producing a total of 227 BHP and 350Nm of torque, this DSG equipped GTI will sprint from 0-62 MPH in 6.4 seconds and go onto a top speed of 154 MPH. Whilst it is evident that this latest hot hatch has a brisk turn of pace, its greatest asset is the way it goes about its business. There is a wonderful balance to the chassis that combines driver pleasing traits with everyday liveability. At low speeds it does a respectable job of soaking up road imperfections, even with these larger alloy wheels, and the overall driving experience is refined. However, show the new GTI a set of twisting country roads and it is in its element. Selecting "Sport Mode" weights up the steering, increases throttle response, and firms up the dampers. This state of tune really shows of the precision of this car when driven at a pace. You can accurately place the car on any apex of your choosing and the nose will simply home-in on its target. Obviously, when driven as if you were a ham-fisted oaf, you will run into understeer, but otherwise the car can be trimmed via its throttle. Engine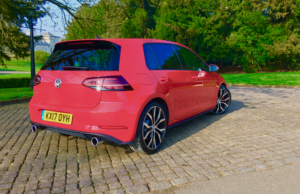 responsiveness is great and when you want to slow things down the well calibrated brakes will oblige. You can feel the weight shifting around the car as it communicates with the driver. This 6 speed DSG is very astute and also responsive when used via the wheel mounted paddles. My personal preference would be for a manual, but those opting for the automatic will not be disappointed. Once you have finished your B-road blast it simply goes back to being a well rounded family hatchback. Having your cake and eating it has always been the GTI ethos. Volkswagen claim 44.1 MPG combined and emissions of 145g/km CO2.
Costing from £29,935 with the DSG or £27,865 with the good old manual, the 2017 Volkswagen Golf GTI is still a tangible proposition for many. Its broad range of abilities and impressive execution of each makes it one of the best hot hatchbacks on sale today. A Performance Pack will soon be available to add just a bit more space to the GTI recipe.