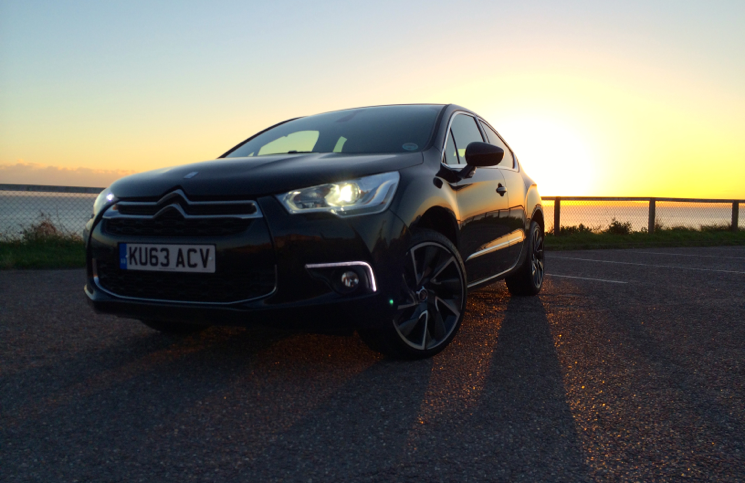 Sometimes we all wish things were a bit more comfortable. That spring in your bed that gets on your nerves whilst you sleep, a cup of coffee that is just a bit too hot, or how about the classic item on a very high shelf that you can't quite grasp? Life is full of little annoyances, but Citroen's DS4 aims to remove as many as possible on your journey to and from work.
Playing bigger brother to the already successful DS3, the DS4 is the middle sibling of the luxury range and sits just below the DS5. It has to be said that our test car in Peara Nera Black looked quite smart with its chrome trim and intricate 19" alloy
wheels. Its curved profile and body creases gives it a purposeful stance that is almost executive. The DS4 is based upon the C4, but you wouldn't know it from its appearance as the whole car sits higher and the bodywork is far more rounded at the rear. As with all DS models, the exterior detailing is very impressive. The elegantly stylised rear lights and exhaust trim that becomes a single almost sculpture like feature further highlights how the DS range is unique. It comes across very strongly how much freedom the designers had and looking at the DS High Rider concept that later became the DS4, the lack of changes from idea to reality proves this.
Inside, the cabin is lavish with large body hugging seats trimmed to high standards in black and red leather. Aluminium inserts around the steering wheel and vents add another level elaborate design. This premium environment not only offers gizmos such as DAB radio and a premium sound system, but an extremely comfortable way to commute. The heated massaging seats work their
magic on a frosty morning whilst rear passengers enjoy plenty of leg and head room. Another nice touch to the interior is the panoramic front windscreen with adjustable shutters that allows you to block out the sun when it glares, or let in more light on these darker winter days. The boot also offers practicality with seemingly enough space for a small elephant or at least plenty of room to accommodate a big supermarket shop. However, there is one grip I have with the interior of the DS4 and that comes in the form of its rear doors. Whilst they provide a large opening for passengers to enter and exit the vehicle, their wedged shape means the rear door window does not go down at all. Physics dictates that you can't fit a square piece of glass vertically into a steeply raked shape. A slight hint of style over sustenance in an otherwise near faultless interior.
This DS4 is powered by a 2.0 litre diesel engine that produces 160BHP. Starting it up reveals a smooth and quite unit that only adds to the refinement of the interior. Paired to a 6 speed automatic gearbox, the combination of this engine and transmission makes for an effortless drive. Gear changes are so smooth and quite that you hardly notice them and unlike some automatics, this one
actually makes very good decisions on gear selection around town. Sticking with that urban topic for a moment, the fantastic amount of torque of offer in the DS4 makes city driving easy as you needn't hesitate about going for a gap in the traffic. The engine is responsive and will surge you along without hesitation. Its steering is also nicely weighted at low speeds and so snaking your way through high streets to find a parking space is no task at all. That, said a small rear window can make reversing into a space a little bit trickier than it needs to be. On a motorway the DS4 settles down and invites you to set the cruise control, relax and let the car take the strain. It really is a very comfortable place to be and long journeys needn't be the often tediously cramp inducing experiences that they usually are. The diesel engine merrily pulls the car along and is very
capable of spending prolong amounts of time in the outside lane whilst you complain about two lorries that are seemingly in combat, racing each other uphill whilst occupying the other two lanes. However, the thing that has impressed me most about this car is the biggest surprise. You see when you dive a nice comfortable luxury product that rides well, the last thing you expect is for it to be a bit of riot on country roads. The DS4 lends itself to the odd bit of Sunday morning hooliganism through nice direct steering with plenty of feel, a compliant chassis and, despite its hight, suspension that doesn't allow too much body roll. Driving the DS4 in all of these environments yielded 42MPG combined.
The Citroen DS4 is a car that ticks a lot of boxes and shows itself to be a good all-rounder. It is stylish, yet practical. Comfortable, yet enjoyable when the going gets twisty. With all of the toys on our test car the £27,701 price tag is costly, but for a car that is so dissimilar to what else is on offer and in tandem with a brilliant diesel engine I strongly recommend it.