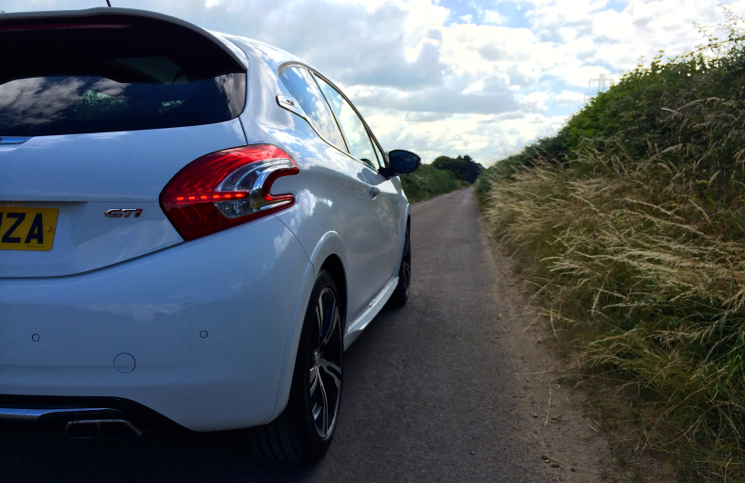 So you have just bought yourself a Ferrari 458 Italia and you can not wait to start putting its 4.5 litre V8 to good use. Whilst the prestige of owning such a car is more than enough to lure potential owners into making a purchase, the reality is that
here in the UK you will never use a sizeable amount of its 562BHP without getting into serious trouble. It will more than likely become a weekend toy of which you feverishly protect against scratches and blemishes. Another reality check comes in the form of you not likely being able to afford the £178,491 price tag. Could the solution be a Peugeot 208 GTI?
Enter the hot hatchback… A power to the people machine that offers just about as much performance as you could use in "the real world" and all for around the same price as a pair of trainers. They are practical, reasonably economical and have a cult following in this country. On twisty country roads these cars can even put more purebred models to shame. One of the most loved hot hatchbacks of all time is the Peugeot 205 GTI, a car that the French company has tried to reincarnate several times without the same result. However, the 208 GTI claims to have rediscovered the formula of its ancestor and is more than willing to take on its very impressive competition.
I don't think anybody can deny that the Peugeot 208 GTI is a good looking car. Whilst proportionally it retains the chic look of the standard 208, a shot of teenage adrenaline has been added to let mere mortals know that this is something a bit special. This car sits wider and lower on the road with more pronounced grills and swollen skirts providing a quietly sinister characteristic. Boot spoiler and a smattering of GTI badges, including one in an identical position to that of the 205, adds some boy racer charm. Whilst its ASBO inspired flare is more subtle than some rivals, the overall aesthetic works well.
The interior is a fantastically stylistic affair bringing together sculpted black surfaces with glossy red trim. Black and red heavily bolstered seats hold you in place whilst a pin striped seatbelt crossed your chest. A small thick rimmed steering wheel donning a centre line and GTI badge of its own sit below a highly detailed instrument cluster which glows an ominous red. This 208 GTI was equipped with a touchscreen display which gives you access to everything from DAB radio to phone connectivity. Overhead is a glass panoramic roof, trimmed with blue LEDs, which lets in healthy amounts of natural light. The rear bench offers a reasonable amount of head and leg room for occupants, although the central passenger will have to straddle in order to be
comfortable. One of the beauties of owning a hot hatchback is that it is based upon a sensible everyday car. For the 208 GTI this means that its boot is very usable making this pocket rocket an easier sell to the wife or girlfriend.
So… It is good looking, practical, and whilst we are talking about the boring bits, we managed to get 42.7MPG out of the GTI whilst not driving like hooligans. But what happens when you light the fuse? What happens when you poke the Peugeot 208 GTI with a stick?
Step on the go faster pedal in this car and that is exactly what you will do! Possessing a 0-62MPH time of just 6.6 seconds and a top speed of 143MPH, this car has a good performance punch to it. Acceleration is strong from its 1.6 litre turbocharged petrol engine with a real surge once the turbo comes into play. With 197BHP on offer it is still possible to chirp the tyres when changing into second and even third gear. There is a small amount of toque steer upon quick getaways but not ferocious amounts. As you go though the 6 speed gearbox this 208 GTI bounds towards the horizon like an excited puppy. Throw the car into a corner and the vast amount of grip on offer becomes apparent. It is a very surefooted machine managing the weight transfer well and turning in with not fuss at all. The brakes are brilliant bringing confidence inspiring stopping power to the party. Its tiny little steering wheel and competent chassis makes this GTI nimble, although it could do with more feel coming through the steering. This car provokes some of the biggest grins your face is capable of wearing and is truly deserving of the legendary GTI badge. However, there is another side to this car once you have finished torturing the tarmac. Settle down and the Peugeot 208 GTI is a comfortable and very pleasant car to spend time in. The suspension, although firm, is far from back braking and its compact size makes it easy to park. That said, our test car was more than happy to park itself thanks to park assist. Visibility is good and as mentioned before, driven sensibly it is relatively economical.
Whilst we would like the Peugeot 208 GTI to produce a bit more exhaust noise, this well rounded hot hatchback appeals to not only those who crave something quick but also to people who need something that integrates with their needs. This car is a fantastic return for the French company that once dominated the segment. Our test car came to £18,900 including its option extras scoring highly on "bangs for your bucks." The 208 GTI reminds the world that Peugeot have still got what it takes.