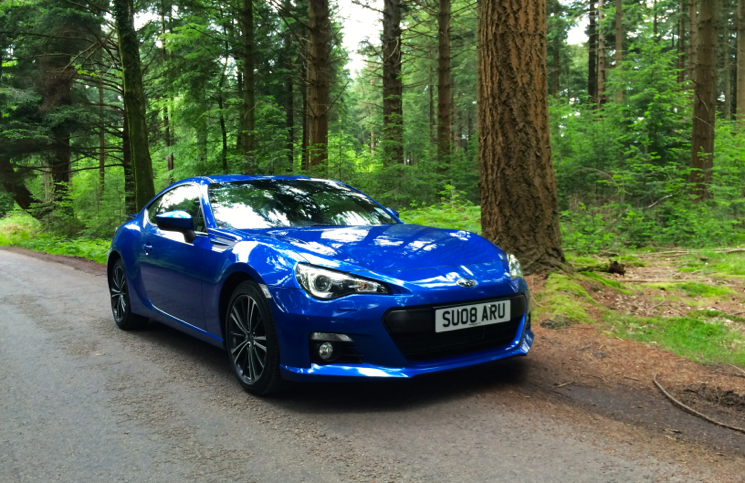 For those of us who love driving, for the pleasure, for the sheer enjoyment of the interaction between man and machine, there is very little space left for us. In a world where fun behind the wheel is depicted as inefficient and having a smile upon
your face will see you labeled as a public menace, there isn't much to celebrate as a car enthusiast these days. We are taxed, charged and penalised making even owning a car in this environment difficult. So maybe we should give up? Put down our car keys and pick up an Oyster card? Thankfully there is hope… Salvation comes in the form of the Subaru BRZ.
Here is a machine that defies convention, a great big antiestablishment statement on wheels. Instead of us being herded into soulless cars that simply serve as a means of getting from point A to point B, the Subaru BRZ reignites our hope for an affordable sports car revolution. Power to the people cars such as the Toyota MR2, Mazda RX-7 and Honda CR-X have long since gone. However, a partnership between Toyota and Subaru to produce a well priced rear-drive sports car has resulted in something that could spark competitors into action once again.
Our test car, in that iconic blue associated with Subaru, looked stunning. Proportionally with its long bonnet and short rear overhang, it creates a flowing coupe profile that every "petrol head" can appreciate. A polite rear spoiler leads the eye onto bolder design elements around the back. Protruding LED light clusters and a sculpted boot lid housed this fantastic personalised numberplate. Top marks to the PR team! Moving downward two vast exhaust pipes, with exits larger than a fist, aim like the barrels of a cannon at passersby. This car draws plenty of attention. Parked in a local High Street whilst I sat across the road partaking in a spot of lunch, I counted six people who took pictures of the BRZ and everyone who crossed its path paid it at least a glance. It has a presence about it that demands the focus of complete strangers and automotive anoraks  alike.
Slipping into the body gripping leather and Alcantara sports seats, you are immediately drawn to how driver focused this car is. The driver is seated low in a position that is so very close to
perfection. The red stitched steering wheel and aluminium pedals become your interface as you acclimatise to the snug cockpit. However, it is the cockpit that is something of an Achilles heel to the BRZ. Whilst the cramped rear quarters can be forgiven due to the nature of this car, the hard plastics and flat facias do take away from its sense of occasion. The nut shaped air conditioning controls are a nice touch, but again, the material used to make them feels a bit lacklustre. That said, the Pioneer touchscreen infotainment system works well and acts as a centrepiece to the console. Considering this is an out-and-out sports car, the boot space isn't too bad and will happily accommodate a small weekly shop. Fold flat those small rear seats and the Subaru BRZ instantly becomes more versatile. Just like its Toyota GT86 counterpart, you can carry a complete set of tyres ensuring you have plenty of rubber to burn when heading out on track.
With the keyless system in this LUX model, the fun begins as soon as you hit the starter button. The 2.0 litre Boxer engine fires into life and idles with a slight burble from the exhaust. Setting off, the first thing you notice is just how responsive the throttle pedal is. The BRZ possesses 197BHP and thanks to being naturally aspirated its reactions are instant. 0-62MPH in 7.4 seconds is not to be sniffed at… Most of that power is higher up in the rev range with the fun really beginning at about 4,000rpm. The sonorous sound of its opposing pistons at work acts as narrator as your grin begins to grow. When driving the Subaru BRZ in a spirited manner you work its delicious 6 speed gearbox which provides wonderfully positive shifts. Add some heel and toe action into the mix and you soon realise just how eager the car is to please you. With direct turn-in and well weighted steering, it is an utter joy to thread together apexes. The BRZ does have quite a stiff suspension setup which can become a bit grating on our battered British roads, but when dancing through twisty sections of tarmac the composure and lack of body roll is well worth the trade in refinement. In comparison to the GT86, the BRZ feels a more taught around the corners and less likely to kick its tail out. But hooligans fear not, the BRZ doesn't require much persuasion to initiates some sideways motion. Visibility is good around town for this type of car with its adequately sized mirrors helping to reduce its blind spots. On a motorway in this LUX model you can set the cruise control and allow yourself to be surprised at how adaptable the BRZ can be, going from B-road basher to everyday commuter quite easily. Drive economically and 34MPG is possible in the real world.
Subaru must be applauded for creating a car that goes against todays norm of manufacturers losing interest in sports cars for the masses. At £23,995 it is not only cheaper than its Toyota sibling, but in terms of "bangs for your bucks" the ratio is pleasing. This glorious blue rebel represents a product we have been asking for since such machines went away in the 90's. It is direct, to the point, no nonsense, uncorrupted fun on four wheels.